We often encounter celebrities wearing weird dresses and appearing in public. Though some wear occasionally whether Ranveer Singh dress weird in almost all the events. Due to such public appearance, Gully Boy Ranveer is always on news which has benefited him enormously. So, what might be the reasons behind his uncanny new look? Is it fame, public attention and film promotion or just because he is unique?
Ranveer Singh New Look in Public
Ranveer Singh's new look is not something new, moreover he wears weird dress since his popularity grew. And every now and then, he is seen wearing most kinky outfits that audience have ever seen.
Similarly, some other celebrities are also practicing weird outfits such as Lady Gaga, Nicky Minaj, Miley Cyrus and Rihanna. Lady Gaga became a topic in 2010 due to her "meat dress". Eventually, the world still remembers her as the goddess of weird dresses. Similarly, other celebrities those who who wear kinky dress really draw significant public attention.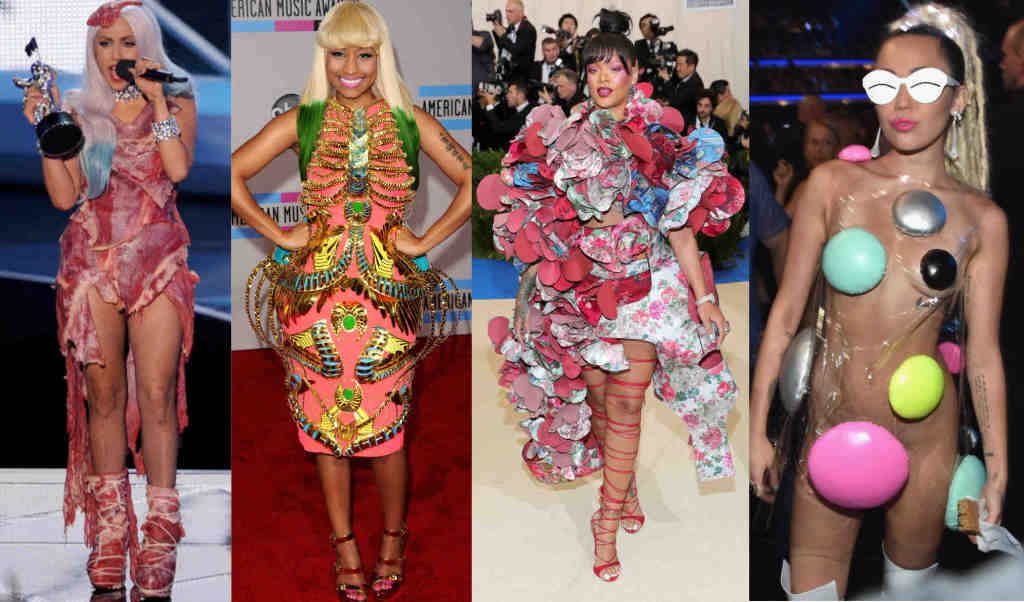 In the same way, Ranveer Singh's latest dress becomes hot topic as well. In last Filmfare award show, he appeared in a pink fur dress which we don't see on men. In previous year, Ranveer Singh suits himself up with a printed jacket contains film covers. Even he was seen in half pants and casual suit in a show. Well, there are two different points of view, one is, weirdness and the second one is, it is creativity or uniqueness. Despite those facts, Ranveer Singh dress or any other celebrity dress weird or unique have far beyond intention than creativity or weirdness.
Why do Celebrities Like Ranveer Singh Dress Weird?
Weirdness brings fame for celebrities!!! Yes, it is.
Most of the celebrities wear quirky outfits for fame and self-promotion. Though it sounds narrow and eccentric yet this is the fact. Many people or those who are practicing, may view this as a unique behavior, artistic or creative. Thus, I believe they are also logical in some perspective but they fail reasoning in many ways.
To Promote Film and Self
If we closely observe the time of Ranveer Singh's new look, we will be able to understand the main purpose. Most interestingly, he takes a new look during the promotion of his new film. In addition to be in gossip and news, he always appears in quirky outfits along with new haircut and all. As much as, people will talk about him, his new film will be in limelight.
Since Goliyon Ki Raasleela Ram-Lela Ranveer's films have been breaking box office. In the meantime, he also debuted his strange outfits. Unlike other Bollywood celebrities, Gully Boy is bold and honest about his feelings. Though it is not only him but also all the other celebrities like Lady Gaga, Miley Cyrus or Nicky Minaj all are bold in a sense. Though weird outfit culture is rare among male celebrities, yet some are practicing including Ranveer Singh.
To Seek Public Attention
Pretty much all the celebrities wear strange outfits because of public attention. As far as fame is concerned, there is no objective meaning of weirdness for celebrities. Apparently, it seems like, as much strange as they are, that much famous they become. By the same token, Bollywood celebrities like Ranveer Singh also become eccentric for drawing attention.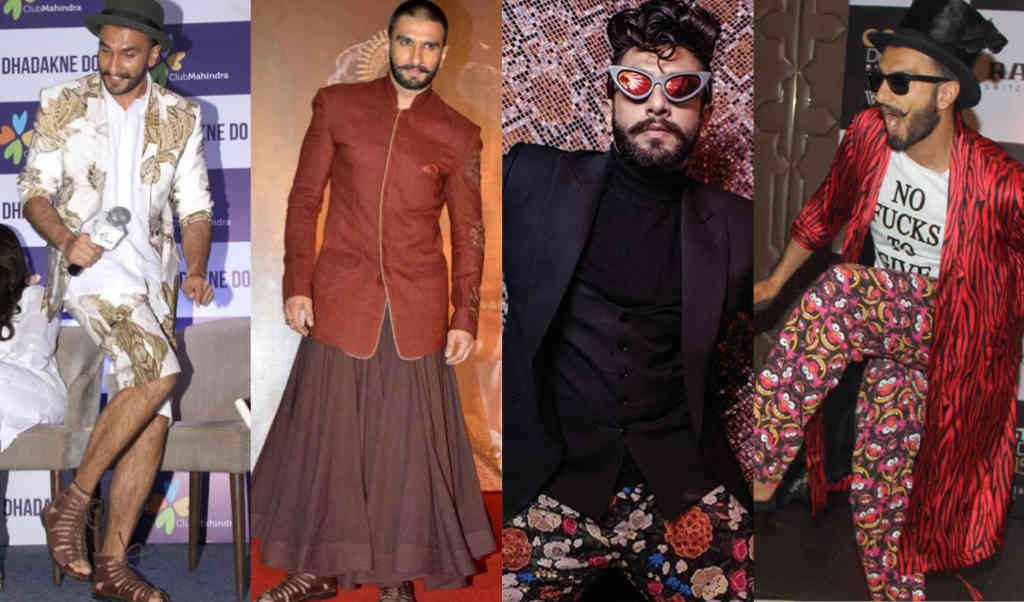 It is to believe; common people do not pay attention to usual or common things. To be precise, an unusual dress is like a yellow helmet on the road. General public are always curious about strange and uncanny objects due to unavoidable human nature.  In the same way, film or entertainment industry grabs public attention by applying weirdness and really works.
During Ranveer Singh's new movie release, he goes out wearing something thematic to the movie. And most of them turns out to be something that people have never seen. Right before Gully Boy Ranveer wore a Green Lungi with white t-shirt and yellow hat on women's day. Later on, he himself said, "it was a skirt day for the Gully Boy team" which clearly indicates their way of seeking attention for the upcoming film.
To Earns Respect
A recent research by Harvard University reveals that weird behavior or outfits earn much public respect. Since, people consider weird as unique rather than strange, they also respect that person for their different behavior. And by following that fact, celebrities might be presenting them gruesomely. As a consequence, Ranveer might also be following that too. As the power house of Bollywood, Singh never follows rules instead he oddly makes trends for himself and for general public. Despite the fact sometimes he looks so stupid and seems like, he is an obnoxious Bollywood kid hungry for attention. In compare to Deepika Padukone, his wife, he is completely outlandish. But does it really matter? It doesn't.  
To Promote Fashion Designers
Fashion designers are highly important and celebrities really look up to them. As celebrities like Ranveer Singh dress kinky for their new movies. They also go strange for promoting fashion designers.
Not to mention, Fashion designers' gift expensive outfits to celebrities with a single mindset of promoting their products to general public. Common public remain interested and mimic celebrity outfits. In the meantime, designers do a solid business. Therefore, weirdness is simply an effective business strategy most of the times.        
To put to an end, it is an insight that wearing weird outfit has some hidden purpose for all the celebrities. Moreover, they serve the purpose of advertisement in the first place. And it is really easy to understand that Ranveer or any other celebrities behaving weird are for promoting themselves and their works. So, Ranveer Singh dress has nothing to do with uniqueness or creativity instead fashion designers are unique and sometimes celebrities are the frames to display.