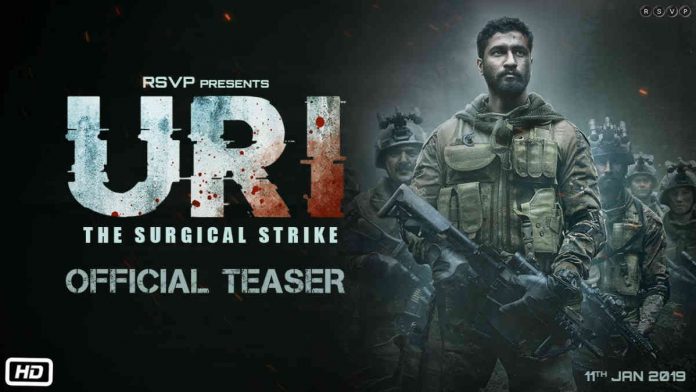 Critique's Comment
"Uri: The Surgical Strike" is a compelling story of Indian Army taking revenge on terrorists on Pakistani soil. Despite being a Hollywood class Army film, Uri lacks some realistic flavor. On the other hand, it has broken the stereotypes of all the conventional Bollywood films.
Rating: 8.5 out of 10
Cast & Crew:
Writer & Director: Aditya Dhar
Producer: Ronnie Screwala
Action Director: Stefan Richter
Stars:
Vicky Kaushal as Major Vihan Singh Shergill
Paresh Rawal as Govind Bhardwaj
Yami Gautam as Pallavi Sharma
Mohit Raina as Major Karan Kashyap
Kirti Kulhari as Seraat Kaur
Rajit Kapoor as Narendra Modi
Evan Rodriguez as Brian D'Suza
Akashdeep Arora as Ishaan
Summery:
Uri: The Surgical Strike is divided into five chapters which is based on a true event took place in 2016. The first chapter starts in Dogra where Indian Army convoy was attacked by a militant group. A few days later Indian army Para Commando led by Major Vihan Shergill strikes back and destroys that terrorist base. At the end of the chapter, Modi came to know that Major Vihan was planning a voluntary retirement to stay with his mother who is an Alzheimer patient. So, instead of retirement, Modi suggests Vihan in a dinner to join the defense headquarter. So that he can stay with his mother and be in duty as well.
In Chapter two (An unsettling peace), Vihan starts a new life with new duty in defense HQ. Pallavi Sharma is appointed as a nurse for Vihan's mother. Then a tragedy falls upon, Vihan's best friend and brother-in-law, Major Karan Kashyap dies along with 19 other soldiers in a terrorist attack in Uri, Jammu and Kashmir.
Chapter three, unveils with a tag line "new India". Due to the crisis, Indian government decides to conduct surgical strike on Pakistan Occupied Kashmir to destroy terrorist launchpads. Surprisingly, Major Vihan gets back to lead the mission. Additionally, the nurse Pallavi turns out an agent who is also working on the mission. In fact, she is responsible to gather all intel from Pakistani sources.
Henceforth, the fourth chapter opens somewhere in Kashmir, where Vihan was preparing his team of 80 soldiers to strike on 6 terrorist launchpads in POK. Govind Bhardwaj, being in charge of the mission, hires DRDO intern Ishaan to make 4 surveillance drones alike hawk.
In the final chapter, Vihan led special force retaliates 6 launchpads and gets back without any casualty. Despite available information, Pakistani authorities could not stop the surgical strike. Eventually Uri, wraps up with a dinner hosted by Narendra Modi.
Uri Review
Uri compels the audience with its mind-blowing presentation of gun fights along with sound mixing and color grading. Eventually, on technical ground, Dhar has done a marvelous job in cooperation with action director Stefan Richter. As a result, it has become a Hollywood class film due to the cinematography and well decorated gun fighting sequences. Not to mention that the camera work is amazing and all the action sequences seems very real. Before this work Bollywood never did such Army film. Obviously, they have produced a significant number of films on Army. Yet Uri is way better in technical ground from other films till now.
Uri: The Surgical Strike has broken the stereotypes of most conventional Bollywood movies. Particularly most of the Bollywood films are lost in romance and full of musicals. In contrast, Uri doesn't even have a typical romantic scene. Although, from Bollywood perspective this is a lacking in Uri.
Vicky Kaushal as Major Vihan has also played the role well in all the action scenes. The protagonist, Vihan has a real crisis at home because her mother has got Alzheimer. Regardless of the crisis, he joins duty during the Uri mission and has depicted the character artistically.
Not only Vicky but also his co-stars did a good job including the debutant Mohit Raina. Though Mohit has an extensive presence in TV serials, he is new in featured film. On the other hand, Rajit Kapoor played the role of Narendra Modi but could not depict Modi well.
Yami Gautam's characterization is a mistake which does not fit into the script. Yami's role came into effect in 3rd chapter where she is appointed as a nurse for Vihan's mother. It seems cliché because a high-profile agent like Pallavi who latter will work on the mission is nursing a Major's mother because of protection only. Instead of her they could send anybody to do that job. So, her character doesn't add up.
Last but not the least, Though sounds are well captured but some mistakes blew the purpose of covert operation like unnecessary sounds of whisper and noisy footsteps. Another fact, Vicky Kaushal's team supposed to reach their destination by helicopter and attack at 2 o'clock. Despite reaching on foot due to boarder protection, they happened to be on time which doesn't add up. To add further, Major Vihan supposed to have a dinner with his entire team with Modi. As Modi's promise, the dinner takes place with 12 to 15 team members and rest are missing. Poor soldiers?