"Pathaan" marks the highly anticipated return of the King of Bollywood, Shah Rukh Khan, to the silver screen after a brief hiatus. Directed by Siddharth Anand, this action-packed thriller serves as a much-awaited treat for fans of the superstar and promises an adrenaline-pumping cinematic experience.
The film revolves around the enigmatic character of Pathaan, played by Shah Rukh Khan. Pathaan is a skilled and ruthless secret agent who becomes embroiled in a dangerous game of espionage and revenge. His path intertwines with that of Khan (played by John Abraham), a formidable antagonist, resulting in a high-stakes battle of wits and action.
Shah Rukh Khan brings his trademark charm and intensity to the role of Pathaan, delivering a performance that showcases his versatility as an actor. He effortlessly transitions between suave sophistication and fierce determination, keeping the audience engaged and invested in his character's journey. Khan's on-screen charisma is undeniable, and his presence alone adds an undeniable star power to the film.
John Abraham, known for his action prowess, delivers a menacing performance as Khan, the formidable adversary to Pathaan. His brooding presence and physicality lend credibility to the character, making him a worthy opponent for Shah Rukh Khan's protagonist. Their on-screen chemistry adds an extra layer of tension to the narrative, elevating the stakes of their confrontations.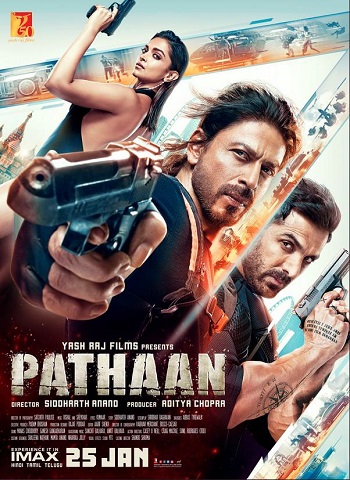 Siddharth Anand's direction is slick and visually appealing, with high-octane action sequences that leave a lasting impact. The film boasts impressive stunt work and well-choreographed fight scenes, seamlessly blending hand-to-hand combat and explosive set pieces. The cinematography captures the grandeur of exotic locations, enhancing the overall visual spectacle.
"Pathaan" also benefits from a strong supporting cast. Deepika Padukone portrays the character of Naina, a mysterious woman who has a connection to both Pathaan and Khan. Her performance brings depth and emotional resonance to the film, adding a layer of complexity to the plot. Additionally, the inclusion of other talented actors such as Dimple Kapadia and Salman Khan in special appearances further enhances the star-studded nature of the project.
The film's screenplay, written by Siddharth Anand and Shridhar Raghavan, strikes a balance between thrilling action and emotional beats. While the plot may not be groundbreaking, it effectively keeps the audience engaged with its twists and turns. The dialogues are sharp and impactful, adding weight to pivotal moments and character interactions.
The music, composed by Vishal-Shekhar, complements the film's narrative and adds to its overall appeal. The songs, with their catchy tunes and energetic choreography, contribute to the entertainment quotient.