Bangladesh is a small nation with many beautiful travel destinations like Rangamati, Bandarban and Cox's Bazar. The breath taking Kaptai lake is the most iconic holiday destination in Chittagong Hill tracks. Kaptai is also the largest artificial lake in Asia. Due to it's creation in 1960, more than 10,000 ethnic people were displaced. But the sacrifice has been paying off to hundreds of thousands of domestic and international visitors.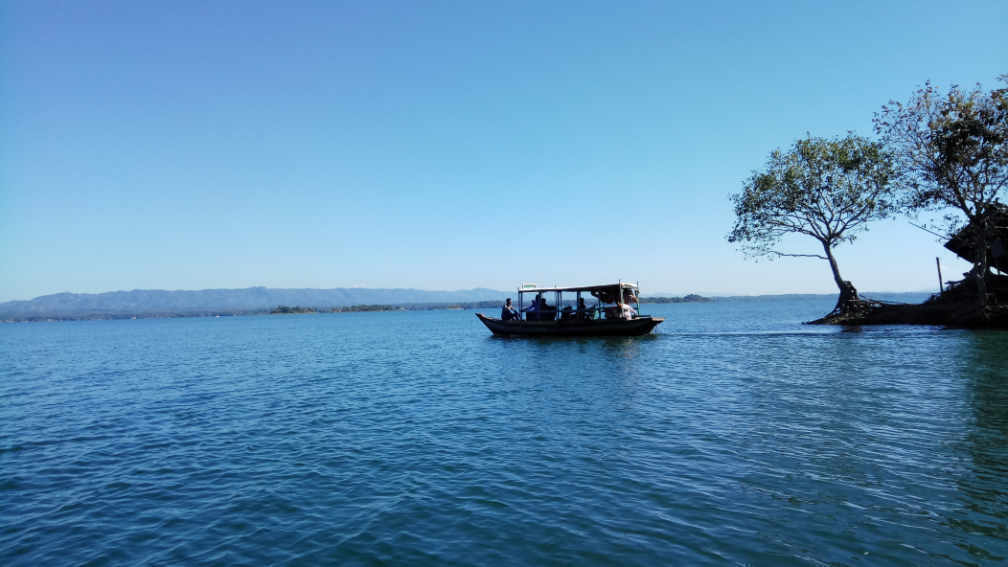 An Overview of Rangamati And Kaptai lake
Rangamati is situated in Chittagong Hill Tracks. It is the largest district in Bangladesh covering 6116.13 square kilometers land and water combined. It is also the largest indigenous district in Bangladesh with 52% of ethnic population. And the major ethnic communities are Chakma, Marma, Tanchangya, indigenous Assamese people, Keot(Kaibarta), Tripura, Pankua, Lushai, Khiang, Murang, Rakhain etc. Both the ethnic and Bengali people are living in harmony which makes it as the most diversive city in Bangladesh.
Rangamati Lake is the largest man-made lake in Asia. It was created as a result of building a Dam on Karnaphuli River as part of Karnaphuli Hydro-electric project. It has an average depth of 100 feet and maximum 490 feet which makes this lake, the third deepest lake in the world. Ethnic communities of Rangamati are living on thousands of small islands surrounded by the beauty of Kaptai lake.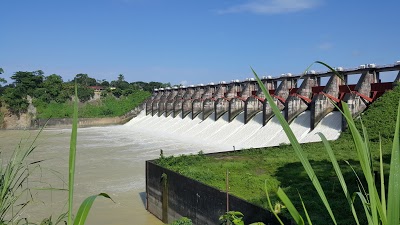 Rangamati is 320 kilometers away from Dhaka and 74 km from Chittagong. There are some available transportation from Dhaka including luxurious AC Hyundai. None AC bus will cost around 800 BDT while AC Hyundai costs 1500 BTD.
Rangamati Resorts and Hotels
The accommodation facility is wonderful in Rangamati. A number of quality resorts and hotels are there in the city and beside Kaptai. Among the few resorts, Aronnok Holiday Cottage and Lake-shore Holiday resorts are the best. These two resorts cost around BDT 4000 to 6000 per night.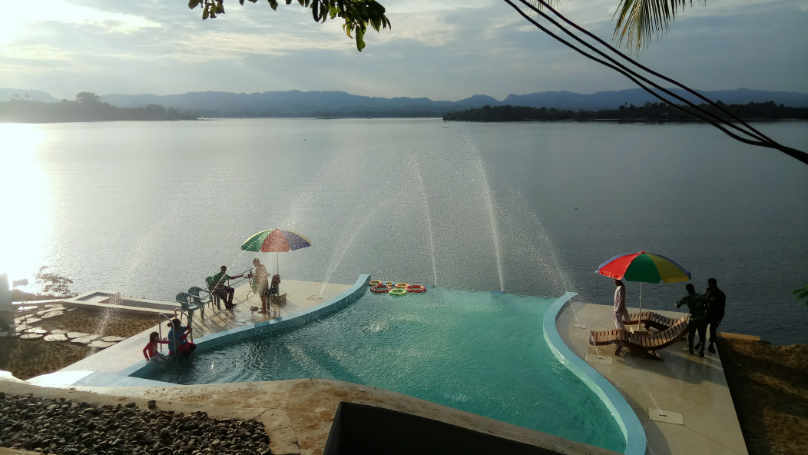 On the other hand, handful of hotels are waiting to welcome international and domestic tourists. Most of the hotels in Rangamati are quite affordable. But Parjatan Holiday Complex is the best option so far because it is standing beside Kaptai Lake and the iconic Hanging Bridge. You can enjoy the peaceful environment and the beauty of the lake from your room. Though it is little far from the city yet is best place to spend your days. The hotel costs around BDT 3000 to 5000. If you want complete isolation, this hotel can also provide you with separate tribal cottage. Other than this, Hotel Sufia can be a good place to live.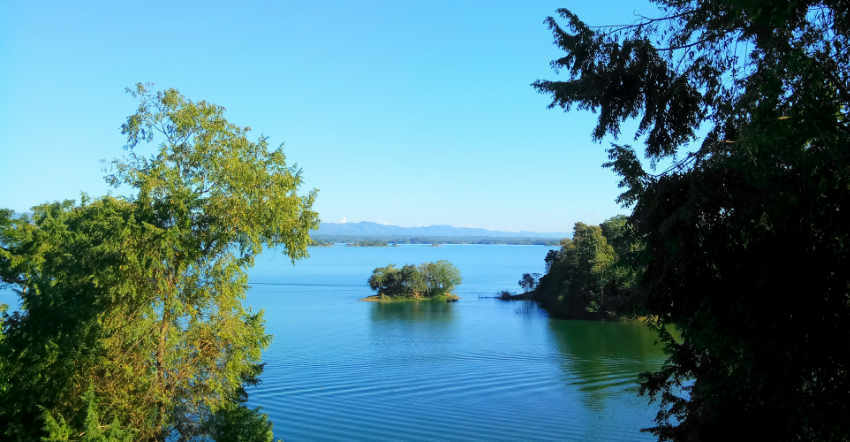 Popular Tourist Spots to Visit
The whole Rangamati is quite beautiful and there are many tourist spots to explore. The lake itself is a thrilling experience for visitors. Blue water, green hills, an endless blue sky lost in the blue and green background provides an ultimate peace.
Kaptai Hanging Bridge
Hanging bridge is the icon of Rangamati. It is two kilometers distant from the main city and standing right behind the Parjatan Holiday Hotel. For decades, this bridge is symbolizing Rangamati and kaptai Lake. Largest boat station for visitors is also under Hanging Bridge from where you can hire a boat to enjoy the blue lake and major tourist attractions around the lake.
Shuvolong Falls a Beauty of Kaptai Lake
There are a few water falls around the lake those are pretty gorgeous especially the Shuvolong falls. If you want to explore this part, you have to travel 1 hour and 30 minutes by boat. The boat ride in the middle of the lake is unforgettable. On the go, you can enjoy the scenic beauty of Borkol sub-district. You can even experience ethnic communities living on small islands in Kaptai lake. They are friendly and welcome visitors. You can even buy hand made clothes from the local tats.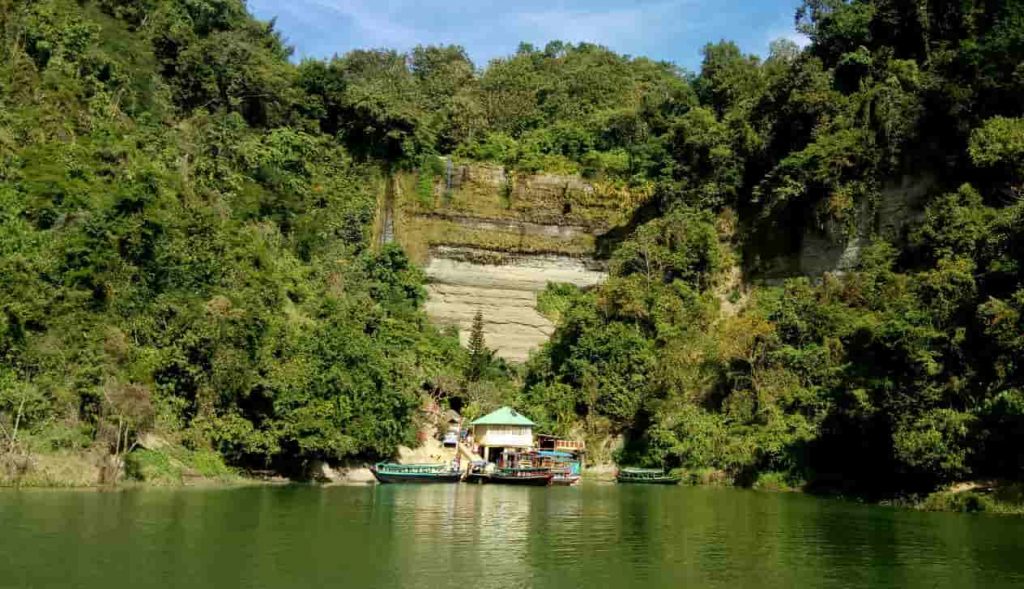 Chakma Royal Palace, Rangamati
The Palace is open to public despite being current residency of Chakma King. It witnesses the most fundamental glory of ethnic royalty. Visitors can access some of the areas of the palace. This palace reflects Chakma culture and may be the only place to see a pure ethnic royal family in the country. It is just 6 kilometers from Rangamati city and visitors can reach their by privet jeep or CNG.
DC Bungalow
This bungalow is another tourist attraction for domestic visitors. It is popular because it provides a nice view of the lake. The district commissioner's residence, also has a small light house and boat station for visitors to explore the beauty of Kaptai.
Rajbana Vihara Pagoda, Rangamati
Rajbana Vihara is in Jurachari sub-district which is 1.2 km away from the city. The modern Pagoda complex was built in 1984 in Burmese architectural design. It has an extensive history of Buddhist belief. The present Chakma King, Barrister Devashis Roy helped building this two stored complex. It has all the facilities from hospital to residency for monks.
Where to Eat in Kaptai Lake?
Multiple options are available while floating around Kaptai. Either You can kayak in Kaptai Lake or be lost in the green hilly lake with unique and delicious foods. There are many modern restaurants in Rangamati City but for tourists tribal foods are the main attraction. As thousands of islands are inhabited with tribal communities, getting foods is easy. Some restaurants are serving in the middle of the lake to tourists with traditional dishes. Peda Ting Ting is the most famous restaurant in the gigantic lake along with some others such as Chang Pang restaurant and Jhum Ghar.
In short, Rangamati is an ideal place to those who love lakes and mountains. Along with boating in Kaptai, you can experience pure adventure and can taste unique dishes sitting in the breathtaking and scenic beauty of the lake.