In this Goa travel guide, we are going to take you to the best of the "Hub of entertainment" in India along with its exotic beaches that everyone dreams of visiting. Goa is the place of exotic where parties never end and the best vacation destinations for open sky party lovers. It offers natural attractions, affordable food, and white sandy beaches. Goa is simply considered a little Portugal in India. It is the smallest state of the South Asian nation offering the best holiday memories at the affordable cost possible.
About Goa
It is no wonder that Goa has been a popular destination for several years. The mile-long sandy beaches and lively villages provide a perfect blend of experience and relaxation. This destination has various types of beaches like Malta but far cheaper.
It is no wonder that Goa has been a popular destination for several years. The mile-long sandy beaches and lively villages provide a perfect blend of experience and relaxation.

Hotels and resorts are located along the North Goa coast, in the villages of Vagator, Candolim, Calangute, Baga, and Arpoga. The villages have a large selection of restaurants and there are parties, life, and movement all year round. On the beaches, there are many smaller restaurants with local food and drink for a cheap price.

Unlike the northern part, southern Goa is calmer and consists mostly of everlasting paradise beaches with swaying coconut palms. The villages are sparser than in the north, and there is not the same range here. The best thing you can do here is sit down on the beach with a drink and look out over the blue sea.
Goa is about some of the best Beaches for Vacations!
A 10 km long fine-grained sandy beach runs along with northern Goa. Here are Beach shacks and several water activities. If you continue further north you will find peaceful stands with fewer tourists. High waves and underswell occur in some places – especially during the rainy season from June to September. Goa is the hub of natural beaches of different types.
Goa is the place where party lovers gather for endless parties!

If we skip the parties this Goa Travel Guide will not be completed. In North Goa, there are plenty of restaurants and bars and it is cheap to eat out. The areas around Baga Beach and Vagator Beach have nightclubs and more life in the evenings, while other areas are peaceful.
What Activities Can You Do in Goa?
Windsurfing, jet-skiing, and paragliding are some of the best activities Goa is notable for. In other respects, the range of sports activities on the beaches is limited.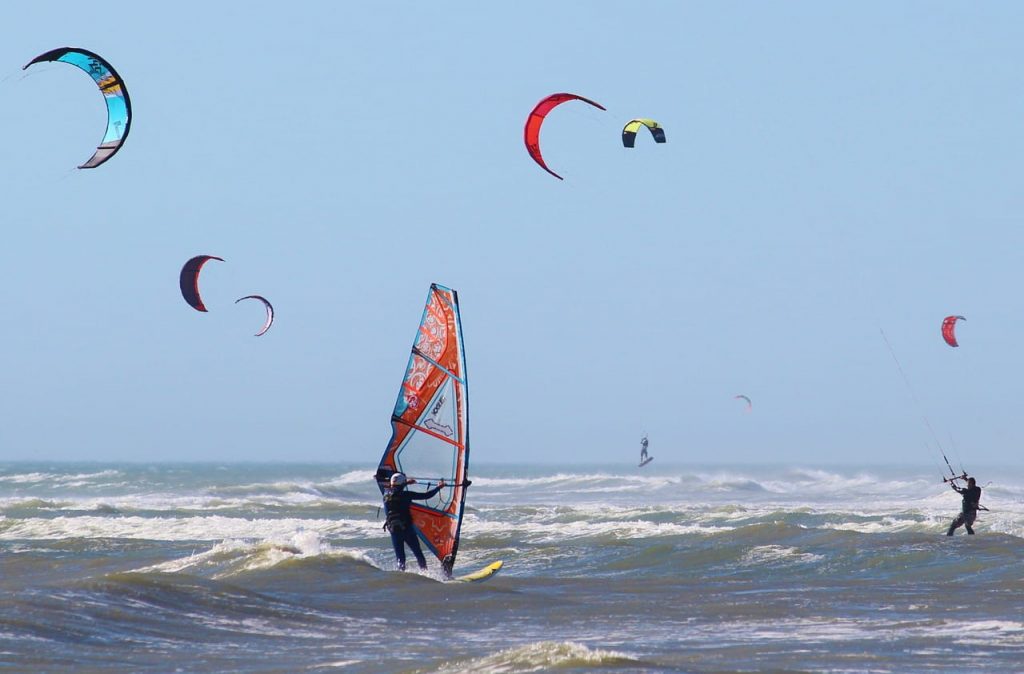 Goa Travel Guide: Best 5 Beaches to Visit in Goa
Goa is a paradise for sure to those who long for miles of beaches, coconut trees, and tropical views. Along the entire coast of Goa, there are several different beaches. And in this Goa travel guide, we are happy to suggest some of the favorite beaches according to the majority of travelers from around the world!
1. Vagator Beach
Cliffs surround this beautiful beach in northern Goa which invites beautiful baths and walks along the water's edge. Vagator beach offers beach shacks, small beach cafes, which usually offer a deck chair if you buy something to eat or drink from them. Do not be surprised if you see a cow trudging past because the cow is a common guest you will encounter all the time.
2. Mandrem Beach
Just 20 kilometers north of the hectic Baga Beach is Mandrem Beach. It is one of the peaceful beaches loved by thousands of tourists. Vendors are fewer and the waves are usually not as high as they can be elsewhere. It is an excellent beach for families with children and especially for those seeking total relaxation.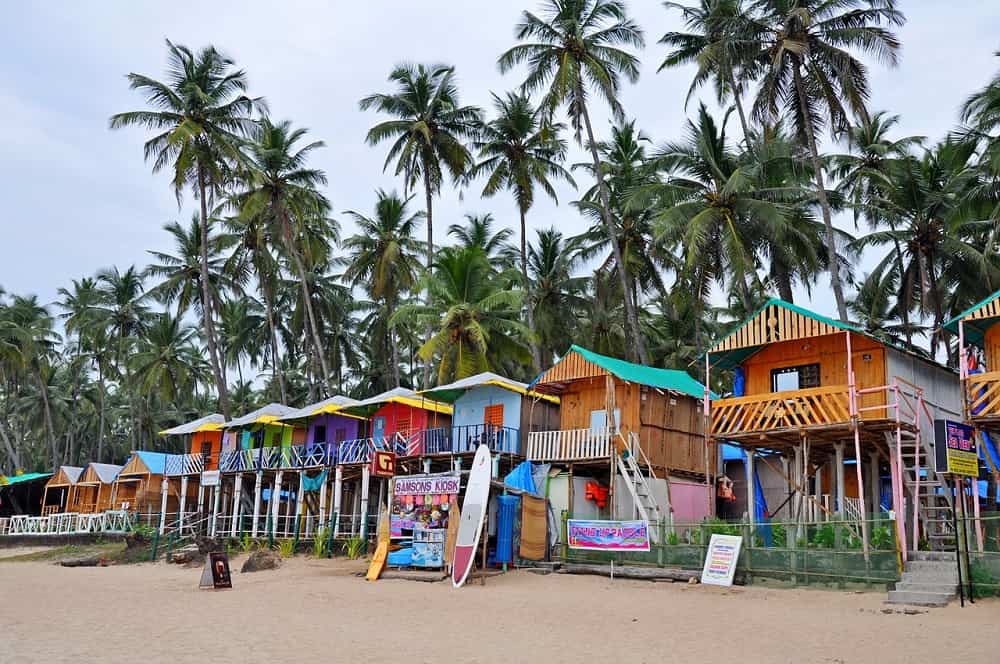 3. Palolem Beach: Best Beach for Backpackers
Are you a backpacker? Palolem is the paradise for backpackers and everyone else who wants to enjoy the tranquility of one of South Goa's best beaches. The beach is lined with beach huts. You will find a wide range of huts here depending on price ranges and standards for those who want to stay overnight. Palolem is a favorite destination for Kayaking and you can rent them and spend a couple of peaceful hours at sea.
4. Cola Beach: Relaxed and Peaceful Environment
Cola Beach is in South Goa and can be described in one word – relaxing. The only thing that should be on the agenda when you visit this white sandy beach is to enjoy the tranquility and the surroundings.
5. Cabo de Rama Beach
Feel free to head to the Portuguese fort Cabo de Rama. At the black fort stands a white church, which is still active today, and steep cliffs down into the sea make the place a majestic vantage point. The real find can be found below the ruins of the fort, where a lush sandy beach stretches between the cliffs. Cabo de Rama Beach is very popular with locals, but not as well known among tourists. From the road, it is about 500 meters walk to reach the beach, but the wild and beautiful place is definitely worth it. The beach has no guards or beach security; therefore you need to be careful with sharp reefs and currents.
Full Speed Ahead at Sea
Of course, it is nice to lie on the beach or by the pool, but if you feel that you long for more speed, there is a large selection of water sports along the beaches of Goa. There are mainly many options in the area around Baga, Calangute, and Candolim.
Around northern Baga Beach, or straight down on the beach from the main road in Calangute, you will find several organizers of windsurfing, jet skiing, and paragliding. Remember to ensure that the agency you are signing up with has the insurance and permits required by Indian law.
Goa Attractions: Goa Travel Guide
We have already covered some attractions, right? Those are not the end. And this extensive Goa travel guide is going to take you beyond its beaches.
Goa offers lots of impressions with lots to see everywhere. Calm the senses with visits to churches and temples, or spend a meditative moment by a beautiful beach. Here are some suggestions for attractions nearby.
1. Introduce Yourself with Old Temples
Everyday life in a Hindu temple is very quiet and gives a peaceful vibe. At festivals and rituals, temples are adorned and Indian sweets are often sold outside. The Shree Mangesh Temple is one of the most visited. To understand Hindu gods and goddesses, you may spend some time in the temple and experience the culture.
2. Old Goa
Due to the Portuguese reign, Old Goa is mostly surrounded by Christian communities still holding some Portuguese culture. Wherever you go, Goa is clearly influenced by the Portuguese era and has a lot of beautiful architecture that you should visit. Today, the former capital consists mostly of churches. One of them is the Basilica of Bom Jesus, which houses the remains of Goa's patron saint St Francis Xavier.
3. Fort Aguada
Fort Aguada is one of the best attractions in Goa you must visit among all the attractions. You will quickly find Aguada, in southern Candolim, which was built as early as 1612 to protect Goa from invaders. This fort was primarily a gathering place for the European ships. The name Aguada means water. It has a four-story lighthouse built in 1864, which is the oldest of its kind in all of Asia. This ancient Portuguese fort is located on the banks of the Mandovi River.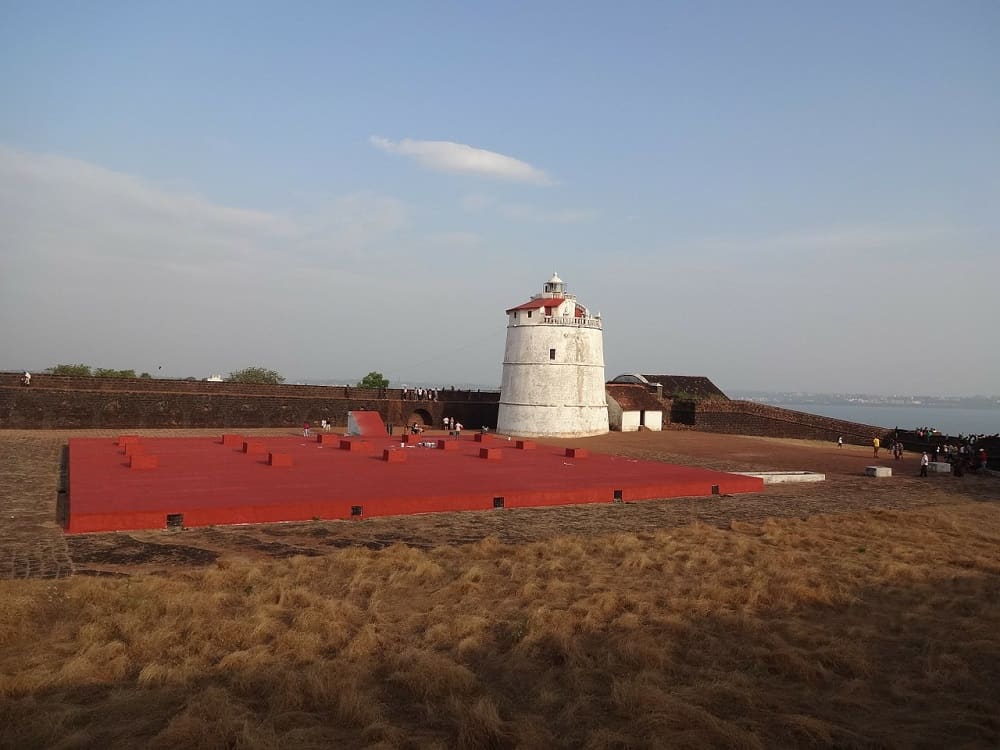 4. Capture the Sunset
Above Vagator Beach, remains of another fort named Chapora Fort. From here it is idyllic to catch the sunset over the Arabian Sea and Chapora River – a moment of peace and mindfulness.
5. Mayem Lake
Except for sea beaches, there is a beautiful artificial lake named Mayem, which is located a few kilometers outside Bicholim, east of Calangute. It is a beautiful water body with a magnificent nature that is home to thousands of beautiful birds. You can explore the lake up close to a pedal boat. Find here by going through the village of Mapusa and then follow the signs on to Bicholim. The trip takes about an hour, so do not forget to pack water.
6. Tito's Road Entertainment Center
Tito's Road in the village of Baga is lined with restaurants, bars, and nightclubs and here you will never be bored. This is Goa's most famous bar street. Challenge your traveling companions in billiards, watch your favorite football team fight for the Champions League dent or venture out on the dance floor to some of Goa's best DJs. In the Asian region, if there is a place that can compete with the party haven Thailand's Koh Pahangan, that will be Goa and it continues to become more entertaining day by day.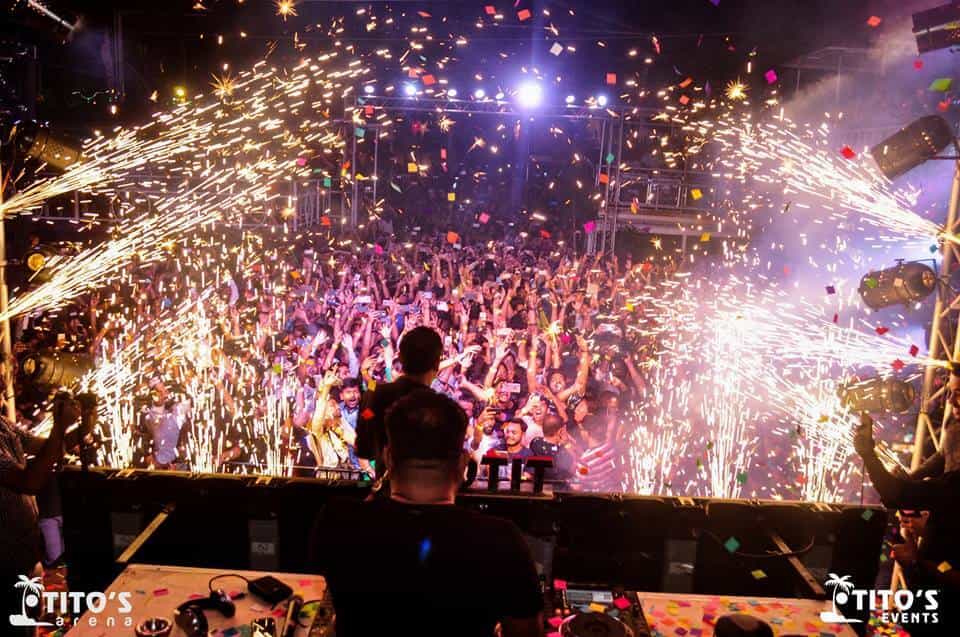 7. Mythical Dona Paula
Outside Panjim, you will find one of Goa's most romantic viewpoints, Dona Paula. The area is lined with characteristic small market stalls where clothes are sold along the road. Here, the Mandovi River and the Zuari River meet the Arabian Sea in beautiful natural scenery. The statue depicting a man and a woman is surrounded by many legends. One of them is a sad love story about lovers Dona and Paulo who were reluctantly separated because they belonged to different castes. Starved of other alternatives, they decide to take their lives by jumping off the cliff together. The statue is said to be dedicated to them.
8. Panjim Riverside Park
After a day in the crowds of Panjim, it can be nice to round off the visit in a quiet place. Buy some coffee or a cooling lassi and take a nice walk in the lush park overlooking the water. The park is a small oasis where you can really breathe a sigh of relief after days of sightseeing.
9. Spend Time During Festivals
India has a number of festivals and Goa celebrates most of its festivities. While visiting this old state, you should spend one of those festivals. Holi and Diwali are the two largest festivals celebrated in Goa along with all around India. Festivals in India is all about colors and how they are celebrated. Along with these big celebrations, there are many other small festivities that can also be enjoyable.
Enjoy Boat, Train, Or Rickshaw
Transportation in Goa can be an adventure in itself. Instead of renting a car, it is more common to take a taxi, which is significantly cheaper than what you are used to in Europe and America. Make the whole trip an experience by taking the train, or try gliding along the Chapora River in an Indian houseboat.
Take the Ferry to Panjim
From North Goa, you can take the bus for a few rupees to Panjim. Get off at the ferry terminal in Betim, take the ferry across the Mandovi River and end up in Panjim – the provincial capital of Goa.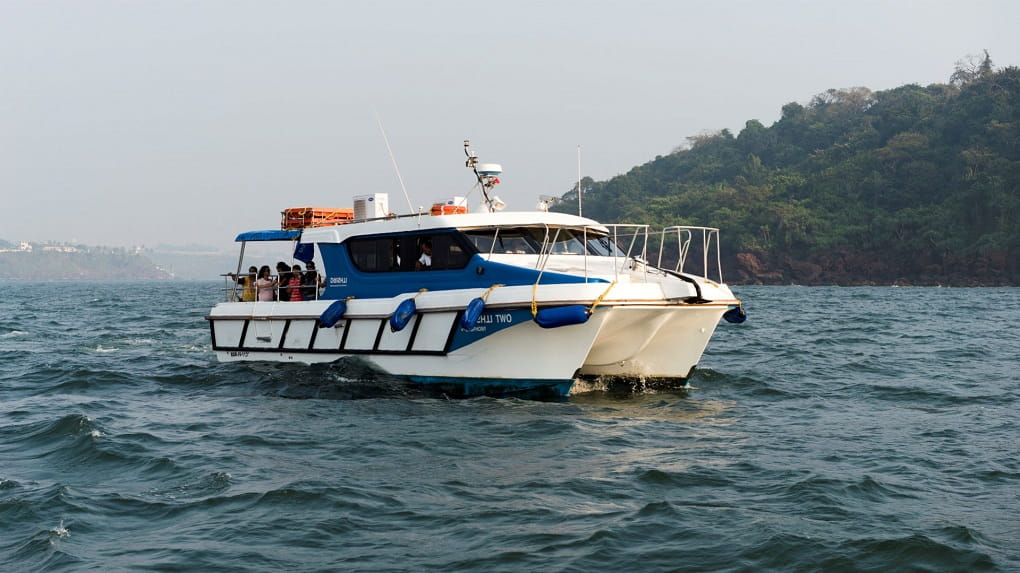 Have an Adventure on Train in Goa
One of the most genuine ways to get around in India is to travel by train. They never last the time, it is sometimes very crowded and it is difficult to find the right carriage, but it is an experience of a lifetime. You are guaranteed to meet a lot of curious people who make the trip a real adventure.
Take A Rickshaw Ride
It is a nice and exotic experience to ride a rickshaw, or tuk-tuk, which is a cheap three-wheeled taxi for up to a couple of people. A rickshaw is a perfect means of transportation pulled by a man when you only have to travel a short distance.
Best Restaurants to Eat well in Goa
Be sure to enjoy the local cuisine while in Goa. Indian food has a great variety depending on where you are in the country. In Goa, you will find a lot of influence from Portugal and around the country. Here the food is not as spicy as in the rest of the country and a lot of seafood is prepared.
Martins Corner
Do as the locals do and gather with family and friends at the Martins Corner restaurant in South Goa. It is a really good restaurant with delicious dishes on the menu. Take the opportunity to try delicious seafood dishes.
Café Lazy Days
It serves both more familiar international dishes and exotic Indian flavors of good quality. You can enjoy live music sometimes played in the evenings. The restaurant is very popular so feel free to be there early or book a table.
More of Asia
Vary the Indian food with other Asian flavors. Fat Panda is a popular Candolim restaurant serving Chinese cuisine in an open and airy dining room. Another tip is the Wok & Roll restaurant in Sinquerim, near Fort Aguada. Southeast Asian food is served there. If you craving delicious Thai food, this might be the best option to go for.
Enjoy the Local and Traditional Indian Food
Indian cuisine is something very special, with lots of spicy and delicious dishes to try. As a result of the Portuguese and Muslim influence in the history of Goa, there are culinary traditions that are unique to this particular region.
1. Eat Vegetarian
If you are a vegetarian and worried that you will not find anything to eat on holiday, you can rest easy. India has one of the best vegetarian cuisines in the world and there is so much to choose from. Try okra, a vegetable often called ladies Fingers on the menu in Goa. Or why not try Dal Fry which is a filling lentil stew served with rice or bread.
2. Try Out the Delicacies of The Sea
Especially in Goa, you can really revel in fresh fish and good seafood. They are prepared in many different ways – all equally delicious. Kingfish and pomfret are some of the Goans' favorite fish.
3. Goans Fish Curry and Rice
Goans eat fish curry for lunch every day all their lives. Somehow it is true, and it's good! This particular dish mostly includes coconut milk and turmeric and is served at most local restaurants.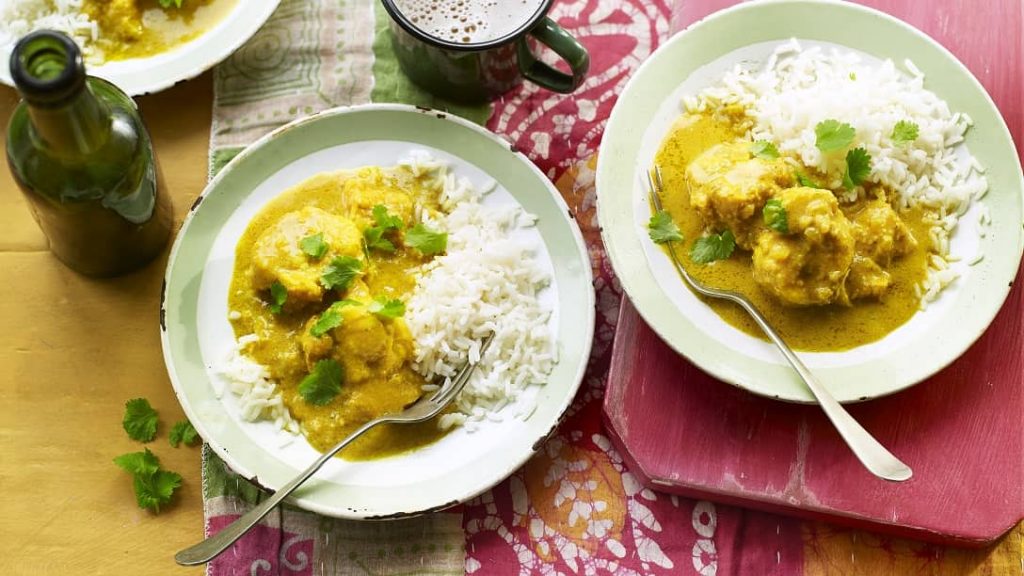 4. Tandoori Chicken
Tandoori is a clay oven that is widely used in Indian cooking. The most common dish that is cooked in the oven is tandoori chicken which is marinated in yogurt and then seasoned with tandoori masala. The dish is quite strong and flavored with cayenne pepper, red chili powder, or other spices that give the dish its red color and strong flavor. If you are from the western world habituated with western foods, you must try this for a different experience.
5. Naan Bread
Naan is a local and fantastically good bread cooked in a tandoori oven. It works great to scoop up a curry with. Of course, you can try to bake the bread at home – but it is seldom as successful as if it were cooked in a proper oven, so take the opportunity to eat plenty of naan during your visit to Goa. You can order the bread in varieties – natural, or with butter, cheese, or garlic, to name a few.
6. Samosa – Indian Pies
Samosa is like a puffed pastry shaped like triangles and filled with, spicy mushrooms, potatoes, lentils, onions, etc. The crispy shell and the tasty filling are mouthfuls you do not want to miss.
7. Thali – Indian Small Dishes
Thali is a selection of Indian dishes served in small bowls on a round tray. A typical thali consists of rice, curd (yogurt), dal (lentil stew), vegetables, pickles, and flatbread chapati.
8. Biryani – A Spicy Rice Dish
Have you ever heard of Biryani? I must guess you have. But maybe you haven't tested yet. If you are traveling to Goa anytime soon tasting different types of Biryani is a must.
It is an Indian rice dish that originates from northern India. It is wonderfully seasoned with cardamom and cloves and is cooked with chicken, lamb, or shrimp. Beef biryanis are love though a little tough to find due to the national beef bans.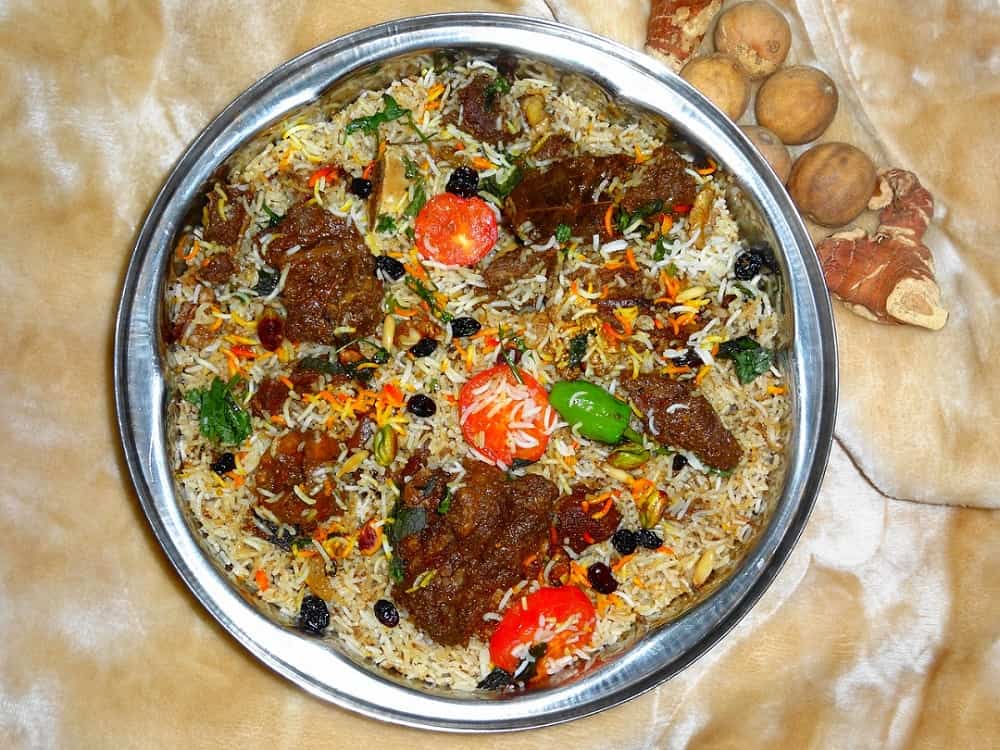 9. Take A Glass of Old Monk
It would not be fair if we don't discuss this drink in this detailed goa travel guide. Almost all countries have their signature drink. Ouzo in Greece, Sam Song in Thailand. Here in India, it's Old Monk! Old Monk is a locally produced rum with a touch of vanilla that is very popular in India. Dilute it with Coke or be a little more daring and drink it as it is!
10. Local Liqueur
If you want to try a local drink, you can order some Feni. It is a locally produced liqueur that is extracted from the juice of cashew nuts or coconut. Today, most are produced in factories, although there are exceptions. An awesome experience is to see how the liqueur is brewed in the traditional way out in the countryside.
11. Lassi
Lassi is a very traditional yogurt drink in the Indian subcontinent that freshens up in the heat. Available at most restaurants and beach shacks in many different fruit flavors.
12. Tender Coconut Water
Vendors are everywhere with refreshing coconuts in every corner of Goa. After miles of traveling this is a very good addition. Coconut Water costs about 40 rupees or 50 cents.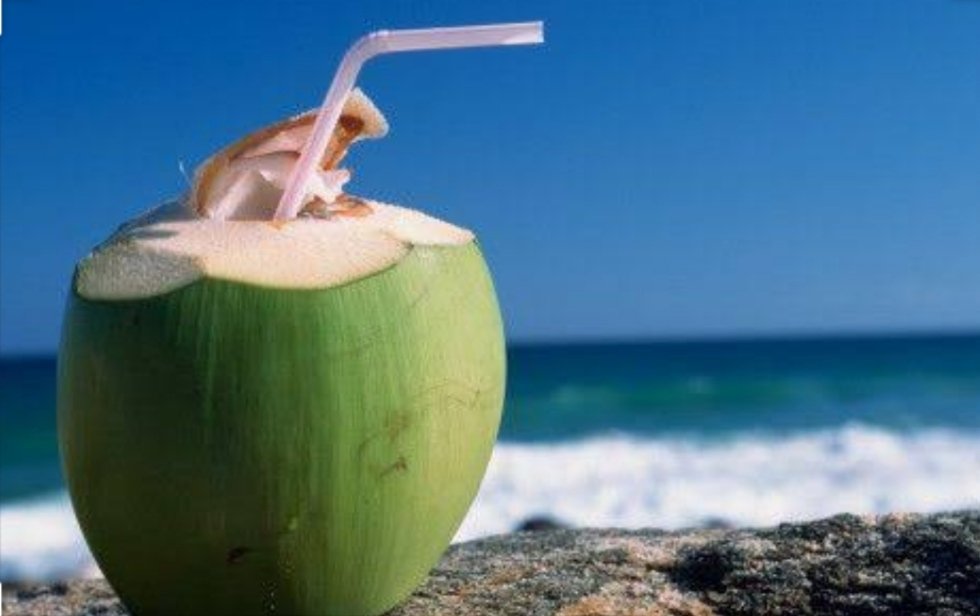 13. Refreshing Lime Soda
Goa is sometimes very hot, especially during summer. In the heat, it is important to keep the fluid balance. Freshly squeezed lime in soda with a little sugar and salt is the best way is refreshing. You will soon discover how good lime soda is and we dare to guarantee that you will want to drink at least once a day!
We hope throughout this Goa travel guide we have covered almost everything a tourist needed to learn before traveling. Know that Goa never sleeps, it is like Bangkok of India with a lot of entertaining beaches and other natural and architectural attractions. Most importantly, Goa is very affordable along with dance bars and parties. Because Goa has everything to offer, a lot of tourists visit this place and stays long.