What do you know about luxurious watches? Do you know which are the most expensive watches in the world? If not already, this blog is for you.
Love for watches is a very common thing among rich people. But today we are going to explore 10 of the most expensive watches in the world that only billionaires can buy. Some have historical significance and some are made of super expensive materials. But still, why are those watches priced so high?
Well, expensive watches have long been a luxury item for the rich to show off their status. A watch can talk about someone's wallet and social significance. But we may feel that nothing is as pointless as buying an expensive watch. A decent watch also does the same time. So, why buy an expensive one?
Showing off is one of the reasons people buy expensive watches. Besides, a lot of people also consider watches as assets. And because they have so much money, they purchase whatever they like to be praised by people. They wear them when among rich people, at celebrity parties, at gala dinners, or casinos. Just to show that you have money.
Let's not talk about this, and straight to the list of the most expensive watches in the world.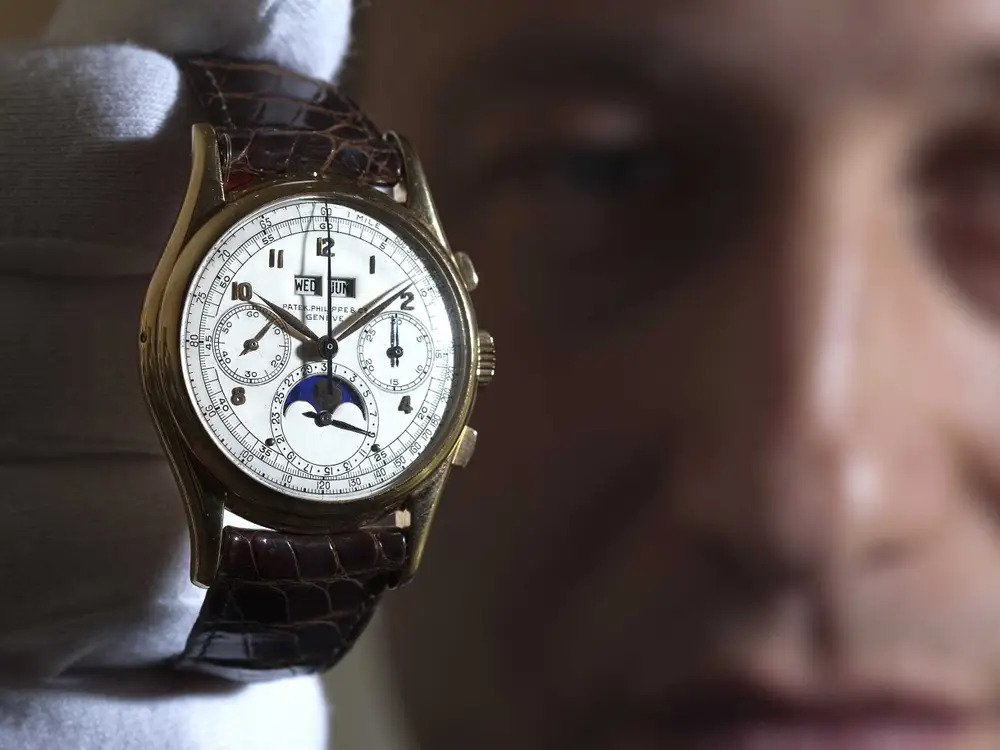 10. Patek Philippe Reference 1527 Perpetual Calendar – $5.71 Million
Patek Philippe Ref. 1527 comes to the 10th position on the list of most expensive watches in the world. It is a 1943 watch that looks like a fairly ordinary watch at first glance. But you don't need to be fooled by its appearance. Because, when you see this closely, if you are a watch lover, you will understand its beauty.
The watch contains over 23 gemstones while its frame is made of 18 carats of rose gold. But does that supposed to make it so expensive? No, the huge price tag is not because of the materials used, but rather because of its history. First, the watch is extremely rare and it was only made in one edition.
Besides, it stood the history of World War II. Since the maker, Patek Philippe was very renowned at the time and the watch stood the history, this auctioned price is fine. Last but not least, Reference 1527 was an inspiration for several other models.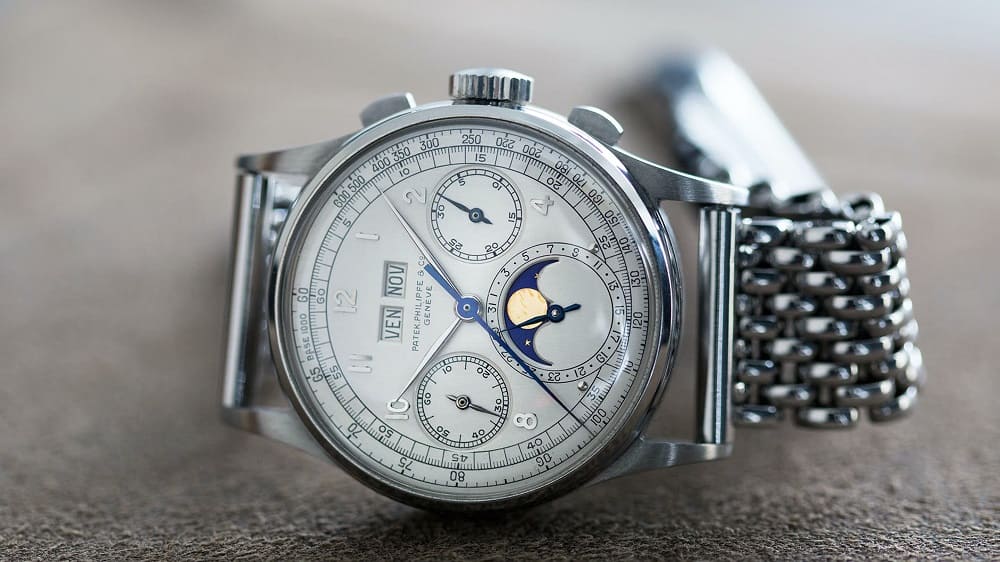 9. Patek Philippe Ref. 1518 in Stainless Steel – $11 Million
Another Patek Philippe watches makes the list of the most expensive watches in the world. The Reference 1518 is the first of the 4 limited editions made by Patek Phillipe. Unlike 1527, It is made of premium stainless steel. The design is as inspiring as the other but it has achieved the extra mile.
It sold for $11 million at an auction in Geneva back in 2010. Despite being a stainless timepiece, it stands out from most other Patek watches. Most are made in rose gold or plain gold, while this is the only Patek perpetual calendar chronograph made of steel.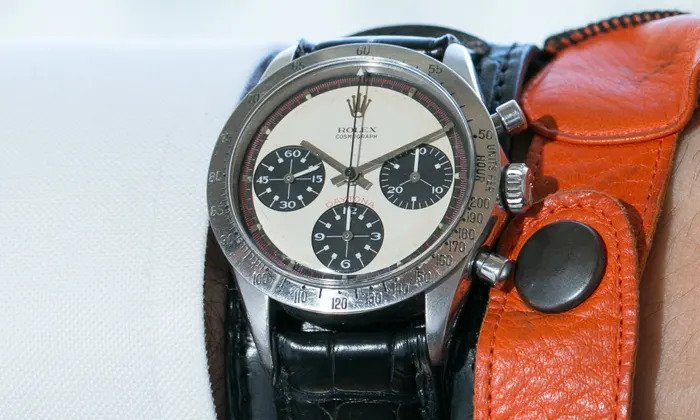 8. Paul Newman Rolex Daytona – $17.6 Million
If Rolex is not on the list, it would look unfair since it has a very prestigious position in the luxury watch market. On the number eight comes that Paul Newman Rolex Daytona and this is the most expensive Rolex ever. Without any doubt, we can call it a rare watch.
But the question is why so expensive? Well, this Rolex Daytona was in possession of Paul Newman. Newman was a world-renowned actor and at the same time was a motorsport and time enthusiast. This particular timepiece, he got as a gift from his wife, as a tribute to his passions.
Daytona has a simple yet unique Rolex signature look with a black and cream dial that comes with the "Exotic" design. Moreover, only one in 20 Daytonas has the "Exotic" dial design.
Also Read: Why Rolls-Royces Are So Expensive?
The fate of this timepiece turned after Newman wore the watch while trying to jumpstart his racing career. Suddenly, the price of the watch escalated. Later at Phillips auction house in New York, it was sold for a hefty $17.6 million.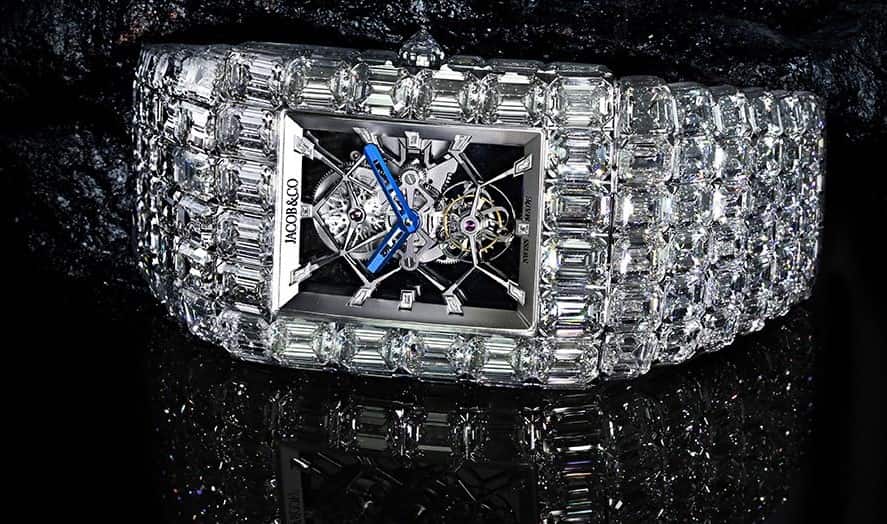 7. Jacob & Co. Billionaire watch – $18 million
Let's move on to the 7th most expensive watch in the world, the Billionaire watch. The Jacob & Co. Billionaire watch is another piece of timepiece made of 260-carat emerald-cut diamonds seamlessly fitted to the 18-carat white gold. So, without any doubt, it actually lives up to its name.
Most believe that the maker has put the price tag outrageously intentionally. But does not matter it is just some money for the billionaires. When it was revealed at Baselworld everyone got surprised.
In addition to the information, the watch also has a beautiful skeleton behind the watch dial, and it represents the friendship of the Jacob & Co. CEO and former Italian F1 Boss. Moreover, it also represents the spirit of Jacob & Co. wonderfully. It is a watch that surely gapes many people including the former boxer, Floyd Mayweather!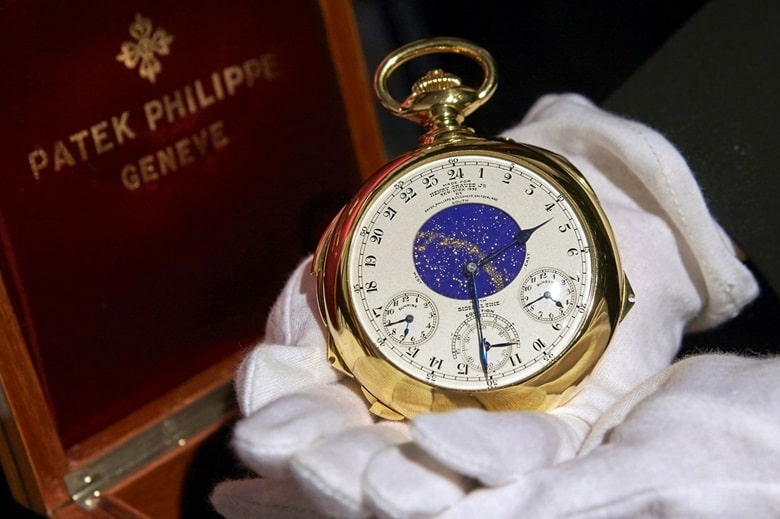 6. Patek Philippe Henry Graves Supercomplication – $24 million
Henry Graves Supercomplication is the most expensive Patek Philippe watch on our list and the 6th most expensive watch in the world now. It was particularly made for a wealthy American bank owner of the maker's time. But unlike others, Henry Graves is a mechanical pocket watch with so many features.
Guess the price of this timepiece now. It was sold for $24 million in an auction in 2014. Why wouldn't it be? It is the most complicated mechanical pocket watch ever built. Plus, it is made of 18-karat gold and 70 jewels. Moreover, it has 920 individual parts that need 430 screws to hold them together.
As the name suggests, Henry Graves Supercomplication is comprised of 24 complications. Also, it is an intricate timepiece that includes a perpetual calendar, a minute repeater with Westminster Chimes alert, and sunrise and sunset times. Besides, it also offers a celestial chart based on the night sky above the owner's home in New York. Isn't it super-duper customization for the owner?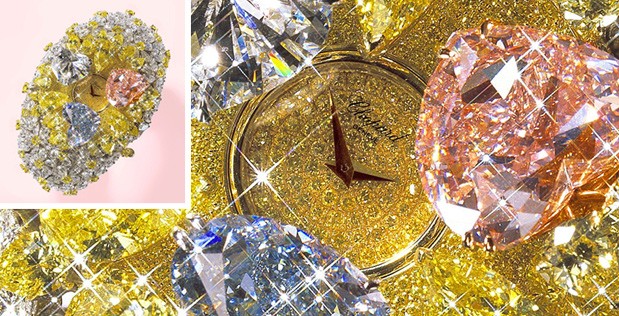 5. Chopard 201-Carat Watch – $25 million
Chopard 201 is not only one of the most expensive watches in the world but also the most exotically colorful watch on the list. It is made of 201-karats diamonds of various colors and sizes giving it a look of a glamorous flower bracelet. You must have already understood, it's a women's wristwatch and it costs $25 million.
In order to give luxury a true meaning, Chopard unveiled this excessively expensive watch in 2000. It has 874 gemstones attached to a frame made of yellow and white gold. Though it looks just like a diamond bracelet, you will find a small watch in the middle. Fun fact is, the dial of the watch is also encrusted with many small diamonds only visible to a closer inspection.
In addition, the dial is surrounded by three heart-shaped gemstones including a 15-carat pink, a 12-carat blue, and an 11-carat white diamond. More interestingly, the three centerpieces cover the dial until you press a certain diamond. We have to say this is a masterpiece of jewelry for billionaires' loved ones.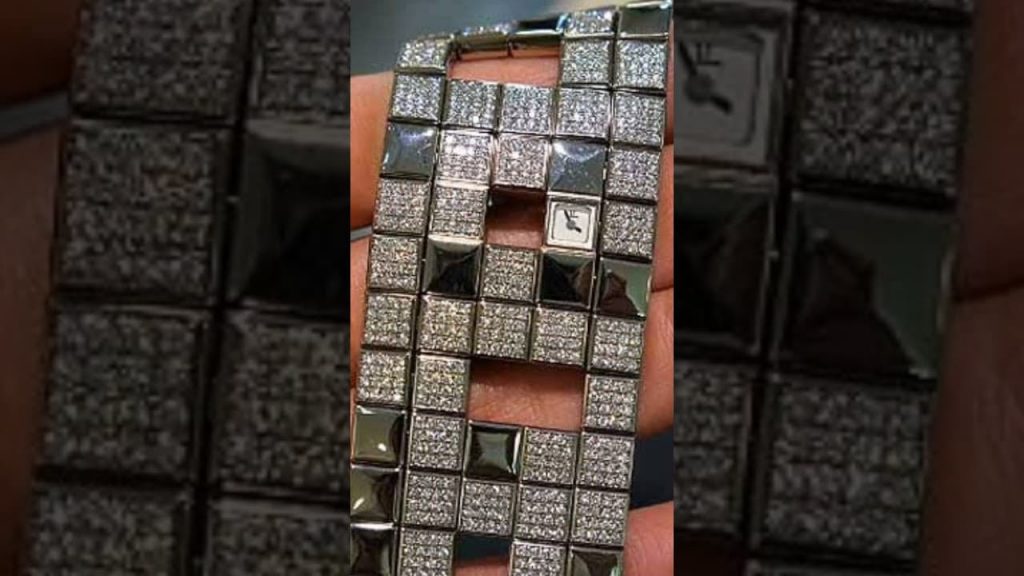 4. Jaeger-LeCoultre Joaillerie 101 Manchette – $26 million
We don't know if we can call this a bracelet or watch, but it has a tiny watch. So, let's call it a watch and put it on the list of most expensive watches in the world.
The Jaeger-LeCoultre Joaillerie 101 Manchette is a $26 million timepiece that has 98 different components. Though this design looks similar to each other every one of them is unique. The maker made this unique with some minor changes in the watch so that every one of them becomes a signature piece.
The usual Jaeger-LeCoultre Joaillerie 101 has up to 576 diamonds and a sapphire dial. But the maker can customize this on demand. Moreover, it uses the exceptional Jaeger-LeCoultre Caliber 101 mechanical machine.
101 Manchette is an exceptional piece of watch bracelet for women and looks like a masterpiece of jewelry that money can buy.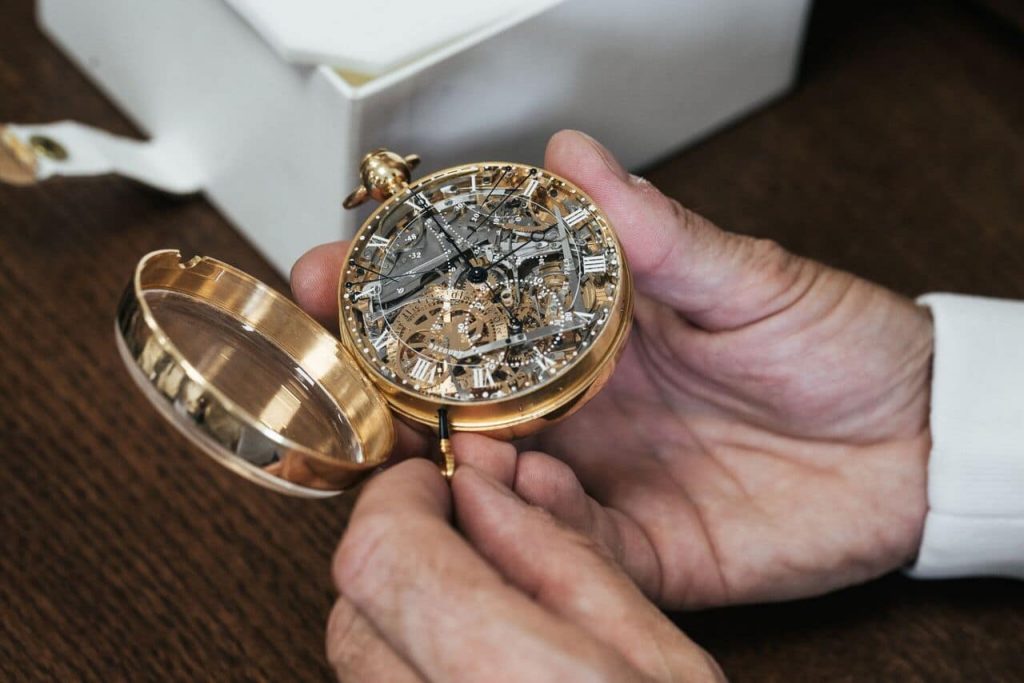 3. Breguet Grande Complication Marie-Antoinette – $30 million
Another super luxury pocket watches to make this list of most expensive watches in the world. It is a beautiful complicated mechanical pocket watch in a pure gold case. You can literally see the intricate mechanics inside. But does the gold casing and machine make it expensive? No, the price is attached to its history and royalty.
The history of this pocket watch says that it was commissioned by one of the French Queen Marie Antoinette's admirers back in 1783. But guess how long Breguet took to finish this timepiece.   
It took more than 40 years to finish, completed in 1827. But the time was not a waste, and the result was the birth of a true masterpiece. From design to technology, it is packed with every feature available at the time.
Unfortunately, the Queen, Marie Antoinette did not have the luck to see the result. Since its completion, it has traveled from one collector to another. And finally, it got its place in the Museum of Islamic Art in Jerusalem. But it was stolen along with many other watches in 1983 until it was returned in 2007 by the thief's wife. Now it is at the same museum in Jerusalem and is valued at $30 million.
2. Graff Diamonds the Fascination – $40 Million
Graff Diamonds unveiled its true luxury timepiece in 2015 which cost a whopping $40 million. It is the second most expensive watch ever made. As the name suggests, The Fascination is made of 152-karat pure white diamonds and it is a women's wrist watch.
It also has a 38-karat pear-shaped detachable diamond ring attached to the body. The Fascination by Graff Diamonds first appeared at the 2015 BaselWorld in Switzerland.
But until now we don't know if anyone owns this expensive timepiece. No matter what, Graff has put the price tag, so it is the price. But do you know why is it so expensive? Well, it is because of the super rare D-grade white diamond. The diamond is very rare and the costliest which makes this watch $40 Million.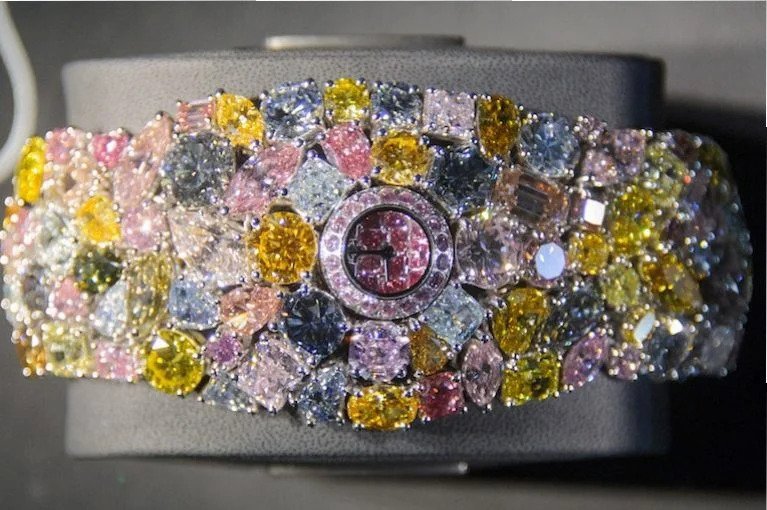 1. Graff Diamonds Hallucination – $55 Million
We have reached the peak of the most expensive watches in the world. It is none other than Graff Diamonds Hallucination. Hallucination is a $55 million piece with exotic colors like Chopard 201.
It has really created hallucinations among people in the BaselWorld 2014. Why wouldn't it, look at the price tag. The cost of the watch is more than any watch in the world and the real beauty lies in the wealth. Despite having any historical significance, why does it cost this high?
Well, it is made of 110 carats of super rare, colorful diamonds of different shapes and surfaces fitted on a platinum case. Almost all the diamonds are in different shapes beautifully set in the frame. The tiny dial in the middle is fully covered with pink diamonds. So, Graff Diamonds Hallucination is a unique piece of art and without any doubt, it pushes the boundaries of luxury to the extreme.