Ecosia plants tree in many countries and contributing toward a sustainable green world.
Tree plantation is an inevitable initiative to take to save the world and one tech company is built with the noble intention. Though there are other tech companies who are doing something sustainable so that their technology doesn't harm environment. But the search engine Ecosia plants tree out of their profit to provide the cure.
Ecosia is a German based search engine launched in December 2009 with the intention of reforestation and conservationism. Christian Kroll, the CEO and the owner traveled the world before he came up with this idea. Before Ecosia, he went to Nepal and wanted to build a search engine for Nepalese people. But due to the critical procedure, his idea did not work there in Nepal. Kroll visited many countries for studying the global problems and came up with the idea of building the search engine to help tree plantation.
Ecosia plants tree through their profit in many different countries in Africa, Asia and South America. The company spends 80% of its profit money to reforestation and conservationism through NGO (Non-government Organizations) across the world. By spending their profit they create job in those countries and plants tree to establish the real cure for climate change.
How Does It Work?
The search engine works in the same way as the other search engines work. You search in Ecosia as you search in other search engines and Ecosia also earns through ads like the other search engines. You can get everything like you get from other search engines. But only difference is that for your search, they plants tree through the profit. The more visitors they get the more they earn and the more they donate. So your search is contributing toward a sustainable goal of saving the environment.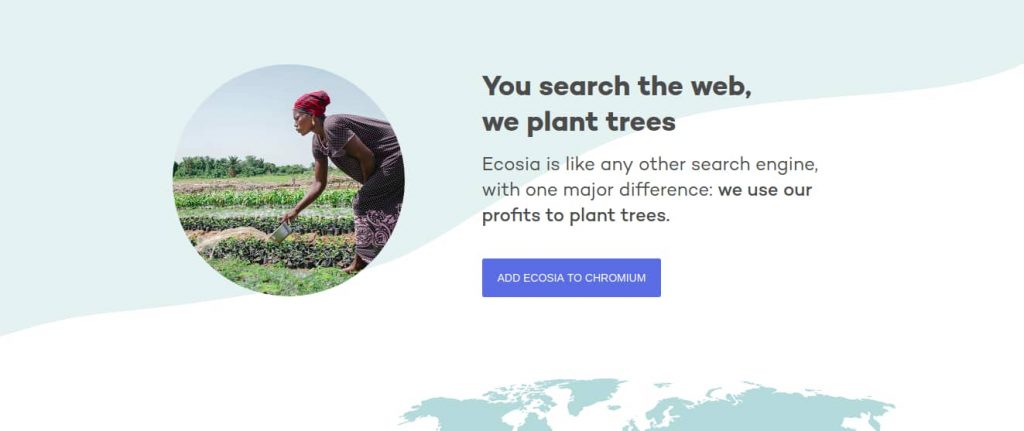 How Do You Know That Ecosia Really Plants Tree Out of the Profit?
There are plenty of organizations who claim to donate big amount of money for charity. But people have no access to the information if they really spend the same amount of money they collect in the name of charity. According to Ecosia, they donate 80% of their profit to charity focusing on tree plantation. They do not only say rather they provide enough information and report to track down their work of charity. Every year they publish a report on their earning and spending. If you are a regular user, you will get newsletter with the detail report on the progress. Even you will get to know how many trees have been planted through your search.
So eventually your search can help planting many trees to save the nature and you can be a part of something noble. Ecosia has over 7 million users and contributing to a sustainable cure for the rapidly changing climate.