Have you ever wondered, which is the most beautiful village in the world?
Well, it is really contradictory. Because there are limitless beautiful villages in the world. Choosing one, out of all those was quite tough.
Travelers are on a never-ending quest of searching for most beautiful places. It is our wanderlust that has been evolving throughout the history of human kind. Since the beginning of this century, traveling activity has radically increased.
It is no wonder that people look for most visited cities in the world all the time, but a very small portion of them search for most visited beautiful villages in the world.
Austrian village 'Hallstatt' is considered to be the most beautiful village in the world and I personally believe it too. This UNESCO World Heritage Site is a very small village with a picturesque landscape. Hallstatt is often featured in world media because of the beauty and culture. Though there is no shortage of beautiful villages in the world yet it has a lot to offer for its visitors. An estimated 1 million tourists visit this small village every year which is really a big number for a village of this size. Eventually, Beauty, culture, peace and facilities for activity make this timeless village stand out from all others.
Brief History of the Most Beautiful Village, Hallstatt
Hallstatt is still standing on the dazzling alps of Salzkammergut region of Austria. With around 1000 permanent inhabitants, this little landscape is still shining on the western shore of Hallstatt lake. This little village is only 23 (sq miles) and 1677 ft above the sea level.
The history of Hallstatt goes back in Early iron age 800-450 BC and was known for salt production. This picturesque village is so rich with history that the culture of that early iron age was called Hallstatt culture. Even in 1846, a prehistoric cemetery was discovered near the salt mine. Moreover, the museum contains 7000 years old artifacts found in this place. (Source)
When tourists visit this village, they come to know that there was no effect of Roman rule here. It is also important to know that world's first pipeline was built in the site of Hallstatt. The village has become the most significant part of UNESCO World Heritage Site because the construction site has not been changed till 16th century. Even it can be proved by the present and 1899 photographs which absolutely look the same.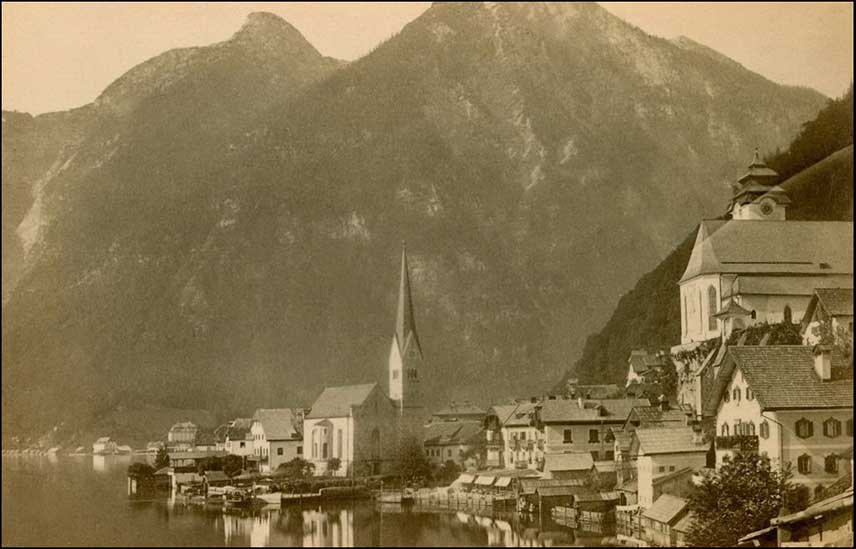 Most interesting part of this Austrian village is its cemetery. Hallstatt cemetery is so small that it has to be dug out every 10 years thus they can bury other people. But all the collected skulls are preserved in the local chapel with their details on them.
Why Should You Visit Hallstatt, Austria?
There must be some driving factor of Hallstatt, right?
Despite being beautiful, tourists also look into something extra and Hallstatt offers a lot. A lot of travelers visit this place for its rich history, some for its scenic beauty, some for ultimate peace. If we think about Vienna, it is not different from other mainstream big European cities. The same crowd with noisy urban life.
On the other hand, Hallstatt offers magnificent blue lake with mountain view and a small 16th century architectural village. Due to a very little population with a distinct cultural backdrop, this village has become an ideal place for international tourists. Most of its visitors come here to spend a peaceful and tranquil holiday. And this Austrian village is one of the most peaceful landscape in the world.
Hallstatt is definitely not for partying and shopping. So, if you are in search of a peaceful place just for walking, hiking and dinning, Hallstatt is definitely for you.
Best Travel Activities to Do in Hallstatt
Everyone is more or less preoccupied by this while visiting a place, isn't it?
You might be thinking, there are not much you can do in this small village. And you are dead wrong!
Though it is very small but there are various options to enjoy during your visit. It is not to mention that you can finish the inhabited area in just half an hour, yet you must stay for long. A lot of the visitors come on a day trip and never hold for night. And you should not do that.
Boating on Lake Hallstatt
The lake is mesmerizing and surrounded by amazing mountains. Boating is a must. You don't have to go for boating, the clear water and mind-boggling view will definitely make you doing it.
Hallstatt provides a range of boating services including Stefani Ferry and Navia. While Navia is specially for small boats that we are talking about, Stefani Ferry is for passenger carrier from the train station to Hallstatt village center. There are many other boat and kayak services available in the lake Hallstatt every day. Because around a million of tourists come across this beautiful and historical village, locals are much more into this service.
The Hallstatt Train Station is just 30 minutes across the village lake and Stefani Ferry route runs around trips every hour to pick train passengers. July-September is the best time for boating. Various types of boating services are available depending on time. But you should never miss the small traditional wooden salt boats. A variety of private boats are also available if you want to enjoy the lake and mountain as you wish.
Visiting Hallstatt Salt Mine
Do you remember, what is this village famous for?
The prehistoric salt mines.
Though, this salt mine is not active commercially but you can buy raw salt from the village center of Hallstatt. Locals, still collect mineral salt from this salt mine and sell them to tourists. The mine has become a famous tourist spot in Hallstatt. If you love places carrying a thrilling history, then this spot might interest you.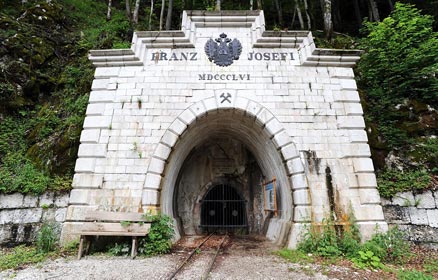 As I have mentioned in the History of Hallstatt part of this content that this salt mine is about 7000 years old. (Source) Can you believe?
Time to time excavation, explored the historical richness of this village. This mine preserved a lot of artifacts from Neolithic and iron age which talk about the history. Salt was considered as white gold back then. Therefore, Hallstatt has been a prosperous place in Austria from the beginning.
During the tour to the salt mine, people get to learn a lot about the life of the workers in the mine. This is a one-hour tour from the village center. You have to go to the tourist center for Funicular lift which will take you to the salt mountain. The prehistoric wooden train carries visitors through the chest of the mine. And its amazing.
The Cemetery and Bone House
It seems thrilling, isn't it?
Yea, its really thrilling and interesting as well.
Already said, Hallstatt cemetery has a very limited space and this village cemetery often runs out of space to bury another dead.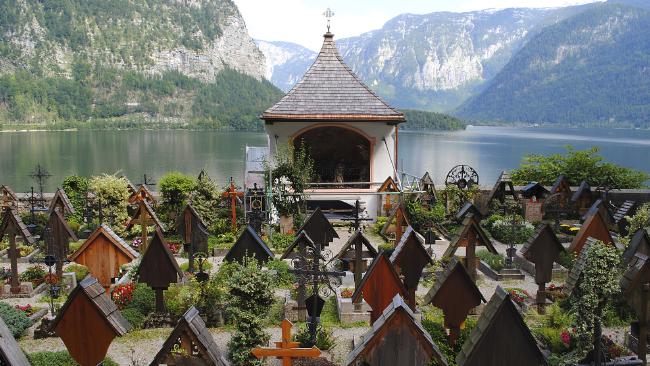 So, what do they do?
They dig out the skull and bones 10 years after the death and preserve them in the bone house. This practice started in 12 AD. Back then, skulls and bones of locals were preserved in an ossuary bone house. In 1100s, a new church was built right beside the Catholic Church called Quint Chapel and this become the permanent home to all the skulls.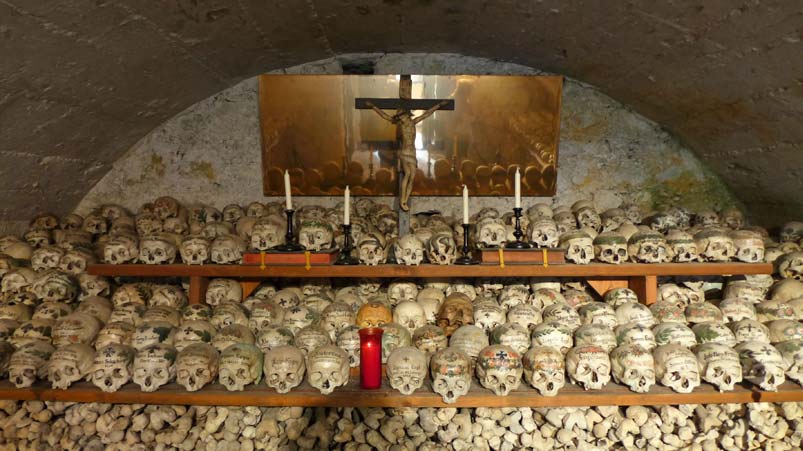 In 1720, Hallstatt pioneered a new tradition by painting those skulls with symbols depending on their profession and social status. Besides, name, profession and lifespan are written for better identification. The practice of skull painting and preservation stopped after the legalization of cremation by the Catholic Church yet if anyone wish, they can be in the bone house.
Visiting Dachstein Ice Cave in Hallstatt
Dachstein Ice Cave is an alpine wonder discovered in 1910. This amazing place is on high above the stone mountain with picture perfect frozen waterfall. Doesn't matter how hot is it outside, in the cave the waterfall remains frozen.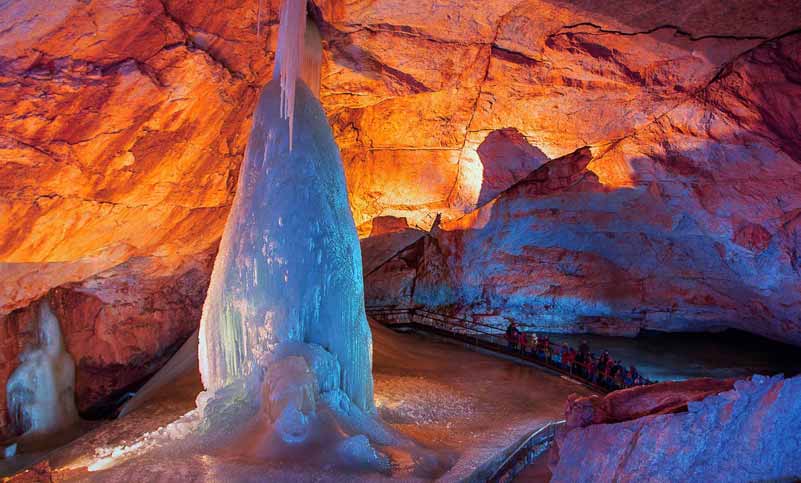 In first look, you will be mystified because everything outside the cave seems normal, but in the cave, you will be needing a jacket. If you have any tour guide with, s/he will describe the reason behind this pile of ice. Besides, during your visit to the Ice cave, you will enjoy the breath-taking aerial view of the mountains and the lake.
Dachstein Ica Cave is just 15 minutes bus ride from the village center. From there, cable car Gondola takes visitors to 1st station. On this trip, you also need to hike for 20-25 minutes to reach the Ice cave. Though the cave is closed during winter season but mountain top is open for view and Snow sports.
Hiking Hallstatt Mountain Range
If you love hiking, this beautiful village is an ideal place.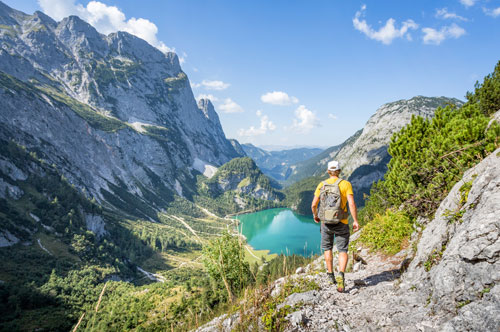 Hallstatt mountain range is the most beautiful and adventurous hiking destination featuring the world's most beautiful village. Hikers come from around the world to hike with a breath-taking panoramic view of the village and lake. Besides, you can be lost in the mountain area and move from one place to another.
Now hikers go on different trails. There are more than 11 hiking trails near Hallstatt including Welterbeblic Loop from Kolstattweg, Wasserfall Loop to P1 and Wasserfall Loop from Obertraun. All these trails are especial for particular reasons. Some trails will give you mountain views and some is good for lake and mountain view. Wasserfall Loop from Obertraun is the longest trail among all of them and it is spraded all the way round to the entire lake.
Welterbeblic Loop from Kolstattweg is the most famous of all because it comprises the village lake and deep into the mountains. To explore this trail, hikers need to be very expert and excellent fitness required.
Hallstatt Village and The Town Square
The village Hallstatt itself is a very eye catchy site to explore. Sixteenth century buildings are still standing like a hot dog between lake Hallstatt and alpine mountains.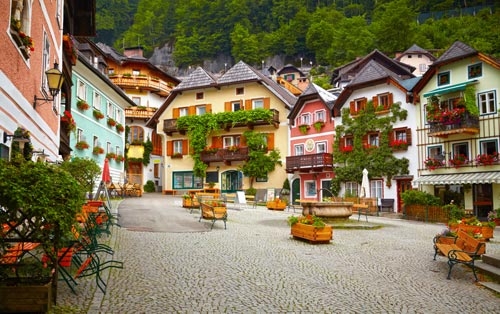 To witness the history and old heritage, you must explore every corner of the village. It typically takes an hour to explore the entire village. Though a little bit modernization is sited on roads and preservation of buildings yet it did not lose its glory at all. The center of the village is an amazing place to dine and have coffee. Walking around the shore of the lake will provide some incomparable peace for sure.
If you really want to enjoy an aerial view of the village, lake and mountains, Five Fingers view point is there to stand and enjoy the panoramic view for sometimes.
Hotels and Restaurants in Hallstatt Austria
We keep saying that this village is very small, right?
It has more than 50 hotels for tourists!
I guess you are confused right? This number is really big considering the size of the village. Booking.com has enlisted 50 hotels in Hallstatt which indicates there are even more.
The Heritage Hotel Hallstatt is so far the best hotel in the community serving long. This is also the most expensive and luxurious hotel in Hallstatt. Some of the hotels are little far from the village but they all belong to this village territory.
Hallstatt offers a range of restaurants and coffee shops. They are especially famous for fish and other European foods. You can get some local foods too. Das Kainz, Gasthof Simony and Restaurant Zum Salzbaron are some of the best restaurant where you should din.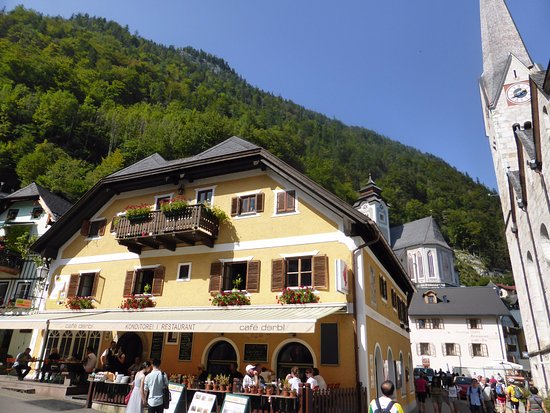 Café Derbl and Bacht's Polreich are two of the oldest and best famous coffee shops in the town square.
To draw the conclusion, I get to address that there are many other things I could not include regarding this village. Most importantly it is not possible to express the entire Hallstatt at a time but I have to admit that Hallstatt is the most beautiful village in the world that you must explore, if you haven't.