The Kurdish writer Behrouz Boochani's book "No Friend but the Mountains" was written entirely on a mobile phone while he was detained on the Pacific Island of Manus Island. And the book is among this year's literary sensations. Moreover, a lot of critics said that this is "One of the decade's most important publications".
Who is Behrouz Boochani?
Behrouz Boochani is a Kurdish journalist, human rights activist, film producer, and writer. He also co-founded Kurdish magazine Werya, which he considered the most important work of his life. Moreover, the magazine always promoted Kurdish culture and politics. On the other hand, he was an active member of the Iranian Kurdish Democratic Party which is outlawed in Iran. Besides, he also taught the Kurdish dialect to children in a particular area of the Ilam region.
Due to his affiliation with the Kurdish party and his work, the Iranian authority always watched him closely, and eventually, he had to leave Iran to avoid detention.
To seek asylum in Australia he reached Indonesia. But unfortunately, the Australian Navy caught him while making his way to Australia in July 2013.
While being detained, he acted like a human rights activist. He collected information about human rights abuse within the detention camp. And with the help of his secret mobile phone, he sent them to the news media. With a lot of struggles in the Australian detention centres, after six years in captivity, Boochani has finally found a safe haven in New Zealand.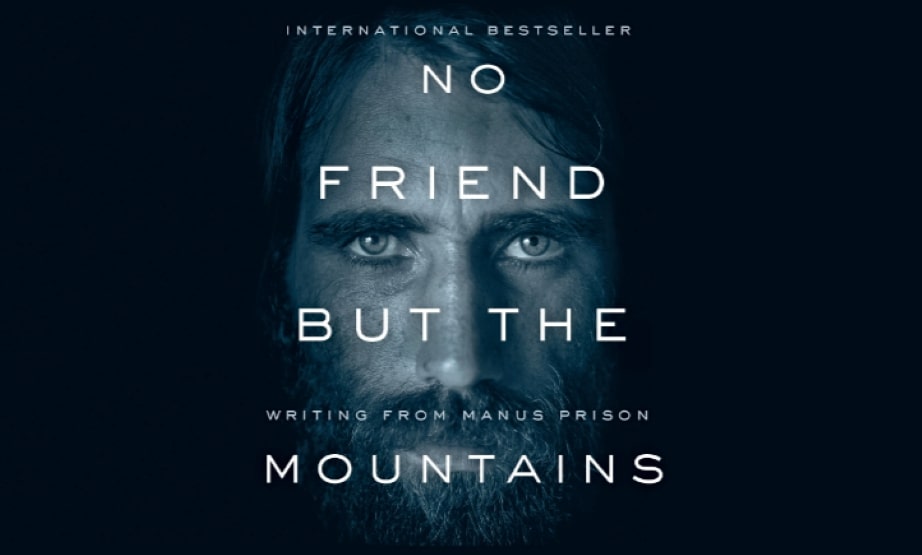 No Friend but the Mountains Written on Mobile Phone in Captivity
We have seen a lot of astonishing books but this is the one that was written on a mobile phone while the author was being detained. Moreover, Boochani wrote No Friend but the Mountains using WhatsApp. And the technology helped him smuggle the book out of the camp in thousands of PDF files. It already sounds thrilling, but we can guess the writer's struggle
Bocchani wrote the book in Persian and later translated it into English by Omid Tofighian. Omid is an honorary associate at the Department of Philosophy at the University of Sydney. In 2018, the prestigious publishing company Picador published his book. And it became an instant sensation around the world.
Several of the critics agreed that it is perhaps one of the most important books they have seen in a long time. Moreover, it became an international bestseller in 2018. Boochani's journey is outstanding and worth a story and his ability to communicate is without comparison.
Australia Denied Asylum Yet Gave Him Highest Literary Prize
After so many years of struggle, Australia did not accept Behrouz Boochani for asylum. But he found peace in New Zealand. But later on, Australia recognized him with the country's highest literary prize. And it looks very symbolic because he did not get to set foot in Australia.
Due to the book's outstanding communication, it received unison praise everywhere. In 2019, Boochani's "No Friends but the Mountains: Writing from Manus Island" received Victorian Prize for Literature and the Victorian Premier's Prize for Nonfiction. ABC News did a documentary film on him praising his life and book in the same year.
He described in the film, how his good helpers helped him with the book. He also made it clear that he wrote the book in the form of messages and sent them with his mobile, one by one.
It is rare to see someone smuggling his own words for a book rather than drugs. And that made Behrouz Bocchani's story heard all around the world. Today, he is beyond Iranian operation and Australian refusals.