On the trip to Zakynthos you can look forward to several beautiful beaches, cozy towns, and a really nice climate! As one of Greece's Ionian islands, Zakynthos, like its neighboring islands, is lush green. On the island's west and north coast, steep cliffs plunge right into the sea, providing beaches that can only be reached by boat. One of these is Smugglers Wreck which is one of the most photographed beaches in all of Greece.
Nice Beaches and Beautiful Natural Mountain Range
The Island of Zakynthos or Zante as it is also called is the southernmost of the Ionian Islands off the west coast of Greece. Like its neighboring islands, Zakynthos has beautiful beaches, a beautiful landscape, and a wonderful climate for sunbathing and swimming. In southern and eastern Zakynthos there are elongated beaches that are shallow and child-friendly. 
Destinations on Zakynthos
Zakynthos is an island that has something for everyone. It has some distinct tourist resorts with long, narrow beaches and along the main street, there are plenty of cafes, taverns, and shops. You should also find some resorts and beaches for good entertainment on holiday. Along the main street are restaurants, bars, and nightclubs in a row but here there is also a long sandy beach.
Tsilivi on the northeast coast of Zakynthos is one of the island's most popular destinations for families. The village is beautifully surrounded by olive trees, greenery, and pine-clad mountains and hills and on the beach, there are sun loungers, parasols, and water sports. 
If you are looking for really quiet holidays, the neighboring village of Tragaki with nice little beaches is a good choice.
In Vasilikos, there are several beautiful beaches with all kinds of water sports.
In Kalamaki, with its fantastic sandy beach, families with children especially thrive. For a holiday with a little more city life, we recommend the city of Zakynthos.
Visit Smugglers Wreck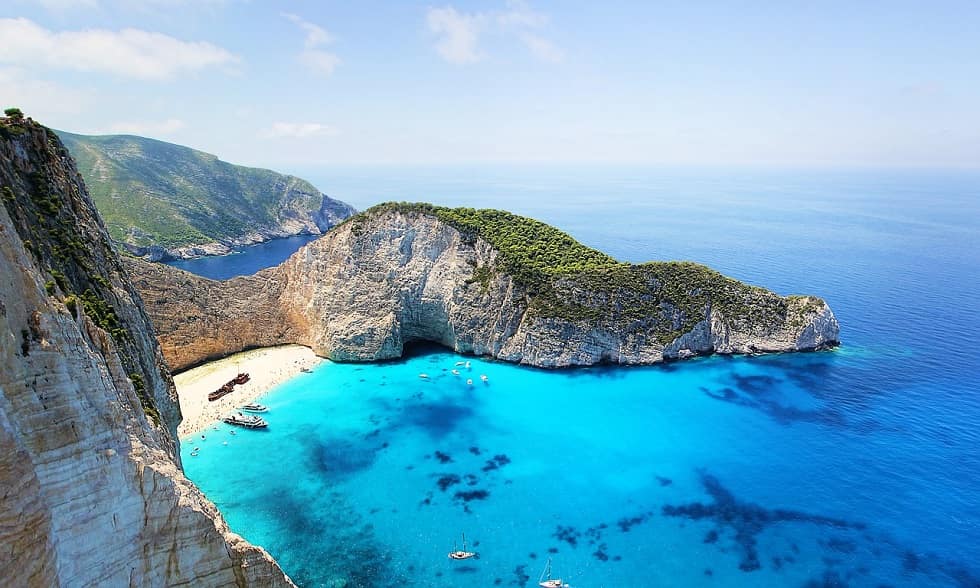 Smugglers Wreck is one of Greece's most famous and photographed sights. The wrecked ship is located on the deserted beach of Naviago Beach and is an exciting story that includes both pirates and a captain who abandons his ship. 
Zakynthos' fascinating sea turtles
Another thing that is special about Zakynthos is the endangered sea turtle Caretta caretta. The sea turtles have been around for over 90 million years and can be over 200 years old and weigh over 100 kilos. They come to Zakynthos every summer to lay their eggs, mainly on Kalamaki Beach and Gerakas Beach. When they hatch, you can see the little turtles looking down to the sea. To protect the Caretta caretta turtles, some beaches have restrictions on where and during what time it is ok to stay on the beach.
Beautiful Sandy Beaches
The finest sandy beaches on Zakynthos are located along the east and south coasts. Here, most of the beaches are fine-grained, shallow, and child-friendly. Some are surrounded by restrictions for the sake of sea turtles. In Kalamaki there is a nice sandy beach. In Tsilivi you will find a long fine-grained sandy beach that is shallow. Here you can also rent pedals and motorboats. On most beaches, there are sun loungers and parasols for rent. Argassi has narrow beach strips outside some hotels.
Entertainment
Most of the entertainment is concentrated in Laganas where the music pulsates in bars and discos in the wee hours. Tsilivi also has a wide range of entertainment. Argassi is quieter but there are still plenty of bars and restaurants. In Kalamaki there is limited nightlife with a few bars.
Other Activities You Can Do
There is no shortage of activities on this beautiful Greek Island. Water sports are some of the most popular in Laganes and Tsilivi, among others. In Laganes, you also have opportunities for snorkeling and diving. Among other sports, you can enjoy parasailing, horseback riding, and tennis.
Overall Zakynthos is a charming holiday destination among Greek island that you must think about travelling during summer time or any other time as it provides distinct beauty depending on seasons.