The Huawei P40 Pro + is a photo-centric smartphone with a stunning design. It does not only provide with highly functioning cameras but also high-end performance which is compatible with the future 5G network. We are going to review this latest Huawei P40 Pro+ in depth.
This flagship model became available on 7th April and already have got a lot of praise. The new smartphone integrates some latest technology and almost leaves nothing to chance. The Chinese manufacturer is constantly seeking to push the limits of its smartphone offer. And it proves once again, with this model with very advanced characteristics.
In fact, inside, there is an 8-core Huawei Kirin 990 processor compatible with 5G technology. It also has 8 GB of RAM, 512 GB of storage space, expandable up to 256 GB using an NM card. Besides, it has a 4200mAh battery with fast charge and wireless charging. This model comes with a 6.58-inch OLED panel capable of displaying FHD + videos up to 2640 x 1200 pixels. The display is very sharp and has a pixel density of 441ppi. This industry-leading datasheet clearly announces the ambitions of this smartphone, but that's not all. Let's get down to a deep review for understanding the whole.
Best Smartphone For Camera
To bring back camera quality in the Huawei P40 Pro +, the manufacturer has renewed its partnership with the German company Leica. There is no need for the introduction of Leica who are specialized for more than a century in the field of optics and cameras. The smartphone takes advantage of the Leica Ultra Vision camera system. With the collaboration, they have composed five sensors on the back.
The main camera sensor is 50 megapixels with an aperture of f / 1.9, an 8-megapixel periscope sensor with an aperture of f / 4.4 and a 10x optical zoom. It also has an 8-megapixel sensor with an aperture of f / 2.4 and a 3x optical zoom. Finally, the 40-megapixel ultra-wide-angle sensor with an aperture of f /1.8. It is not finished here. To complete this set, we also have to consider the 3D ToF sensor. The front camera should not be forgotten. It comes with the combination of a 32-megapixel sensor with an aperture of f / 2.
This vast combination of sensors designed with Leica offers a lot of possibilities. The support for Octa PD Auto Focus Full Pixel ensures crisp detail in all scene and light settings. The optical zooms offered are complemented by 100x digital zoom, achieved through the design of advanced periscopes with prisms that reflect light. Image stabilization is provided by triple OIS + AIS. You can zoom as much as you want, your photos and videos will always be sharp. For selfies, you can also count on autofocus and an infrared depth sensor, to enjoy the most natural bokeh effects. And thanks to the new Golden Snap, included in the terminal, you can enjoy the AI ​​Best Moment.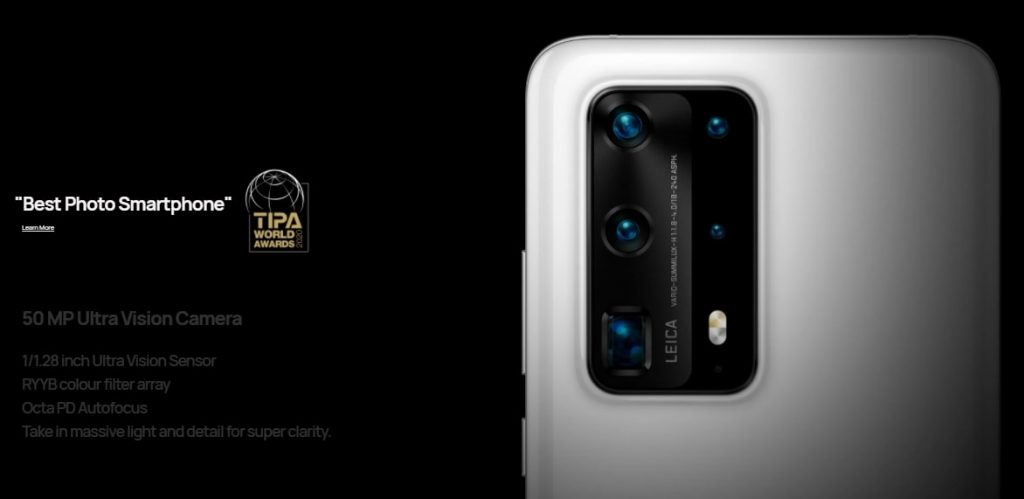 Finally, on the video side, the smartphone uses its 40-megapixel cinematographic sensor, capable of capturing light sensitivity up to 51,200 ISO for clear results even in low light. You can shoot in HDR, 4K at up to 60 frames per second, record super slow motion at 7680 fps and time-lapse in 4K. Thanks to its new Audio Zoom function, you can also amplify the sound by zooming in on it directionally.
The App Gallery and Widgets
The Huawei P40 Pro + is a smartphone powered by EMUI 10.1. It is based on Android 10 that offers a complete and intuitive experience. This is also completely redesigned around the manufacturer's limit. Huawei App Gallery is one of the main spearheads. It is the mobile applications market developed by Huawei. Launched just two years ago, it already has more than 420 million monthly active users across the world, and the number of apps available for download is steadily increasing. App Gallery relies on both security and ease of access to its catalogue. This allows users to enjoy it with complete peace of mind.
If, for you, the acquisition of this terminal implies leaving aside a previous smartphone of the brand, do not worry. With Phone's Cloning system, you can easily transfer your personal files along with all the applications, contacts and settings from one smartphone to another.
A Futuristic and Innovative Smartphone
Technically very developed, both in terms of its performance and its vast camera part. This mobile is also taking the lead for future technology because of its integrated 5G connectivity. The presence of this technology ensures that we can take advantage of the speed of this new mobile network, as soon as it is deployed in the region and beyond. To support 5G, 160 MHz WiFi 6 Plus connectivity is also available. It allows you to enjoy high speed up to 2400 Mb / s. Finally, to avoid any overheating linked to 5G connections, the mobile phone has the 4 in 1 Super Cool system onboard to enhance cooling.
Powerful on the inside, Huawei's new smartphone is ambitious on the outside too. With its Quad-Curve overflow four-edge display on the front, and its nano-technology ceramic rear panel, which gives the smartphone strength and sturdiness. It is already a timeless design that looks stunning.
Through its aspects, the Huawei P40 Pro + leaves nothing of the latest technology behind in order to assure a high-end smartphone experience. The phone is already available in the colours white (Ceramic White) and black (Ceramic Black) at a very promising price, with a free pair of Huawei FreeBuds 3i wireless headphones and a Huawei Watch GT 2e.