Google nest WiFi might be the most convenient and beautiful home WiFi router available in the market. Network coverage has always been a concern for people in their office and home. Following up on that Google has just brought a mesh network router looks so pretty that you can put it anywhere in your home. Because of the eye shooting design providing a lot of network coverage, this comes with a high price. Despite having impressive coverage and impeccable design, Google Nest WiFi lacks WiFi 6. With Google Home and 360 degree speaker, it has a better device prioritization and parental control as well.
When WiFi routers come to our mind, Tplink, Netgear, Asus and Linksys still to our mind first. More interestingly, Google introduced it's first WiFi router in 2016 which got wide popularity. After 3 years, it has been updated with some latest features. Google Home is one of the features with an extended network coverage. Though there is no major performance update yet the coverage improved massively.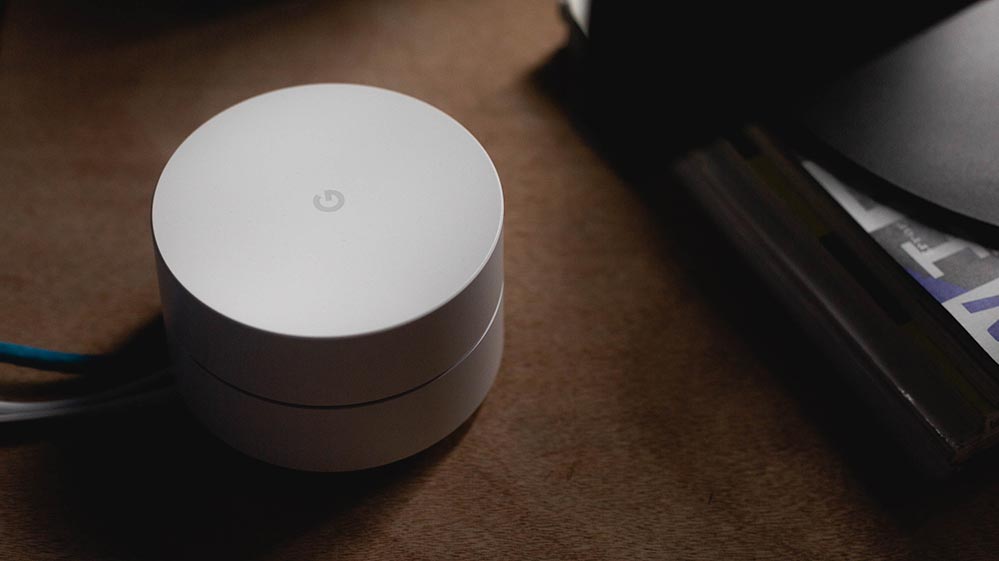 According to the market research, Google Nest WiFi is much more popular and advanced than it's major competitor Amazon's Eero. Eero, despite being the first home assistant and mesh network, falls short to the updated Google Nest. After Google announced it's old mesh network router during the Pixel 4 launching event, it created some buzz in tech arena. Eventually it is available in the market with 3 different color with a impressive mate finish design.
Google Nest WiFi Major Features
Initially, Google focused on the home network coverage which is biggest update in this new mesh network. As Google pointed, this new module is able to provide 50 percent better WiFi signal than the previous model. Because this is a mesh WiFi system, it comes with two different parts. One is known as Google Nest WiFi router and another one is nest WiFi point which helps to extend the network coverage around your home. The WiFi router can support up-to 100 connections with as much as 2200 square feet coverage alone.
In compare to Amazon's Eero, Google Nest WiFi router is capable of delivering 700 square feet more coverage. Eero router alone provides a coverage around 1550 square feet. In addition to a nest WiFi point, It can extend your WiFi signal up-to 3800 square feet. Even if you need more than that, Google Nest WiFi comes with two nest point which can extend your WiFi coverage up-to 5400 square feet. It is most satisfying to know that both the Google nest points are integrated with Google Home and 360 degree speaker. Therefore, you can get the privilege of getting google's home assistant every corner of house.
Easy Setup and Deep Control
Google Nest WiFi comes with hassle free setup which literally takes 10-15 minutes. The previous Google WiFi became trademark of simplicity due to easy and quick setup. Similarly, the new Google Nest is the king of simplicity. During setup Google Home will assist you but to access more configuration and features, you need to install Google WiFi app. Nevertheless, both the apps are pretty simple and function quicker than you expect. To get the deep controlling authority, Google Nest points need to be plugged which will be done through scanning QR code on the bottom. Initially, this feature is available on iOS and Android. So in terms of setup and configuration, google has done a impalpable job.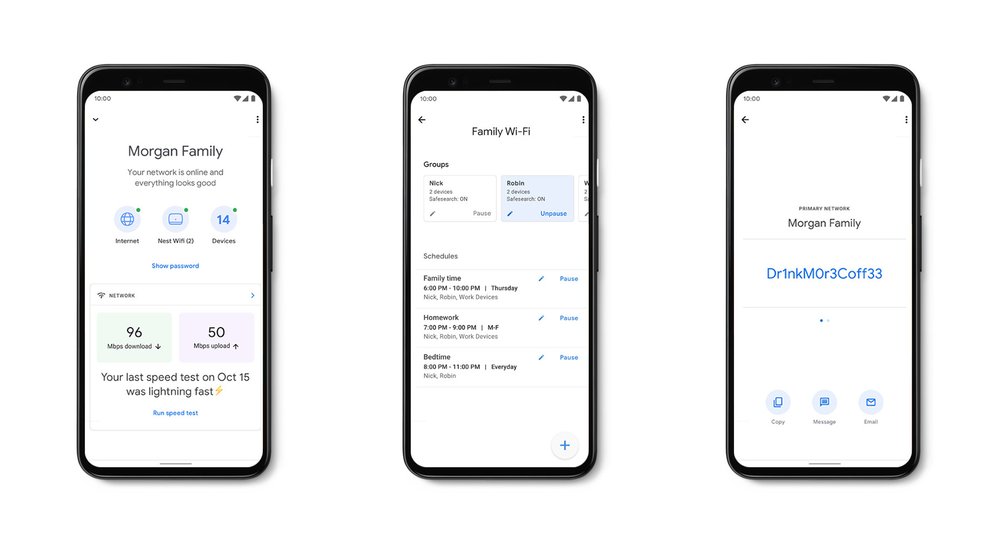 Now what type of control do you have?
You can literally control everything that you have on Micro tick router. An integrated parental control is a good feature in this mesh network system. Controlling connections and prioritizing devices couldn't be any simpler and can be controlled through the Google WiFi app. Meanwhile a family WiFi group allows you to control user activity along with scheduling their WiFi connection. To put it easily, you are in control of all the connections, you can schedule time of each of the users connection and put restrictions on certain websites. With the help of the Google Assistant, commanding the system is more easier and voice match will help you avoid any kind of overhauling. 
Google Nest WiFi – Hardware And Performance
Google says, the new nest is 2 times faster than the previous Google WiFi. But when it comes to the real world test, Nest just performs slightly better Than the previous Google WiFi. So there is nothing impressive. In normal network speed test, it works well and it doesn't get hanged even if you run 250 Mbps.
Since, Google Nest WiFi router comes with two different versions, one with (4×4) (5 GHz) and (2×2) (2.4 GHz), you can choose any of them depending on your required performance and speed. Similarly WiFi points also come in two similar options to provide you maximize performance. Google itself announced "Multiple simultaneous 4K videos." So, if you are worried about 4K video streaming, this mesh WiFi system cut to edge.
Google Nest Mesh WiFi has the IEEE 802. 11s/a/b/g/n/ac network connectivity technology but it doesn't have IEEE 802.15.4 thread available. With the double speed Quad core 64 bit ARM 1.4 GHz processor, Google Mesh router performs better than the predecessor. Google has also improved the Ram for making it faster than the previous one. The router has 1 GB Ram with a 4 GB flash. On the other hand, mesh point is equipped with 768 MB RAM and 512 MB flash. As a matter of fact, both these updated devices are compatible with previous Google WiFi router.
Cost And Availability
Google's latest mesh WiFi system comes with a high price label. The base model with single router starts from US $149 and goes as high as US $349. Currently there are three packages available in the market. And unfortunately, only Google mesh point has the Google Assistant. So, if you want home assistance, then you get buy a pack paired with Google's Point.
Google WiFi router can support up-to 2200 square feet alone and it costs US $149. Google is offering two units system for US $269 with 3600 square feet network coverage and Google assistant. And finally a WiFi router with two Google's point come with US $349 which can extend your network coverage up-to 5400 square feet.
This new mesh WiFi system is available in three different colors with mate finish. Though Google Nest WiFi router comes with white color only but Google's "point" offers three different colors, which are white, pale blue and pale pink.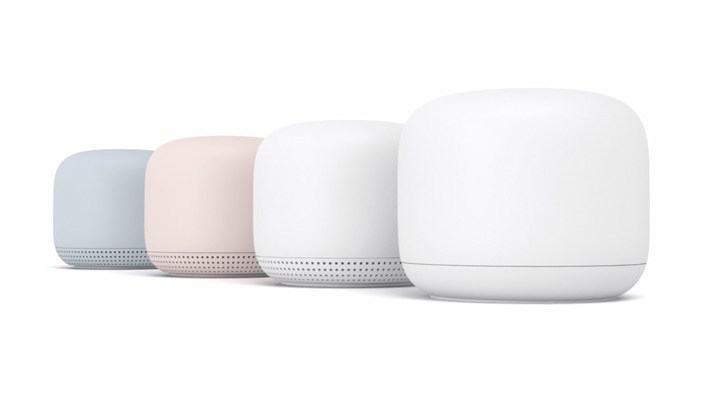 Google Nest Drawbacks
One of the biggest downside of the Google Nest WiFi is, it doesn't support WiFi 6 which provides better data rate and faster speed. So if you are looking for your future, it might not be good option. Though WiFi 6 is low on number of connections than this router yet it confirms best network speed.
Assuming the future benefits, WiFi 6 enabled routers are much more convenient than Google Nest. Therefore, Netgear Nighthawk, Asus Rog Rapture and AiMesh are some of the best routers available in the market. On a similar note, Google Nest WiFi router has only 2 Ethernet ports while mesh point doesn't have any ports in it.
Additionally, it cannot handle WiFi connection more than 350 Mbps. Generally, it can provide a very relentless and steady performance up-to 250 Mbps. If that goes behind the bar, it won't be able to support your network smoothly. Thus, you should consider to purchase something else if you need more speed and performance.
Last but not the least, Google has put a staggering price on it. Though, the cost is worthwhile, yet if you are looking for something powerful like this, and doesn't care for the pretty design it has, then there are many options available in the market.