Cox's Bazar is the longest natural sea beach in the world with its incomparable natural beauty. The Cox's Bazar city is in the most southern-east part of Bangladesh with many beautiful tourist attractions. Consequently it attracts a large number of sea lovers every year including foreign tourists. Because of luxurious beach side hotels and resorts within affordable cost, this place has become a tourist haven. Tourists have multiple options including surfing, bike riding and enjoying variety of sea foods.
Cox's Bazar District At a Glance
The district began in Mughal period after Shah Shuja camped on the way to Arakan. Later that period, this district fell under the rule of Portuguese and then British. It has got its name from Captain Hiram Cox of British India Company. Presently, it is 150 km south from Chittagong and 395 km from the capital of Bangladesh. It has around 962 square mile land with a over 2 hundred thousand population. The entire district is covered with low-lying hills especially on the sea side.
Along with popular tourist sights, this city has the most popular Burmese market where you can find varieties of products. Cox's Bazar district is the largest sea food and salt producing city in Bangladesh. Moreover, its contribution to the country's economy is undeniable. In addition, Bangladesh earns most of the tourism related revenue from this beautiful beach district.
Popular Sea Beaches in Cox's Bazar
The entire Cox Bazar beach is stretched with an unbroken length of 120 km along the bay of Bangla and is sandy with gentle slop. Most part of the beach is surrounded by green and medium size hills full of panoramic sea sight. To point out, 120 km beach can be explored by beach bike or jeep.
Besides, normal tide of the sea is very favorable for surfers and swimmers. Which is why, this blue coastline is safer than any other beaches in the world. There are number of beaches in the coastal region including Inani and Kolatoli beach being the most popular.
Kolatoli Beach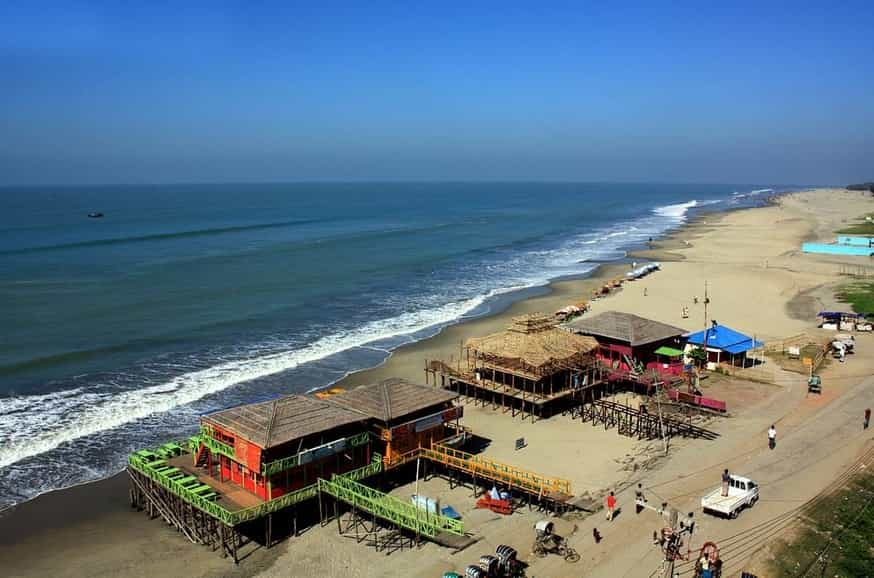 Due to the location near the city center and quality hotels, Kolatoli beach is the most visited beach. Tourists encounter Kolatoli at the beginning of their trip to Cox's Bazar. Some of the best hotels and restaurants are just beside this entry gate. In result, tourists have access to everything from ATM booths, shipping malls and transportation. It is crowded during day time but at evening it feels as the most peaceful place on earth.
Laboni Beach Point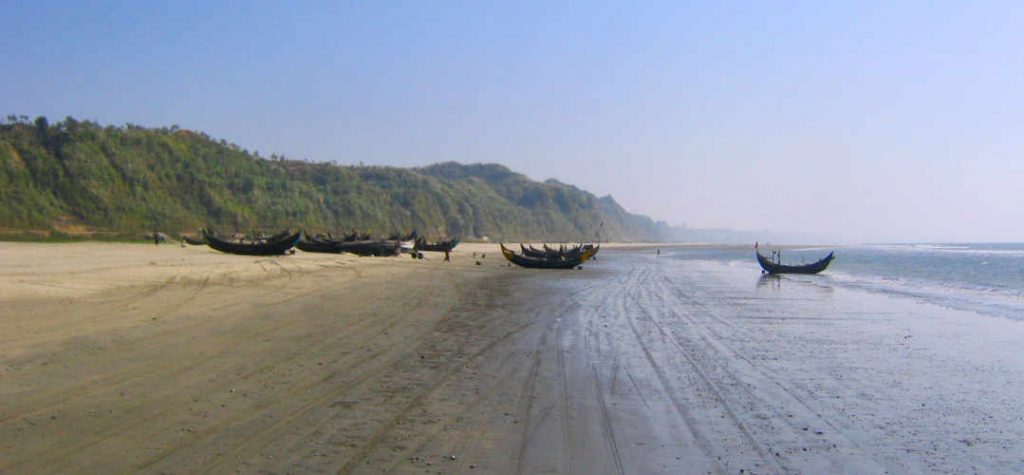 It is the second most visited beach and it is also surrounded by hotels and shops. The Burmese market is pretty near and visitors can shop travel accessories and varieties of fruit jams. For sun bath, it is the best beach in Cox Bazar. In case, you can do other activities such as cycling, surfing, swimming and all kind of stuff.
Himchori Beach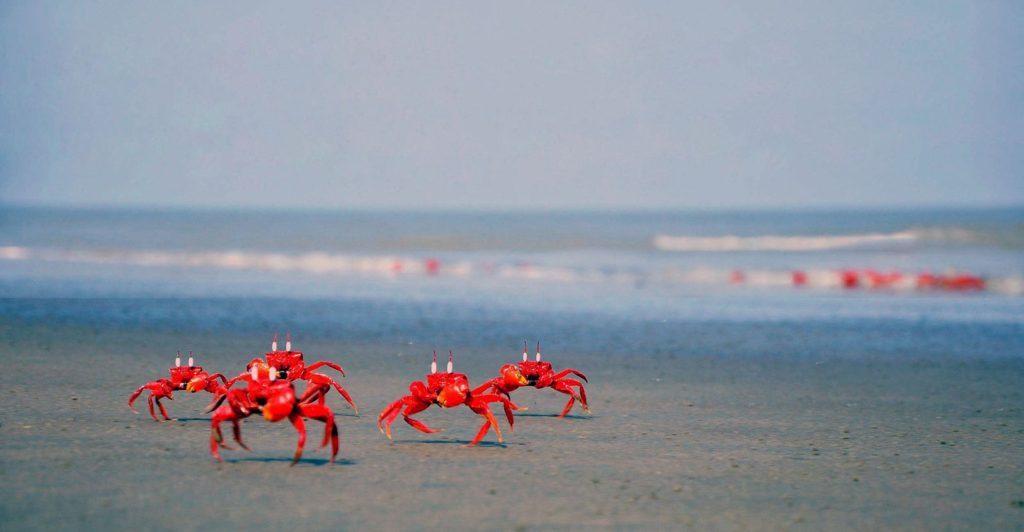 This beach is home to rare red crabs and some other sea bugs. Because of high tide, it is protected by rubber dam to save beach side highway. Visitors can enjoy beautiful sea sight from top of hills. This is one of the lest visited beaches in Cox Bazar because the Himchori Water fall snatches all the attraction. Though tourists enjoy the panoramic view from hill top but most miss the rare show of red crabs.
Inani Beach: Only Coral Beach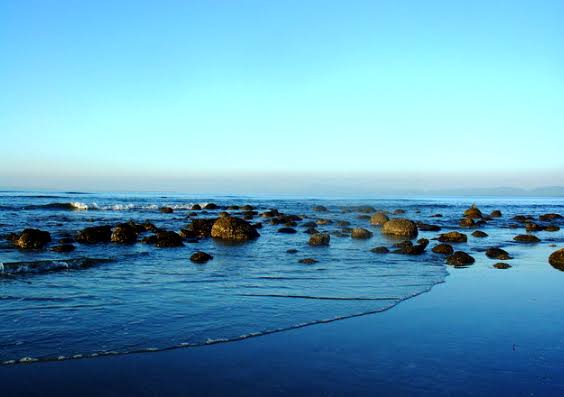 Despite the distance, Inani beach remains the most popular beach among the all. It is the only coral beach in Cox's Bazar with black and green coral rocks. However corals are available all the time nevertheless summer and rainy seasons are the best time to explore. Unlike other, Inani contains the bluest water in the entire coastal area.
It is an 18 km long beach in Ukhia Sub-district. Although this place is a bit remote yet some world class resorts are open for tourists. During day and night, you can only hear soothing sound of waves. There are many other beaches like Sugandha and Sonadia beach but the above mentioned are the famous.
Best Resorts and Hotels in Cox's Bazar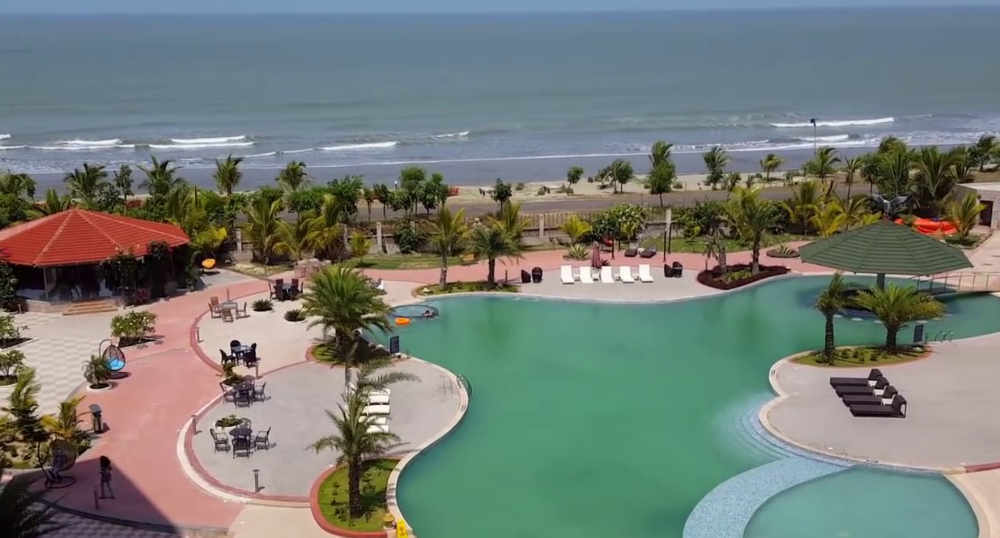 Hundreds of hotels and resorts are serving domestic and international tourists everyday. Cox Bazar hotels are world class and at the same time, they are affordable. In compare to other tourist destinations, hotels and resorts are even a lot cheaper.
On the positive side, $200 USD is the highest price of a couple room in 5 star hotel which provides world class services. You can even get a hotel room for as low as $15 USD. Among many quality hotels these are some of the best hotels to stay in Cox's Bazar. (Hotel list, according to Price Range).
Royal Tulip Hotel
Mermaid Beach Resort
Heritage Hotel
Hotel Cox Today
Ocean Paradise Hotels and Resorts
Long Beach Hotel
Sayeman Beach Resort
Seagull Hotel
Palm Riviera
What Else To Do?
Except enjoying the longest sea beach in the world, you have many other things to do. And two of them are Food and shopping!!! Traveling means exploring the place where food and culture are the two important instinct.
Eat Sea Food in Local Restaurants
Cox's Bazar is a hub for sea food. Tons of sea fish and other creatures are caught by the local fisher men. And the art of cooking is also unique so, it will be wise move to taste different sea foods in different restaurants. Not to mention that all the five star hotels will serve you with great food yet local restaurant is an unique experience.
Shopping in Burmese Market
Ultimately, there is no doubt, shopping is inevitable in traveling. According to a report, around 90% tourists do shopping while traveling. So, you have got options to go for shopping around the city.
The shopping malls and Bazars definitely have something unique to offer and you should not ignore to experience those. As this is a sea city, you will find out natural pearl in cheap rate along with many other things.
As shown above, Cox's Bazar has the longest sea beach in the world and most of them are safe for surfing, swimming and for other activities. Cheapest cost, Luxurious hotels and resorts, sea foods, green hills and beautiful beaches have made this city a travelers haven.