Visibility on the internet now involves quality web content with in-depth work for the selection of targeted keywords.
For SEO friendly content, Keyword research is vital. And best SEO tools for Keyword research will make it easy for you.
Indeed, content is king! And reaching its target as part of an organic search or via a sponsored link requires you to set up a relevant keyword strategy.
The use of free or paid keyword research tools has become essential to achieve your goal. Indeed, according to their technological outcome, they compare your site to the main performance indicators of your competitors. The Performance indicators contain traffic, search volume, CPC estimation, keyword positioning, number, and trend of results of research.
The best SEO tools for Keyword research also integrate other SEO features such as page load times, inbound links, errors, etc. And thus, make it possible to correct the situation or to completely review a flawed strategy.
It is not always easy to make the right choice. So we are going to discuss the top 5 keyword planners for bloggers and businesses.
To start your ranking process, Google Keyword Planner is the classic keyword tool offered by Google. And it is the most frequently cited tool by SEO specialists and digital marketers.
To illustrate our remarks, it is quite understandable for each one of us that Google always remains out of the box in the search engine game. Therefore, like its other products, its keyword planner is also ahead of other keyword tools when it comes to free.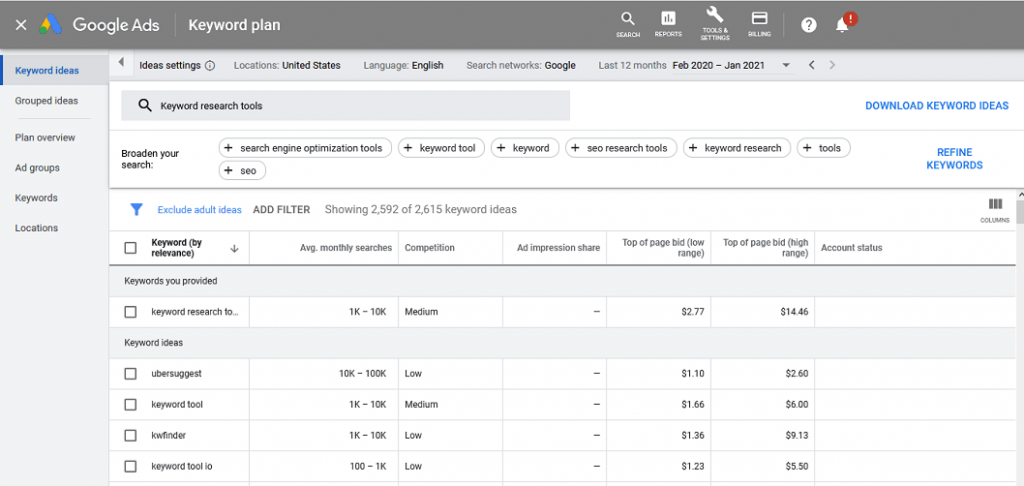 For a keyword or keyword phrase, Google shows the following stats:
12-month search trend history: Google keyword planner tool provides trend history so that you can understand the keyword's future.
Average monthly search volume: it also includes variants close to the keyword. You can assess the popularity of keywords according to the time of year as well.
Keyword competition: This information indicates how competitive is the ad placement for that keyword. The degree of competition ranges from low to high. It is determined by the number of advertisers who set bids for each keyword against the set of keywords on Google.
Impression rate: the number of impressions divided by the total number of searches performed during the previous calendar month. They are highly useful for detecting the possibilities for this keyword to generate impressions and clicks.
CPC for page bids: these are the minimum and maximum CPC amounts advertisers have paid for. It depends on the keyword according to geographic targeting criteria and other parameters specific to Google Ads campaigns.
These are just the most important statistics that you get from google Keyword planner. But there are opportunities to configure reports and create your dashboards according to many variables.
This free keyword tool is pretty straightforward. And for advertisers and companies or projects its possibilities are vast.
Google made this tool free of use because it seeks to sell Google Ads formerly known as AdWords. The suggestions are therefore intended for marketers and exact numbers are not displayed.
Its major drawback: in addition to having a Google account, it is necessary to have a Google Ads campaign in progress. Otherwise, you won't have access to all the functionalities of the tool.
2. SEMrush: High-performance Paid Keyword Generator
In terms of keyword tools, SEMrush offers the advantage of compiling majority percent of internet traffic. With this compact tool you can learn as much about your site as that of your competitors.
The analysis reports, available on desktop or mobile, present an impressive level of detail. And this is an indicator that we delve into each performance, while being intuitive and clear.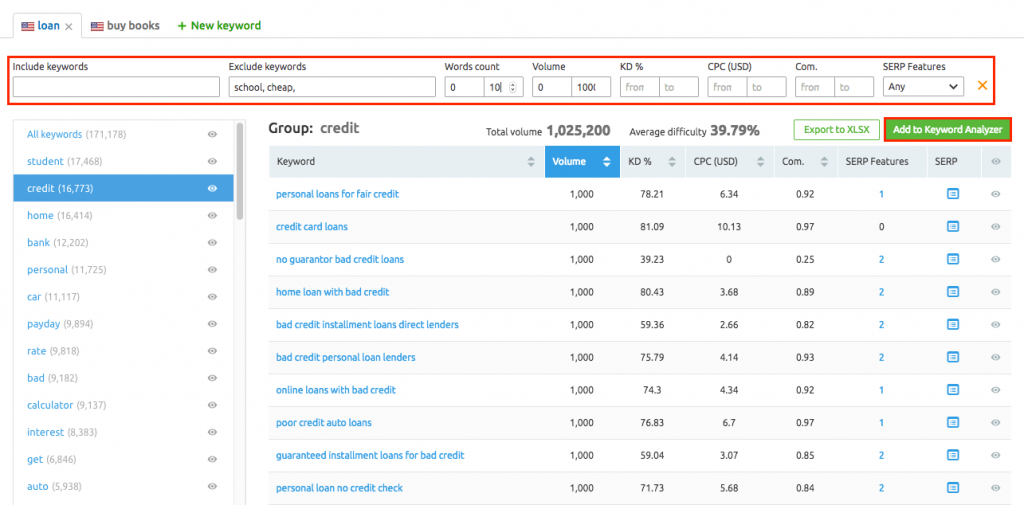 Regarding the data on keywords, these tools get you the complete package for each keyword. The dashboard offers you in one page, a precise vision of organic and paid traffic. Moreover, it gives an estimation of the volume of searches, the corresponding keywords and associated keyword suggestions.
If you search by filter, it will save unimaginable time depending on intention. Semrush keyword tool is provides you with data that you will be needing in the course of digital marketing journey.
The overview of Semrush keyword tool emphasizes organic search volume and focuses on CPC for paid search.
It is better to know that in-depth data is accessible in a few clicks on this tool. It is also interesting to be able to visualize everything on the same page. You can get the first URLS positioned on the keyword, in both organic search and paid search.
The most important features worth highlighting on Semrush:
Site Audit is a very complete feature in the sense that all of your content is scanned. In this package, you get page load time, 404 errors, missing pages, lack of SEO tags, and many more.
The study of backlinks provides good visibility on the quality of your inbound links. It shows the type of backlink, the authority of referring domains, and geographic location. It also shows no follow links, new links, redirects, links by type of platform, etc. This should not be overlooked because poor link management can strongly penalize your site. Google's penalization may cause you damage to your search visibility.
To summarize, these two keyword tools are formidably effective and complete for working your SEO in general.
One downside: the price. Even if Semrush offers a free mini service, it is indeed necessary to move onto the paid plan. Because the paid plan will get you the full information.
3. Ahrefs Keyword Explorer: Most Expensive SEO tools for Keyword Research
Being one of the most recommended SEO tools online, Ahrefs really stand for quality keyword research.
Along with the keyword research features, its site audit feature is also considered one of the best among SEO experts.
According to many experts, Ahrefs is the best SEO tool for keyword research. It comes with keyword rank tracking, competitor analysis, SEO audit, viral content research, and more.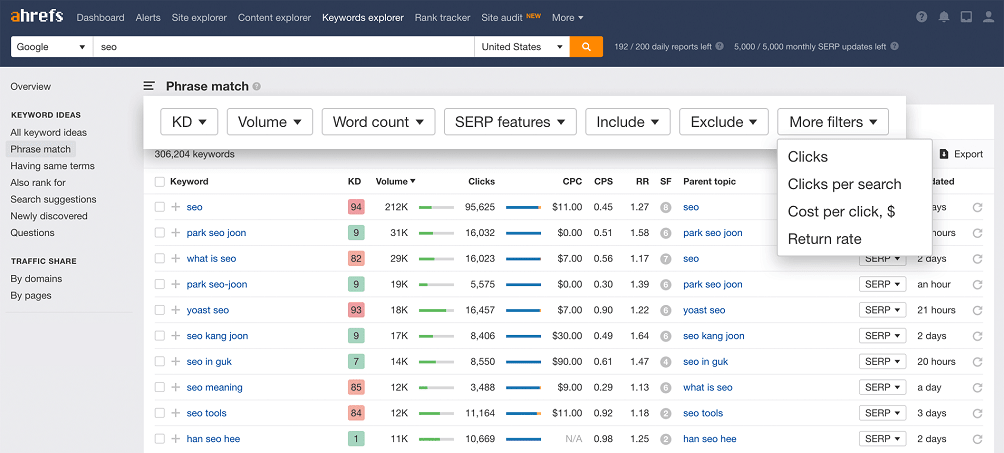 When it comes to keyword research, the Ahrefs dashboard presents the main performance indicators needed by most SEO experts. The results show the volume of search, the number of clicks. Moreover, it also indicates the percentages of traffic if coming from organic or paid marketing.
On the same page, appear the keywords and phrases generating traffic, depending on whether they have the same terms. One of the terms also allows you to rank, as well as provides suggestions. SERP history is also visible.
Most important features of Ahrefs Keyword explorer:
Do keyword research for search engines: this not only shows you the results based on Google's information but also for other search engines. With this, you can actually get various statistics of different search engines regarding that keyword.
See 'clicks' data: Have you ever thought about going beyond search volume? Ahrefs shows you not only the search volume but also the estimated clicks from the keyword.
Get total search traffic estimations: this is a common thing that you will get in this tool like many others.
See keyword click distributions: As we already know that it shows clicks data. Know that it also shows click distributions depending on the positioning.
Analyze SERP history: another important thing provided by Ahrefs and a lot of SEO experts love this tool because of this.
Get keyword ranking alerts: Getting keyword ranking alerts is a very crazy thing, isn't it? Yes, Ahrefs also alerts you when your keyword ranks get changed.
4. Answer the Public: Best Free SEO Tool for Keyword Suggestions
It is a free keyword tool to use at the start of strategic thinking!
Being launched in 2014, this SEO tool collects and organizes suggestions from Google and Bing and associates them with questions, proposals and comparisons.
When you type a keyword or a key expression in the Answer the Public tool, in a few seconds, you obtain questions and associations of ideas related to this word or this expression.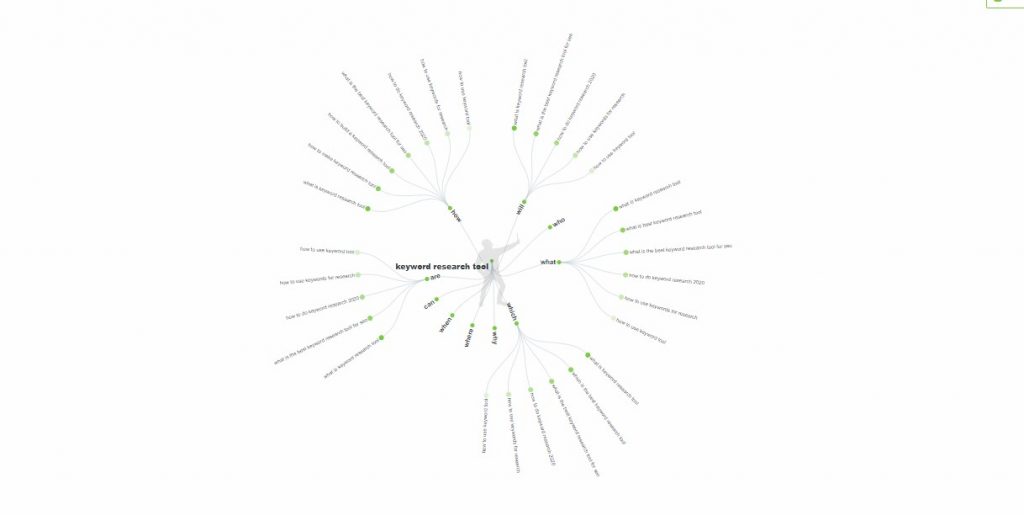 As you will have understood, this tool works in a fully automated manner so the relevance of the results sometimes leaves much to be desired. It's up to you to sort it out.
Answer the public allows you to start a first reflection, build a first list of keywords, seize opportunities on suggestions that you might not have thought of, better understand the questions and interests of Internet users thanks to the requests received is already good but not sufficient.
To be used as an accelerator, in addition to more complete tools, the free and easy to use deserving that we do not deprive!
5. Keywords Everywhere: Best SEO Add-on for Keyword Research
Keywords Everywhere used to be free but now it is a paid tool for in-depth keyword researching.
This is actually a browser add-on that shows keywords search volume along with many other results when you search with the keyword. Unlike all the other SEO tools for keyword research, its shows result of search term in the browser search result.
Since it works differently, you don't need to copy and paste keywords as we do in other keyword research tools like Google Keyword Planner. The data shows up in your browser. Isn't it very cool?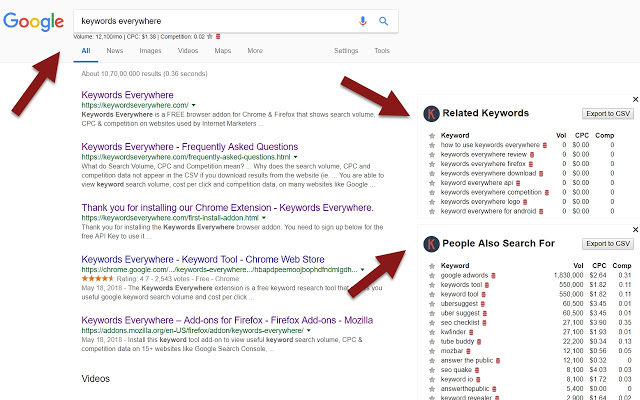 On the other hand, you also get a list of related keywords on the right side of your browser in the Google search results. In this data-driven result by Keyword Everywhere, you get search volume, average CPC and keyword's competition.
The followings are the special features from Keyword Everywhere:
Search Volume: In this, you get the search volume for the keyword that people have performed per month over the last 12 months.
Cost Per Click: CPC rate is also shown depending on what the advertisers pay for a single click in Google Ads.
Competition: Knowing the competition is important and it shows you the data depending on the number of advertisers running ads on Google Ads for this specific keyword.
Trend Data (from 2004): Not available on most of the Keyword research tools but Keyword Everywhere show you the historical monthly trend data from 2004.
Conclusion
These are the top 5 SEO tools for Keyword research among the free and paid tools.
Now it is your decision which one you would choose to run your SEO operation.
According to our argument, those who are looking for the free SEO keyword tool there is no better tool than Google Keyword Planner.
But if you are craving for the paid ones, make sure to check the pricing. And it is wise to select one with the features that you are looking for.