OnePlus released its first phone in 2014, and the formula was simple: they wanted to offer a phone that challenges top market players. But they also wanted to offer well-built phones at an almost shockingly low price compared to the competitors. However, that was also the case for choosing the Chinese company for manufacturing.
Gradually, OnePlus has grown larger, and the price is no longer as far below the competition. This year's top model and today's test product, the OnePlus 10 Pro, starts at just under $900 with 128 GB of storage and 8 GB of RAM.
Though the price is somehow close to the competitors but still lower. If we compare it to the Samsung S22 Plus, for example, it is $300 below what Samsung charges for its S22 Ultra.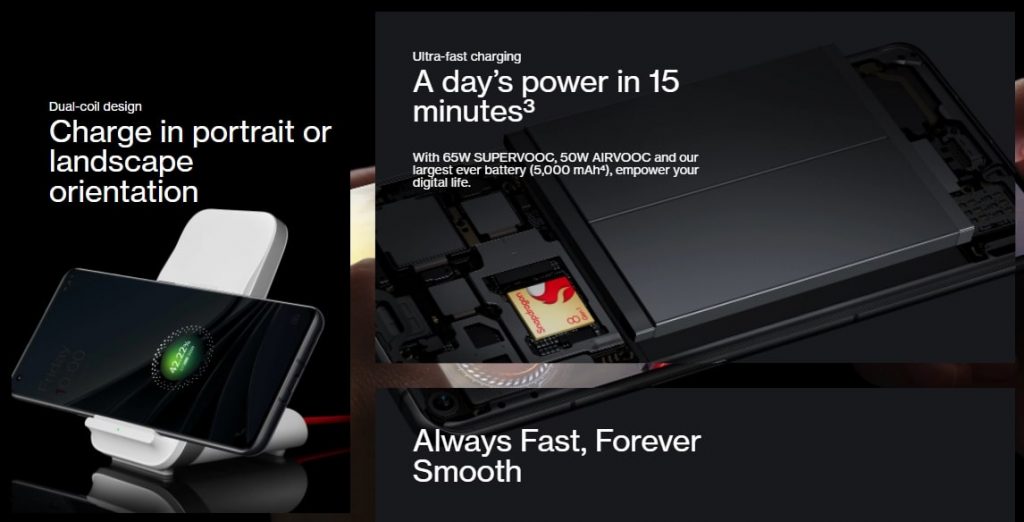 An Improved and Lightning-Fast Charging
Starting with charging capability is definitely one of the strengths of the OnePlus 10 Pro. Put aside the phone first, you will get a powerful charger of 80 watts. It can fully charge the phone in about half an hour. And in just over a quarter of an hour the battery percentage went up from 8% to 75%. You can guess, that it is very fast despite the fact that it has a 5000 mAh battery.
It also has a wireless charging system that works quickly with 50 watts of charging capability. For wireless charging, you need to use a SuperVOOC charger. In particular, it is the charging technology used by OnePlus and its sister concern Oppo.
Though it charges very fast, you also lose the charge very fast compared to other competitors. With relatively moderate use, our tests showed around 20 percent left during bedtime. It means you will have to charge this phone daily and once in a while in the evening.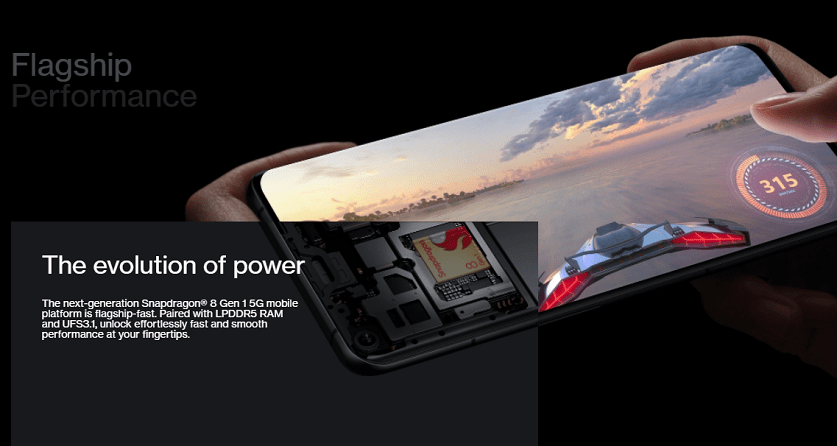 Excellent Performance
When it comes to performance, OnePlus has always excelled and it is not any different from this latest addition. OnePlus 10 Pro comes with Qualcomm's latest, Snapdragon 8 Gen 1 processor. And you will probably see this processor on many flagships Android models in the market.
With quickly accessible user menus on its OxygenOS, a fast processor, and a 120 Hz display, the OnePlus 10 Pro is like a hot knife in butter.
However, we disagree with the major improvements rumor in CPU performance compared to last year's Snapdragon 888. Yet when it comes to graphics, we noticed some improvements.
We thought that the performance will exceed what we experienced during our test of the Samsung S22 Ultra with its Exynos processor. But we did not see any major changes. However, in comparison to the iPhone 13 Pro, it provides 35% less performance. But it is slightly ahead of the Samsung S22 Ultra. On the Geekbench Multicore test, S22 scores around 100 pints below OnePlus.
Great Screen
With slightly curved screen edges and a front camera on the left punched out in the corner, the OnePlus has done a great job with its super glossy AMOLED display.
Like the front display, the back is also covered by Gorilla Glass Victus. The screen is 6.7 inches AMOLED with up to a 120 Hz refresh rate. The most interesting factor is, that via LTPO technology, you can take that down to 1 Hz to save energy.
OnePlus 10 Pro has a resolution of 3216×1440 pixels, with a pixel density of 525 per inch. Besides, the maximum brightness goes up to 1300 nits. On the other hand, it comes with a color-calibrated technology where at both 100 and 500 nits low brightness you will still experience the correct color combination.
According to our test, there is little to complain about on the display. Yet, we need to mention that, we feel that the automatic brightness hits too low, making it difficult to see clearly. However, you can quickly pull up the brightness again.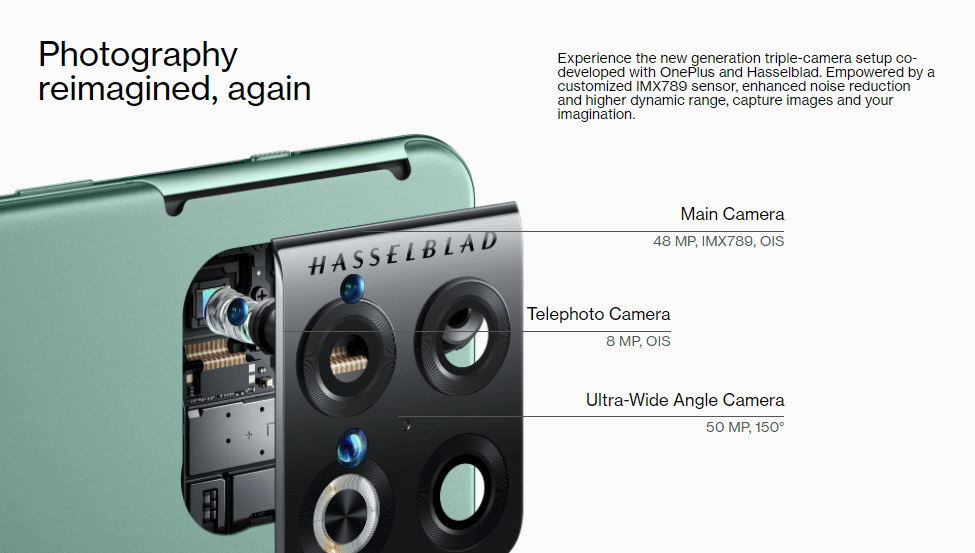 Triple Camera by Hasselblad
OnePlus is the first mobile phone manufacturer to collaborate with the Swedish camera manufacturer Hasselblad. They first used the Hasselblad camera last year on their flagship model OnePlus 9 Pro. Maybe many don't know about Hasselblad, but remember that their mid-format cameras cost you an amount equivalent to a current used car.
For OnePlus, the collaboration is not just "buying a sticker" but rather a collaborative effort of high involvement for the best color calibration possible.
The built-in camera app provides you with three specially developed filters from Hasselblad. And those filters were inspired by well-known photographers. So, it is cool to use those filters before taking shots because you cannot apply them afterward.
The three cameras on the back have the following specifications:
Ultra-wide angle: 50 Mp, f / 2.2, ~ 14 mm (150˚). 1 / 2.76 "(0.64) m
Wide angle: 50Mp, f / 1.8, ~ 23 mm, 1 / 1.43″ (1.12 µm), optically stabilized
Telephoto: 8 Mp, f / 2.4, ~ 77 mm (3.3x zoom), 1 µm, optically stabilized
The regular camera or the wide-angle camera on the predecessor 9 Pro was 48Mp but this new 10 Pro has a slightly bigger lens of 50mp. On the other hand, the ultra-wide-angle camera remains of the same megapixels but with a smaller chip'
However, the Ultra-wide-angle camera comes with a 150-degree viewing angle which we know as fisheye in the popular language. The test shows, that even at this expense, you cannot expect outstanding image quality in darker environments. On other hand, the ultra-wide-angle lens no longer has auto-focus or a macro function. But these were a few things the predecessor got pretty good.
When it comes to color, all three cameras are capable of capturing up to a billion colors (10 bits). However, it will require you to take pictures in HEIF format and of course, you need to see all these colors on a compatible display. Don't worry this phone's display can show you the colors. If you need more color, take raw that can take 12-bit photos on all three cameras.
In daylight, the OnePlus 10 Pro does a job like a real pro. It handles difficult backlight situations very well. Moreover, the colors appear to be very good and correct.
It has many advanced video functions. You can adjust shutter speed, ISO, and white balance. Besides, it allows you to shoot in log format so that you can color grade the video later. So, overall, the video quality is good.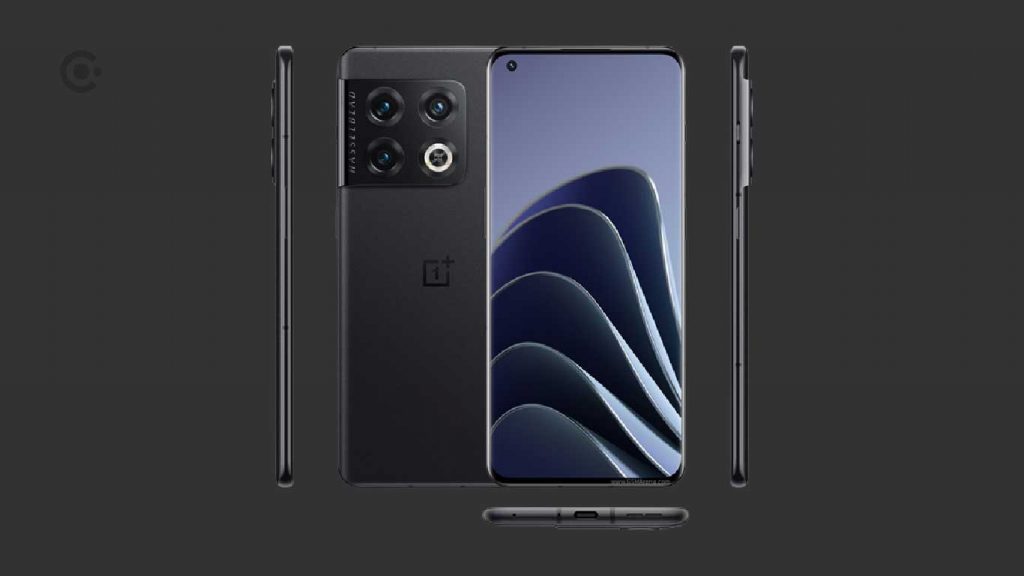 iPhone Like Slider
Apparently, the OnePlus is the only Android that has a physical slider for changing modes like on the Apple phones. While Apple has two choices OnePlus has three. On Apple, you can only switch between sound and vibration, while OnePlus allows you to switch between sound, and vibration, and be completely silent.
There is a little change in the fingerprint reader also, moved a little further up. It is nicely placed at our fingertips. Besides, it is lightning fast to unlock the phone. Face recognition is another feature where OnePlus has improved. It is very fast – in fact, we rarely use our fingers when we have face recognition activated, at least during the day.
The iPhone-like haptic engine also feels good as always does. You feel a little vibration when you press the keyboard or swipe back. The vibration is clear and silent and has quite a similar feeling to iPhone. It is actually a very small thing but it raises the quality of the impression.
The internal speakers – it is not that universal. You will rather get a flimsy sound. But we cannot get as rich sound quality as on the iPhone 13.
Final Thought on OnePlus 10 Pro
We would say that there is a lot to like about the latest OnePlus 10 Pro. It has a solid built quality with relatively fast performance than the predecessor. Besides, it has a bright and overshooting screen, lightning-fast fingerprint, and the OxygenOS interface along with many other good features. In addition, you get a very fast charging experience with the adaptor of 80 watts, which fully charges the phone in about half an hour.
The camera is pretty good with colors and exposures, as well as very good video quality with a fairly step-less zoom. However, we find the ultra-wide-angle camera is weaker than before. Especially, the OnePlus 10 Pro is not the phone that takes the best quality pictures at night. Last but not least, it does not satisfy us with the battery life. It typically lasts a full day, with more than average use, you may need to charge often.