The large audience certainly never gets tired of Elvis, whether as an artist or as a cultural icon on the very top shelf. When we now get a film with the short title Elvis, we must be able to expect a proper review – changed in one way or another.
We get Elvis Presley from his breakthrough as a white rock artist with roots in both country and blues in the mid-fifties until he died fat and tired in the mid-seventies.
When artist portraits are attached to film, the filmmaker often chooses to extract one particular time period, or one theme from the artist's life – and then create a dense and often gripping drama out of it. Director Baz Luhrmann has made a different choice when he takes us through the entire career of the artist. We also get some defining childhood experiences.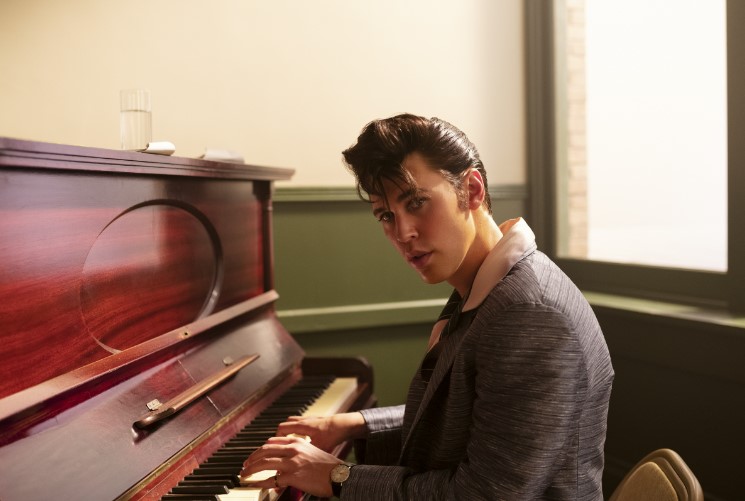 Depiction of Elvis Presley's Career
If we were to be able to suggest a subtitle for the film, it could perhaps be called "Elvis – a career". It is in many ways "the self-made man" that we get to know here – like everyone else – was dependent on help. And here comes the film's other main character, Tom Parker. Or Colonel Tom Parker, as he liked to call himself. Parker was Elvis' manager and business manager throughout this time. A professional door opener in show business, but also a man who made sure to put aside large piles of dollars for himself. It is a good move to tell large parts of the narrative through the aging Parker.
Luhrmann places the greatest emphasis on the last part of Elvis' career. We get a lot from the four years he held regular shows at the International Hotel in Las Vegas. It was also during this period that the artist was greatest, at least if we are to measure world fame. But not if we measure cultural influence or which part of the career was musically most interesting. Purely human, Elvis was also a shadow of himself towards the end, where he lived as a drugged-up "has-been" in Las Vegas.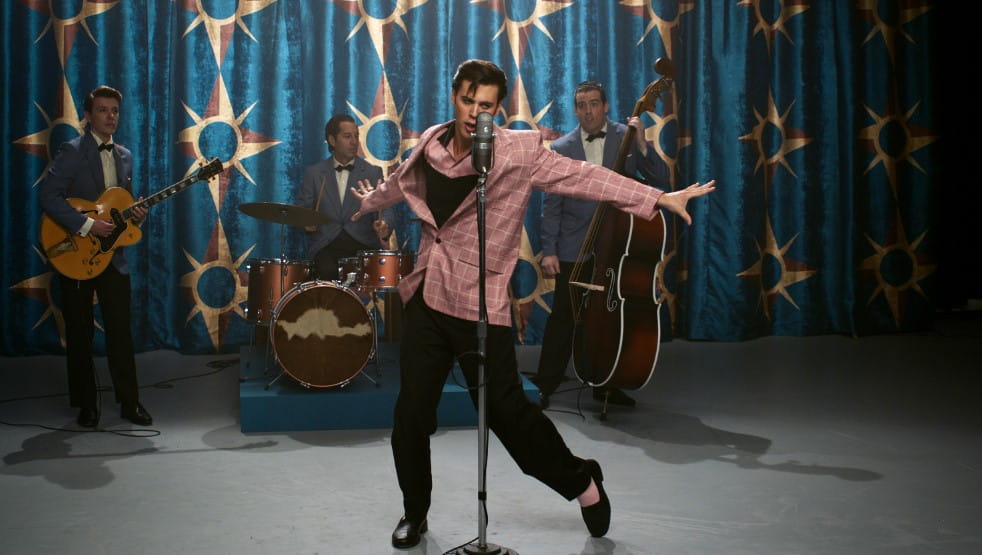 Another Costume Drama
Luhrmann has previously made large costume dramas, most recently with The Great Gatsby (2013). His use of the major aesthetic means is also successful this time. I'm not so sure if it's a good choice. Elvis is one of the biggest stars in pop music.
There are countless stories about him. So shrouded in myth is he that it's probably impossible to fit it all into one film, even one that lasts over two and a half hours. What Luhrmann does is give us a series of very skillfully directed illustrative scenes. He illustrates more than he tells. Some scenes are as poignant as a mediocre commercial for a bicycle. Others are more engaging, such as several from the music scene in Memphis in the fifties. Luhrmann almost skips over some important events. Suddenly Elvis has become rich enough to buy the home he lived in for the rest of his life; Graceland. We are never properly introduced to the place. The scene where the mother dies is over in about 20 seconds. The mother was perhaps Elvis' greatest role model.
Elvis will never be a heartfelt and close story. We don't really get a deep dive of any particular value into Elvis the man.
That being said; occasionally there are glimpses. At some stopping points, we are affected. Like when Elvis and his mother early in his career have a couple of close conversations where she is worried about her son's future. The same thing happens in a couple of scenes where Elvis and Priscilla are close together – first as newly in love, later as divorced.
As for the actors, it is Tom Hanks' portrayal of Tom Parker that is the most interesting. Hanks gives a real and deep portrait of a man without particularly well-developed social antennae, but who achieved a lot in business around "his" artist. Austin Butler also makes a good lead character.
Another positive feature of the film is that it is clear how much Elvis owed to black musicians such as Arthur Crudup, BB King, Sister Rosetta Tharpe, and Big Mama Thornton. Historically, this was important, in the USA with strong racial segregation laws – of which we also get a few glimpses.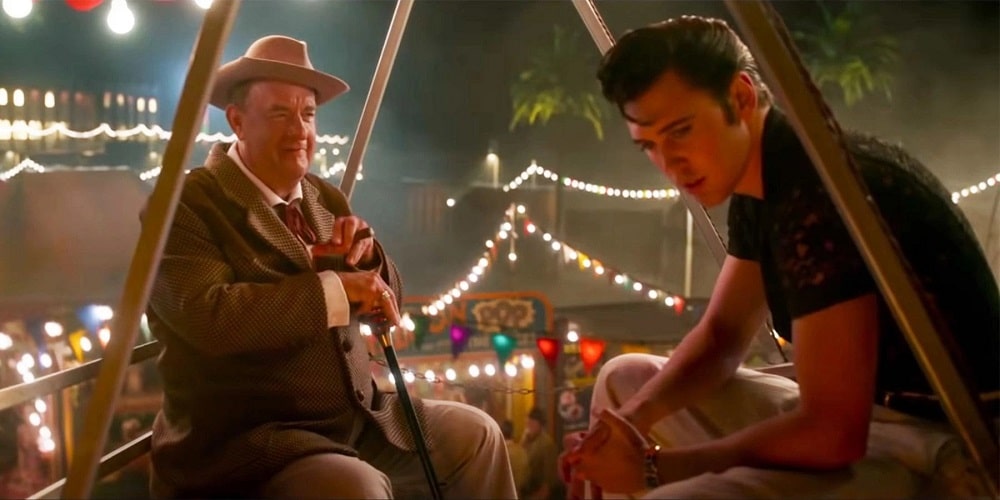 More Myth and Less Reality
Through the grandeur of Luhrmann's narration, we are once again introduced to the myth of Elvis, more than the human Elvis. This raises the myth to an even higher level than before. Even the Warner Brothers logo at the beginning of the film has been redone in gold lettering for this film. Maybe we could wish for a different story eventually. The next time a film is made about Elvis.
But maybe this year's film is exactly what the fans want? Almost three hours of lots of goodies: magnificent pictures, sometimes up close, some music, and some quick dives into historical facts. Not too much of anything, not too little. For many, that is probably sufficient.