At Night All Blood Is Black is perhaps not a pearl in the true sense of the word. It's dark, gritty even, with action set in trench hell on the Western Front during the First World War. But French-Senegalese David Diop's second novel is also beautiful, original, and written so every day simply and comprehensibly that the book climbs to great literary heights.
How good this little novel becomes clear when, at the beginning of June, it was awarded the international Booker Prize for 2021. The Man Booker International Prize, as it is originally called, is a British literary prize established in 2004 as a complement to the Booker Prize. It is awarded every two years to authors whose books have been published in English, regardless of the author's nationality and own language.
At Night All Blood Is Black was first published in French in 2018 and was translated into English by Anna Moschovakis. The English version got published in 2020 and won the Booker Prize, for which both Diop and Moschovakis share the prize money.
Praised by the International Critics
Author David Diop mixes historical research and clinical description in an almost journalistic way from the trenches with oral storytelling traditions from Senegal. The result is an original novel the likes of which we have hardly seen.
Both The New York Times and The Times praised the relatively short book in their reviews.
The Times Magazine has lavished its love on Diop, writing that the book "is an intense exploration of the dehumanizing effects of war and colonialism. The short book explodes with extraordinary power – readers won't soon forget it."
The award-winning Nigerian author Chigozie Obioma reviewed the book for The New York Times and he calls the book a "spare yet extraordinary novel".
He has also written: "When we reach the book's shocking but equally transcendent end, the story has been transformed into something mysterious, esoteric; it takes a cyclical form."
2008's Nobel Prize-winning French writer, Le Clézio, has also remarked on "At Night All Blood Is Black saying, "a particularly apt reflection on the evil of war, in addition to a deeply plowing exploration of the human soul."
In my viewpoint, the book is so despairing, and at the same time so everyday simple and understandable that the book climbs to great literary heights.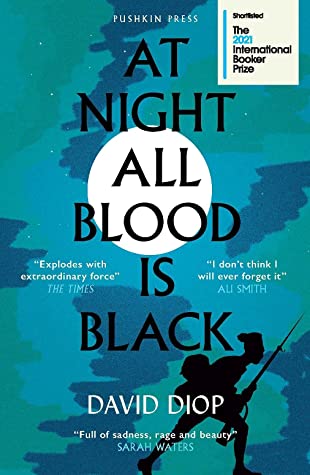 A Desperate Soldier's Fight
The novel is about Senegalese Alfa Ndiaye who fights under the French flag during the First World War, together with his childhood friend Mademba Diop. Mademba falls right by the trench, life-threateningly injured, right in front of Alfa. Mademba asks Alfa to kill him so he doesn't have to slowly bleed to death in the middle of no man's land.
But Alfa is unable to carry out a mercy killing on his friend. As he realizes how cowardly he has been, he begins to lose his mind. He begins a ritual to avenge his friend – every night he kills a German soldier and carries a severed hand in his bag.
At first, the others admire Alpha's courage, but eventually, rumors begin to spread that he is not a hero, but a sorcerer. Alfa must be removed from the front. But how do you talk a demon into sense? And how far is Alfa willing to go to make amends to his dead friend?
Wide Success with Debut Book
So, who is this David Diop who has completed this masterpiece?
Diop is currently a professor of literary history at the University of Pau and Pays de l'Adour in the French Pyrenees. He was born to a Senegalese father and a French mother.
Though he was born in Paris, he absorbed Senegalese culture a lot, because he grew up in Dakar. And we see his cultural alienation in his debut novel "At Night All Blood Is Black". So far it has been nominated for all the major awards in France in the autumn of 2018. The book has since won the Strega Prize in Italy for the best-translated novel and has been nominated for The European Union Prize for Literature.