Now is the time for video content. People around the world watch more videos than they read texts contents. But content creators often find it hard to make videos. So, we thought we would discuss some of the best video making apps for android that can help you in the process.
There are more than 6.6 billion smartphone users in the world today. And smartphones can shoot high-resolution videos like DSLRs. Even a significant number of people are using mobile phones to create videos all over the world.
For PC or laptop, there are many video editors. Most of them are very complex and you need to spend months of training to learn properly. Moreover, you will also need good hardware to run that heavy software.
On the other hand, you do not need video editors like Premiere Pro or DaVinci Resolve when it comes to videos for social media.
With a good quality smartphone and video editing app, you can easily make quality videos for social media as well as YouTube. And frankly speaking, a lot of people are making videos with smartphones and conquering the world.
So, we have tested 10 of the best video making apps for android just to help you into the content creation journey.
15 Best Video Making Apps for Android
Know that all video editors have some special characters to offer and you need to pick accordingly. Here are some of the best video editors for android mobile that we have tested. Pick the one that suits your requirement.
1. Filmora Go – All in One Video Making App for Android
Yes, according to our test, Filmora Go makes it to the top.
It is one of the most versatile video editing tools for android mobiles. Besides, this remarkable video editor is also the easiest. With Filmora Go, content creators can create videos for all purposes. No matter you want to create a 1:1 or 16:9, you can do it in a very short time.
On the other hand, you can quickly access features like trimming, cutting, adding music, themes, or images. Moreover, it allows you to directly export video files to your gallery.
The coolest feature is, you can share the video right from the app to various social media platforms.
Though the app is free for all users, you can access more features with the premium version. Remember, the free version adds a Filmora Go watermark at the end.
Features at a Glance
A lot of templates are available for quick video editing
Import videos from social media and other websites easily
Preview the clips in the editing panel
Purchase more features in-app
The free version includes ads
Few technical glitches
No enough tutorials from Filmora Go
App Details
Total downloads in Play Store: 50+ million
User Rating: 4.6
2. Adobe Premiere Rush – One of the Quickest Video Making Apps for Android
Do we have to doubt Adobe products? No, we don't.
Adobe produces the most versatile content creation tools in the world. And Adobe software is the most used product in the world.
Like Adobe Premiere Pro, Adobe Premiere Rush is also an outstanding tool for video editing. It comes with a lot of features that help you create all sorts of videos quickly. But Premiere Rush app is not available for all devices and regions, so you need to down load from Google play website. In addition, the latest Samsung Galaxy S22 runs this this very well.
According to Adobe, Premiere Rush is specifically designed for video creators. And it does a good job because it understands the specific requirements. In particular, this android app has all the important features that a social media content creator requires.
Besides, like FilmoraGo, Premiere Rush comes with direct and easy video-sharing features. Precisely, you can share your final video file to several social media platforms right from the app.
Adobe Rush Features at a Glance
Many video effects are available
Useful color setting opportunity
In-built pan and zoom effects
Custom animated titles
Built-in-camera function
Audio tools for sound balancing
Multiple video tracks like the Premiere Pro
Free to download
No ads like FilmoraGo
You need a premium subscription for the full version
Limited transition options
You cannot choose file type and codec
No green screen features
Premiere Rush App Details
Total downloads: 1+ million
User rating: 4.1 with 27k reviews
3. KineMaster – Advanced and Easy Video Editing App for Android Devices
KineMaster made it to the list of 15 best video-making apps for android because of its user-friendliness. It has been a very competitive app for video editing on the android platform for a long time. It has also gained popularity among iOS users for its strong features and usability.
With this advanced tool, you can easily work on your videos using drag and drop features. Moreover, you have good control over the tools which allows you to create your video very quickly.
On the other hand, the multiple layers of video footage, text, images, effects, and more give you a good experience of editing. But there is one issue, the free app comes with a watermark on the video. And if you want to remove that you have to go premium.
App Features At a Glance
Multiple video layers
Text, image, effect, overlays, and handwriting integration
In-app Video editing screen
Easy interface with drag and drop features
Segment wise volume controlling
Section-wise video transition, blocks, and subtitles
Needs a little powerful device otherwise it can have glitches
The free version has watermarks
Don't have full features on the free version
App Details
100+ million app installs
User rating 4.4 with 4 million reviews
4. PowerDirector – Complex Yet Advance Video Maker
According to our review, PowerDirector is one of the 15 best video-making apps for android available for free. Though it has a premium version, the free version is a good run for video editing on mobile devices.
It has a timeline editing interface that offers a decent video editing experience. But it requires some skills to master because the control is slightly complex, unlike many others.
Because of its interface and wide range of features, we can call it a professional video editor. With more than 30+ effects, you can edit videos at a professional level in a very short time. Moreover, unlike many other video editing apps for androids, you can edit green screen videos up to 4K resolution. But for 4K videos, you need to purchase the premium version.
All Features at a Glance
Up to 4K video export
Decent effects and transitions
Green screen video editing
Integrated with Chroma Key selector
Edit slow-motion videos on the go
Royalty-free stock footage for users
A wide range of video templets available
Little bit complex so you need to skills to control
Premium version costs money
Lot of notifications
Little slow in video export and loading
App Details
100+ million app installs
User rating: 4.3 with 1 million reviews
5. Action Director
Another video director on the list is namely Action Director. This mobile video editing app seemed decent during our testing. And because of its features and overall user interface, it has got to the list of the best video making apps for android devices.
Action Director is one of the most popular videos making apps available on the android platform. It has all the features you need for decent video work. From exporting clips to editing, adding music to rendering, you can do all the basics easily. Moreover, like PowerDirector, you can also edit 4K videos with the premium version. Though all the devices cannot handle this editing feature, you can check with its in-built tool, if your device supports it or not.
Features at a Glance
Easy to use timeline editor
4K rendering
Smooth performance
Easy clip exporting, editing, adding music, and more
Enough features for free
Little heavy for mobile especially for 4K rendering
Cost money for full features
Not many advanced features like the previous editors
App Details
10+ million App installs
User rating: 4.4 with 163K reviews
6. InShot – Best Video Editor for Social Media
InShot comes Sixth on the list of best video editing apps for mobile for its intuitive interface. It has a ton of features to make your video look professional. And you can get that professional-looking video in a short time easily.
To talk about the interface, InShot has a very easy timeline. Though it does not have multiple video and audio layers, it can help complete your task.
Moreover, it comes with many features and tools like trim, cut, split, crop, etc. Besides, you can apply many video effects along with a "Freeze". In particular, it helps you freeze a particular part of the video. Isn't it cool?
There is more, InShot does not force a watermark if you see an ad while editing. In addition, you can export 4K videos and set your preferred frame rates. So, we can say that it is a full pack for TikTokers.
Features at a Glance
Remove watermark by watching ads
Export 4K videos
Set different frame rates
Enough features for TikTok videos
Several video effects including Freeze
Ad-free if you don't remove the watermark
Social media-based preset aspect ration
Need to watch ads for watermark
Not enough advanced features like FilmoraGo
App Details
100+ million app installs
User rating: 4.5 with 13 million reviews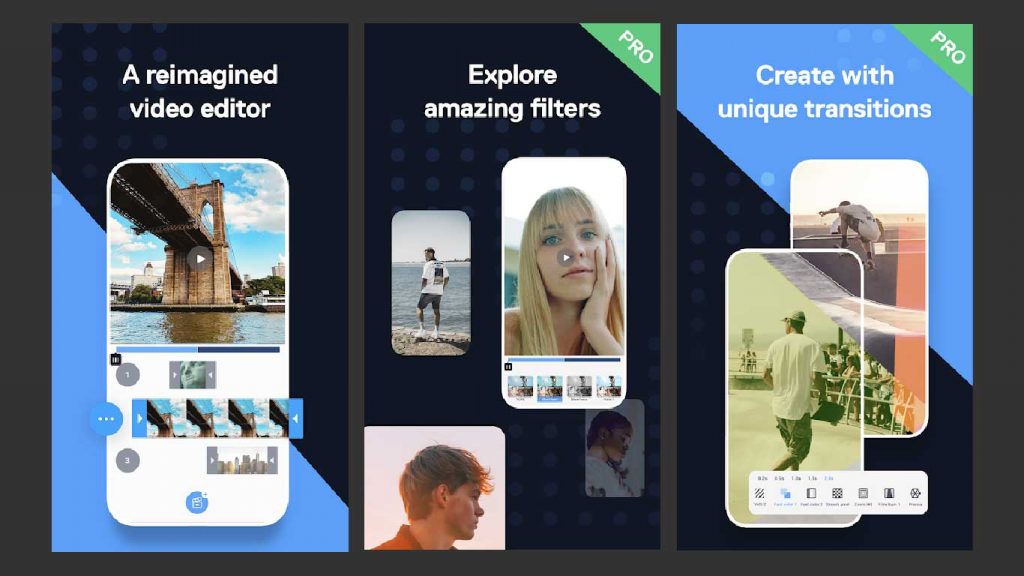 7. Filmr
Filmr is a very easy video editing tool for android devices and it is also available for iOS devices. Though we cannot say that this is only for the beginner, advanced users can also make videos using this app. So, we can say it is for users of all levels.
There are many features like transitions, video effects, filters, and other tools that make this one of the best video editors. In addition, it provides agile, speedy, and premium performance for free.
The free version of Filmr includes a watermark but you can remove that with a premium subscription. We should also tell you one thing it does not have any limit on how many videos and images you can import. So, it seems like a nice fit for those who want to make long videos.
Features at a Glance
Many transitions for smooth video experience
Choose your preferred fonts and text styles from its gallery
Multiple video dimensions
A huge audio track on its music gallery
A lot of video effects
It has no ads
Drag and drop video editing
Record videos directly from the app
Not many filters available
You cannot undo anything once you apply an element
No choice of video resolution
Filmr App Details
1+ million installation
User rating: 4.3 with 8K reviews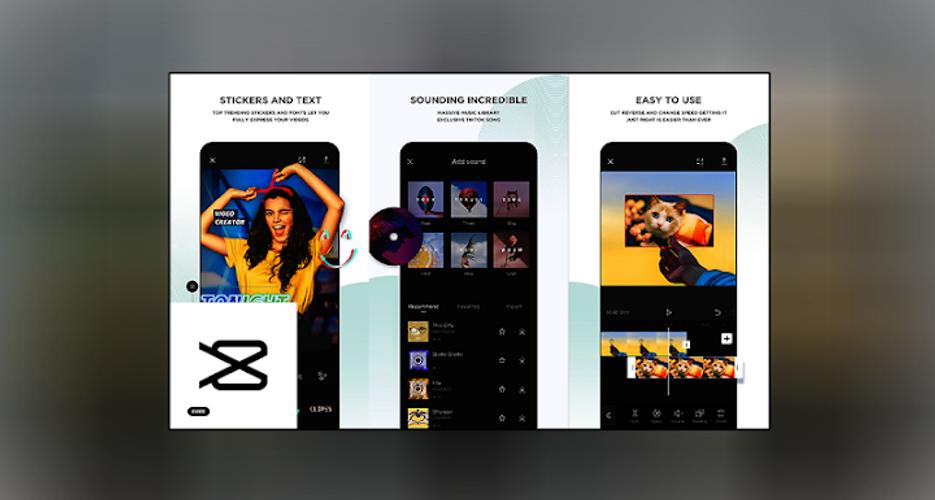 8. CapCut
We position CapCut on the 8th of the Best Video Making Apps for Android list because it has potential. It is an exceptional video maker for all types of video creators. With many features, it can be a reliable choice for you.
It is good for video file types because it accepts a wide range of file formats so you don't have to worry. Besides, it has an intuitive and easy-to-use editing panel with multiple options. In particular, it has multiple filters, transitions, video modes, fonts, etc.
Despite being a free video maker, it comes with premium tools like split function, speed control, and reverse video options. Moreover, it has its gallery of royalty-free music.
Features at a Glance
Easy to use interface
Enough features for decent video making
A lot of stickers and fonts
Royalty-free music gallery
Advanced speed control feature
Reverse video function
Split video functionality
Key editing features are missing
Not enough advanced features
May use a lot of movie hardware resources
App Details
100+ million installation
User rating: 4.4 with 3 million user reviews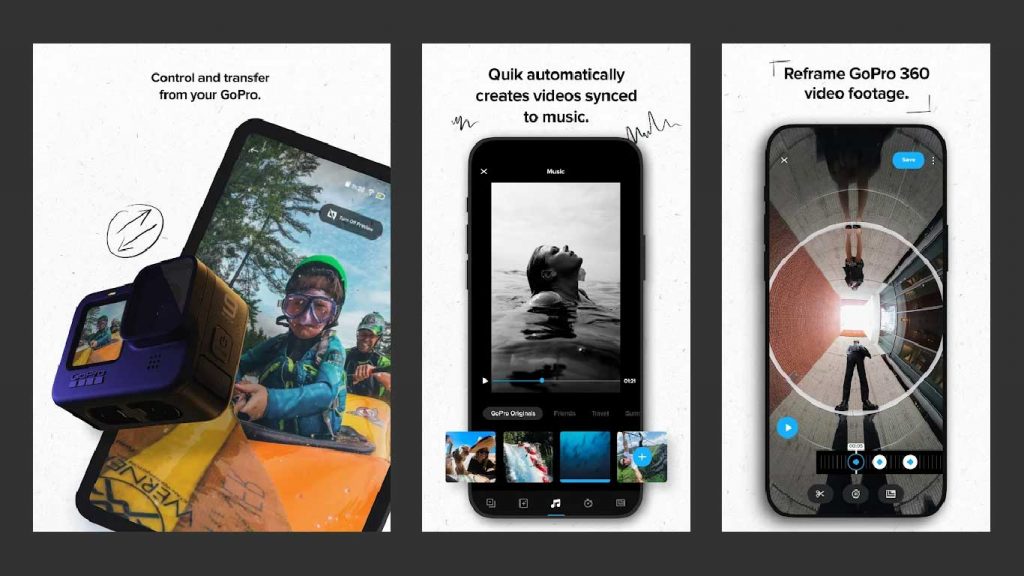 9. GoPro Quik –The Best Video Making App for GoPro
Along the way, we have seen many great video editing apps and GoPro Quik is another one to join the list. The Quik developer team found an easy way to integrate that helps you edit videos in the shortest time possible.
We consider this quickest because it has an automated video creation functionality. Besides, you have tools for trimming and cropping. On the other hand, its large inventory of effects, fonts, and music helps you edit your video on the go.
On this list of best video editing apps for android, some apps allow video sharing on a social media platform and Quick is another. In addition, you can export videos in 720p and 1080p.
GoPro Quik Features at a Glance
Automatic transition capability
You can integrate Quik with GoPro and Motion photos
Supports 60fps for smooth video experience
Save videos as a draft so that you can edit at your convenient time
Advanced editing features including transitions, and effects are available
Easy interface
It is not compatible with all devices
Does not have advanced editing control
Sometimes there are technical issues
App Details
10+ million installation
User rating: 4.6 with over 500k reviews
10. Film Maker Pro
As per our test, Film Maker Pro is one of the best video making apps for android. Despite having tons of advanced editing tools, you can use them for free. But for more features, you have to make an in-app purchase.
Moreover, this app allows you to create a video in a 16:9 aspect ratio as well as in square format. It means, be it a YouTube video or Instagram, you can fulfill your need with this app.
It is important to know that it shows in-app ads since it is free. A lot of people feel disturbed by the ads. On the other hand, it offers a community where users of upload their creations, and it can help you get editing ideas.
Features at a Glance
Export video in a different dimension
Free for all
Extensive control on video editing
Knowledge based community
Shows ads in free version
Need to make in-app purchases for more functions
Sometimes buggy
App Details
10+ million installation
User Rating: 4.3 with more than 500K reviews
11. Filmigo – Video Editor & Maker
Filmigo Video Editor & Maker makes it to the list of top 15 video editing apps for android. It is a wonderful app for all all-purpose video making. Moreover, it is a feature-rich app that allows you to create videos with tools at your fingertips.
With the pre-built templates, video creation became effortless. Besides you can also create videos from the scratch with advanced editing tools. From adding multiple audio files in a single video to adding subtitles and gifs, you can do the real editing.
Users can also import audio from devices and add it right from its audio gallery. In addition, you can also share videos right from the app to different social media platforms.
Filmigo Features at a Glance
Exciting features
Tools are easily accessible
Multiple audios in a single video
Many themes and transitions for video editing
High-definition video editing
Easily place subtitles, stickers, and GIFs
Free trial is limited
Premium subscription is expensive
App is crampy for long videos
App Details
100+ million installation
User rating: 4.5 with over 1 million reviews
12. VN Video Editor
VN Video Editor is another free video editing app for android users who like to edit their video to a professional level. Among the top video creation app, VN comes with a lot of features including transitions, effects, templates, and more.
Though it shows you ads while operating, you will never have to purchase anything. It means you can have all the features for free.
This app does a decent job with an easy-to-use interface put together with a clean timeline. In addition, you can trim your video to perfection.
Unlike many most video editors, you can choose between frame rates to make your videos smoother.
Features at a Glance
Easy interface
Most tools are at your fingertips
Use the full version with all the features for free
Choose or switch between frame rates (24FPS and 60FPS)
Shows ads and you cannot stop it
Sometimes it freezes
Not many advanced features like FilmoraGo
App Details
Over 50 million installations
User rating: 4.4 with over 1 million user reviews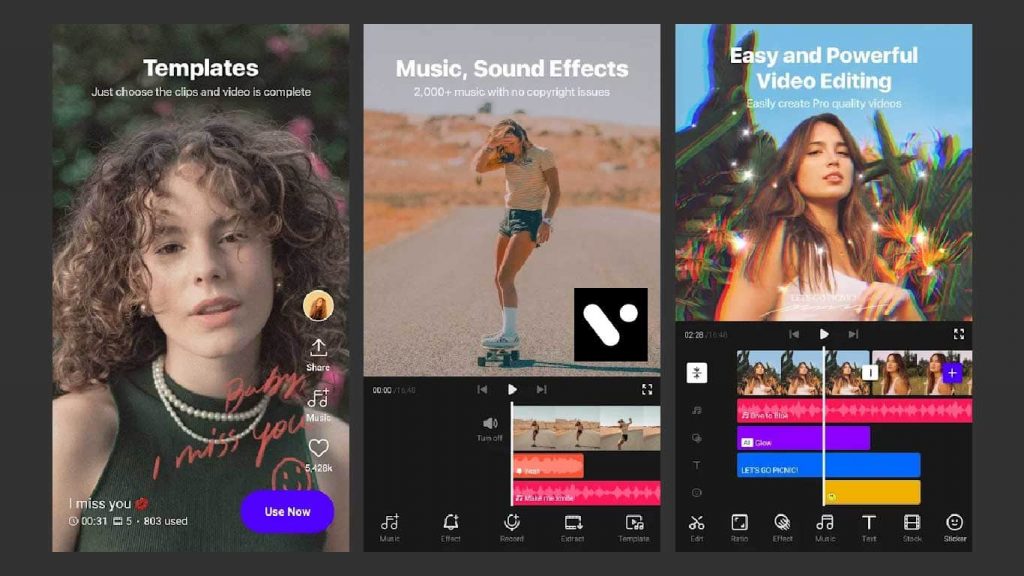 13. VITA Video Editor and Maker
On the number 13th of the list comes VITA Video Editor and Maker. And our test shows, it is one of the 15 best video-making apps for android. VITA is a lifesaver for beginners as a user described in the Google play store review. And we have also found a few things interesting which convinced us to place this on the list.
The most important thing to highlight, it does not force any watermark even though it is free for a lifetime. Its intuitive multilayer timeline editor panel is a clean cheat for quick video creation.
Besides, there are many effects and transitions that you can use on the go. In addition, it offers a large inventory of royalty-free music and sound effects.
VITA Features at a Glance
Edit and export HD videos for free without a watermark
Large inventory of sound effects and music
Many effects, and transition functions
Options to make color grading easily
Add pictures in pictures with an easy tool
Built-in templates and styles are available
Lacks advanced editing tools
Shows ads
No search feature for elements
App Details
Over 50 million installations
User rating: 4.5 with over 500k reviews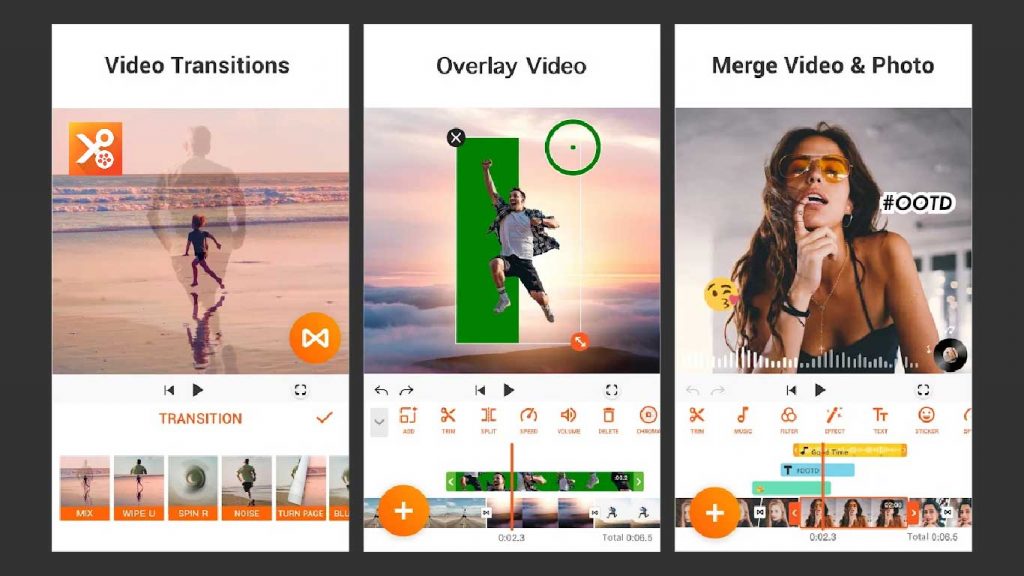 14. YouCut
YouCut is a potential candidate among the best video editing apps on Google Play Store. Because of its easy and intuitive interface, millions of video creators love this app. Moreover, it is a free app from InShot Inc., and found it a little similar to InShot that comes on the 6th of this list.
Despite being a free app, it has features necessary for simple editing. The features like trimmer, merger, slicer, and splitter, make it a great tool to fulfill your editing experience. In addition, it allows you to control video speed, compress and share videos directly to social media. And you get all this, without any cost and the disturbing watermark.
YouCut Features at a Glance
Easy timeline editing
No watermarks
The Pro version has zero ads
Decent editing tools including trimer, splitter, slicer, etc.
Speed controlling capability
Video compress and converting options
Shows ads in the free version
Limited options for adding videos and audios
No undo button once you have applied something
App Details
More than 100 million app installation
User Rating: 4.6 with over 4 million reviews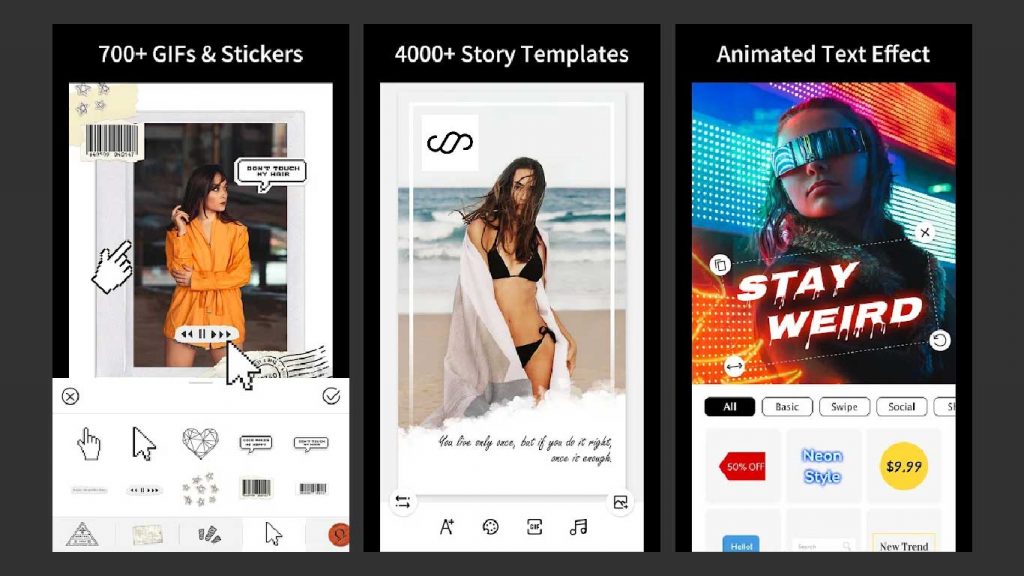 15. StoryArt- Best Video Making apps for Instagram
Last but not least, StoryArt is one of the best video making apps for android and it is best for Instagram videos. If you want to make Instagram videos quick, this is a potential bait.
The name of the app is StoryArt – Insta Story maker, so it is a clear indication of its functionalities. With this, you can easily create vertical Instagram stories and for that, you have got everything here.
While editing your video, it allows you to choose from various templates which makes your editing quicker and hassle-free. In addition, it has a lot of video effects, text, and transitions available. One thing we should highlight, it does support 1:1 or 16:9 editing for Instagram posts.
StoryArt Features at a Glance
Varieties of video effects and transitions
Stylish texts and stickers
Many templates to choose from
Quick and smooth story creation
Free for all
Does not support 16:9 or 1:1 ration
Shows ads
Auto-compresses original photos to poor quality
App Details
Over 10 million app installation
User rating: 4.6 with almost 200K reviews
There are hundreds of video editors for androids on the Google Play Store but not all are the same. After testing many apps, we have picked these 15 best video making apps for android devices according to our test score. All these apps have something unique to offer and you should choose one according to your preference and requirements. Hope this helps you to find the best fit for you.