Blogging has become a very popular career for many. And a lot of people are earning a decent amount with blogging. In addition, WordPress is the most popular CMS for bloggers. So, people often search for the best news magazine WordPress themes for ease of building a blog or news website quickly.
Be it news, blog, or magazine, publishing has become extremely popular. Nobody knows which website can become popular. On the other hand, billions of people around the world consume news, blogs, information, how-to guides, and more on daily basis.
Many news startups go with the custom website when they have larger funding. But when you don't have large funds and start alone, a WordPress theme might be the most convenient option for you.
But the question is, what theme should you use? We know it is a bit challenging for every beginner to choose a WordPress theme for their latest projects. So, we have listed down some of the best news magazine WordPress themes in 2022. Hope this will help you make your decision quick and easy.
Best News Magazine WordPress Themes for Your Project
There is no doubt that WordPress is a great platform for blogs and news sites. And starting your website with a theme is the quickest and cheapest option that you can take. But it was always a daunting experience for every beginner to choose the right blog/news/magazine theme.
Whether you aspire to start a blog, a news portal, or an online magazine, choosing whatever niche, you need a convenient theme that has good speed, functionalities, and aesthetics. You also need to check if they are customizable. Don't worry, that is why we are here to help.
Let's look at the 10 best news magazine WordPress Themes that you can choose to build your website this year.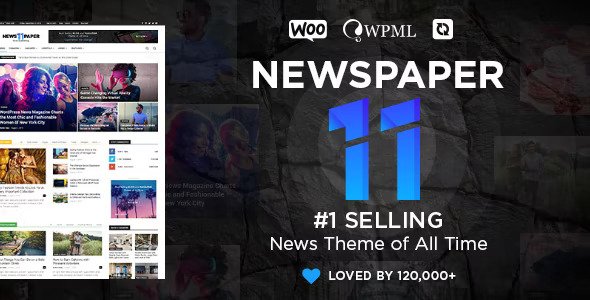 1. Newspaper (Most Popular on Envato)
When we talk about the best news magazine WordPress theme, the Newspaper by tagDiv will come first. It is the most popular newspaper theme of all time with the highest sale in the Envato market.
As the best-selling WordPress news magazine theme, the Newspaper has over 121K sales. It means that more than 121k websites around the world have been using this theme to run their project.
The Newspaper theme is one of the easiest WordPress themes you can use to build your website. It does not require any coding skill or any other technical skill. You just need to understand how it works; you can create your website easily with its tagDiv composer.
tagDiv Composer is the theme's front-end page builder. It uses the drag-and-drop functionality which is the most popular feature on WordPress. The builder also allows you to set a lot of functions from its dedicated theme panel, unlike many others.
Moreover, tagDiv Cloud Library is another reason this is one of the best news magazine themes on the marketplace. It has 1000+ beautiful pre-built templates for all types of pages required for your project. Furthermore, this is not only a news magazine WordPress theme, it is also a multi-purpose theme for business websites.
The newspaper theme also comes with outstanding flexibility which allows you to customize every element of your website. With uniquely designed demos, an intelligent advertising system, and no coding skills, it is a perfect fit for every beginner.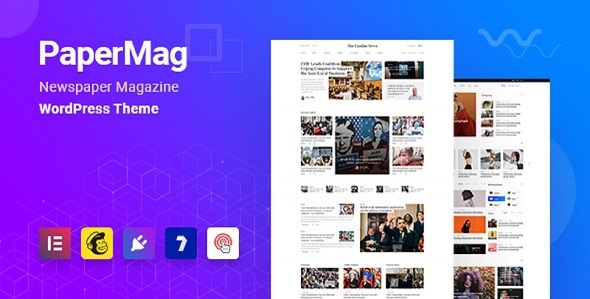 PaperMag is an interactive WordPress blog, news, and magazine theme. And we concluded that this is one of the best news Magazine WordPress themes this year on budget.
This is a minimalistic theme specifically designed to be distributed for news, blogs, and online magazines. Besides this is one of the best themes on Envato for niche content. Be it a tech or fashion project, PaperMag is an ideal theme to build your website with.
PaperMag also ensures that your content looks appealing and eye-catchy the way your audience wants. With an easy-to-use dashboard, you can conveniently place ads quickly and monetize your project for revenue.
This intuitive theme is built by ITCroc with dedication. They have done a wonderful job and their team has put all the elements required for the best outcome with passion. The theme also has multiple demos easy to import into your homepage so that you can make your website quick.
With great navigational features, you can get your website done within a short time. Moreover, the theme has a lot of features provided for the advanced blog, newspaper, and magazine functionalities including Elementor. To talk about customer support, PaperMag outnumbers all, because ITCroc Team helps you set up the theme if requires in the shortest time possible like no other.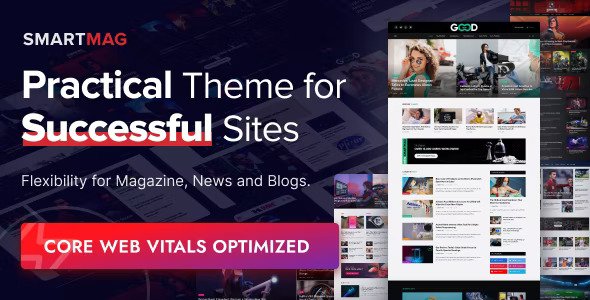 3. SmartMag
SmartMag by ThemeSphere is a responsive news magazine theme designed for WordPress websites. It is a very powerful theme for creating advanced functioning news, blog, or magazine websites in no time. We consider this one of the best news magazine WordPress themes in 2022 because of its functionalities, aesthetics, and of course, almost 15k sales.
Like most other WordPress themes SmartMag requires no coding skills. There are beautiful demo sites available for you to import. But no problem, if you want to customize the theme, it is very simple and intuitive as well. The drag-and-drop website builder helps you create your page layouts easily.
On the other hand, SmartMag gives you effortless options to set widgets. And you can simplify magazine/news/blog easily. Moreover, dynamic categories and multi-page navigations are added options for the ease of your project.
There is no doubt that this is one of the best Newspaper Magazine themes out there. It is not because it has a high sales number but because it includes modern post styles. Besides, it has some cool slider options along with some other design options. So, the overall design options make your website look sharp and fresh.
When it comes to Menus, Mega Menu is one of the most desired functions people want for the blog, news, and magazine sites. And with SmartMag you are getting that Megamenu with impressive navigation experiences
Megamenus lets you create impressive navigation experiences for your users in just a few clicks. Last but not least, bbPress helps you set up forums for your project very easily.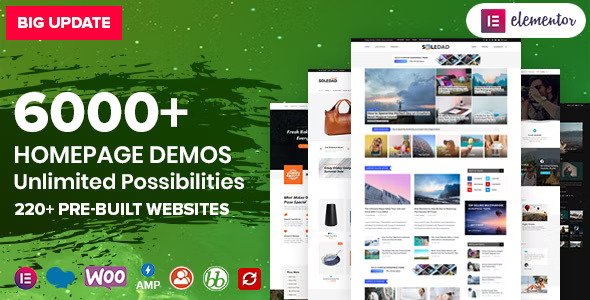 4. Soledad (Biggest Homepage Demo Collection)
Soledad is one of the best News Magazine WordPress themes available on the Envato market. It is from PencilDesign and It has the biggest homepage demo collection and a lot of pre-built complete websites. Moreover, this is an Elementor compatible WordPress theme with extensive customization options.
This is a smart WordPress theme that gives solutions for all bloggers and magazine startups. Soledad has a lot of predefined fronts and internal layouts with an easy-to-use theme panel. If you have a little bit of knowledge on Elementor you can make a wonderful website with this theme.
You don't even have to touch a single line of code, just mix and match all the elements with visual editing options, your news/blog/magazine site live in no time. Moreover, because of the Elementor page builder and its multi-purpose approach, you can also build any business website with eye-soothing designs.
The most interesting fact about the theme is, that it has more than 6000 pre-built homepage demos ready to import. It means whatever niche you have; you can create your projects in a very short time. Besides, it also comes with 220+ pre-built complete websites. And the easy one-click demo import is another most important thing that you get on this theme.
In short, Soledad is a complete WordPress theme for News, magazine, and blogs. Besides this is the most versatile theme in the category with tons of customization features.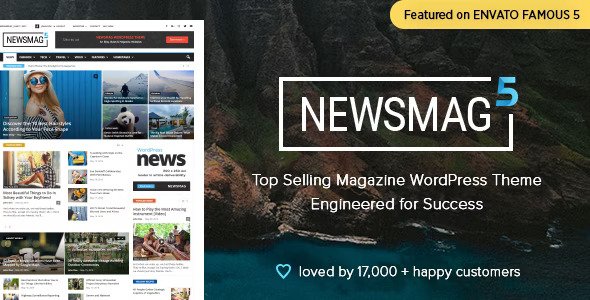 5. NewsMag
NewsMag, without any doubt, is one of the best News Magazine WordPress themes on Themeforest. It is also one of the best-selling WordPress themes in the category with over 17K sales. NewsMag comes with a multifunctional approach to front-end design and page building.
Among the huge collection of WordPress themes on Newsmagazine, NewsMag stands out because of its huge collection of pre-built pages and full-featured demos. Besides, most people find this suitable for different niche sites.
One-click demo import is one of the most important aspects of a theme and it is present on NewsMag. So, you can start your blog or news portal project with a pre-built demo right away.
NewsMag is also using the tagDiv composer like the Newspaper theme because it is from the tagDiv team. Like Newspaper, there are lots of widgets, plugins, and shortcodes that await your project.
When it comes to SEO, NewsMag is a very good choice for beginners. Besides, it can compete with all the other themes for speed. On the other hand, it is an AMP-ready theme to boost your mobile performance.
Furthermore, you don't need any coding skills to build your news, blog, or magazine website. You just need to know how to mix and match all the available elements and the use of tagDiv composer to create your website.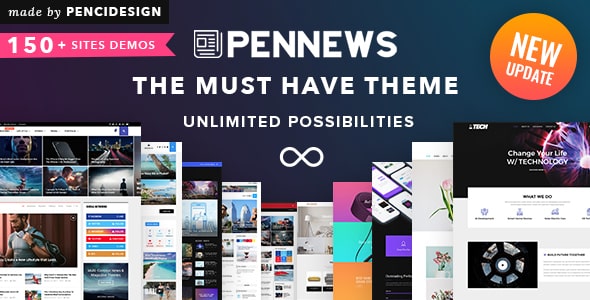 6. PenNews
PenNews is one of the most responsive News Magazine WordPress themes available to create your editorial project. From installation to building your website, it navigates you through a very easy process. Moreover, the elegant set of tools helps you bring your news, blog, or magazine website to life.
It has made it to the list of the best news magazine WordPress themes, because of the wide range of demos. In particular, it has more than 150 complete demos ready to import and create your website in no time.
People often look for a particular theme for a niche. And we need to understand that a particular niche needs particular options on websites. So, if you are looking for a WordPress theme for particular niches, PenNews might have your solution.
With plenty of demos, categories, pages, and functionalities, you may find your ready demo for your niche. It's quick and easy to get started. Choose the right demo and customize it in minutes, with powerful advanced settings.
PenNews is not only a theme for the new magazine only, but it is also a multi-purpose theme as well. And you also get many pre-built designs among the demos for your business. With WPBakery, page building you can create your business and blog website very easily.
On the other hand, you get premium sliders like Revolution Slider, LayerSlider, and MasterSlider in a single theme. Moreover, it comes with smart menus, animations, and a lot of transitions to give your project an appealing visual.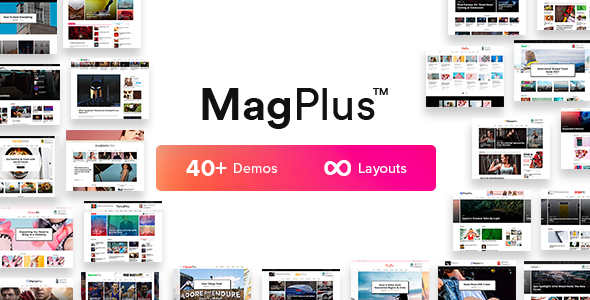 7. MagPlus
On the number 6 comes the MagPlus – News magazine theme for WordPress from Theme Bubble. It is a theme with flexible customization options. Besides, it is one of the best news magazine WordPress themes with options for advertising.
MagPlus has more than 40+ pro demos related to many niche topics. Moreover, it has 270+ blog magazine layouts. And we believe, it will help you create your blog site easily no matter what niche you choose.
The Theme Bubble team has done a good job by putting 20+ sliders, and 18 headers. It means you won't have to buy any templates for extra decoration of your website.
Like PenNews and Newspaper theme, you have tons of options for Google AdSense. And it is also very easy to understand and connect advertising networks through this theme.
Website creation could not be easier since the drag-drop, shortcodes are available. In addition, the Yellow Pencil and MegaMenu will help you make things easier to aesthetically and navigationally appealing. So, we can use the phrase "Effortless and fun" to describe this news magazine theme!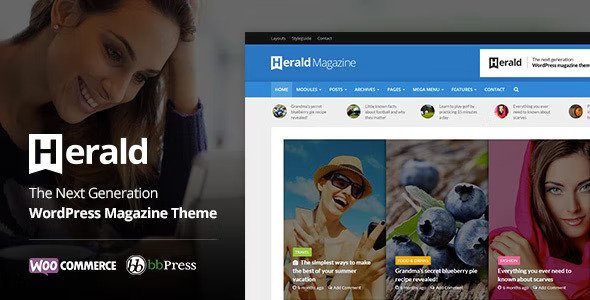 8. Herald
News, blogs, and magazines have become the window of the world through which we see the world. Besides, small news or blog sites have become a good source of income for many. And in this situation, News Magazine Themes like Herald are helping thousands of websites.
Herald is a very good option for those who want to create professional news sites. Because of its intuitive interface, you can set up your website in a very short time. Moreover, its advanced Theme panel gives you full autonomy to customize your website easily. The dashboard has a very easy navigational panel, and you don't need any technical knowledge.
In addition, if you need any further help, there are many video tutorials to guide you through the entire process. Herald has the classic WordPress widgets, along with some personal widgets that improve your user satisfaction.
You also have an unlimited color customization option along with the smart categories. The smart category can enhance the browsing experience for your users. There are many pre-built demos available for you to build your new magazine website quickly.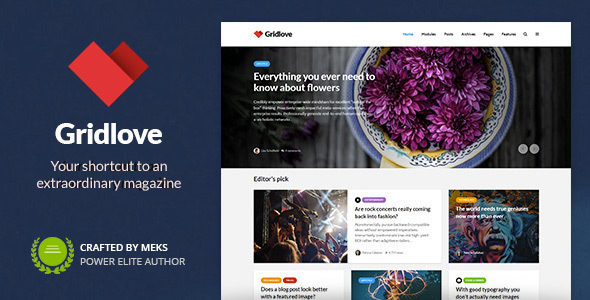 9. Gridlove
Gridlove is another WordPress theme developed especially for magazines and blogs. We have to say that it has a very alluring visual design with multiple post options. With easy customization, you can give your website a very cool look.
Because it has a very flexible layout you can change them in every aspect including color, sidebars, typography, and more. On the other hand, Gridlove offers you a list of other options like paginations, card codes, and custom widgets.
When we talk about the functionalities, it offers a range of options many great themes offer. In particular, it has WooCommerce and WPML for advanced functionality.
Unlike many other themes, it has a dedicated section in the panel to upload logos and icons. Besides, you also get RTL support and built-in translation in Gridlove which is amazing for every blog and news website.
But this theme has one side that many won't like, the higher purchasing cost. You can buy this for $69 on Envato which is a little higher than all the other themes on this list.
A lot of people are concerned about support, and Gridlove has a wonderful service. If you have any problem related to this theme, their support team can help you. But don't forget, it does not provide support for more than one year like all others. If you need extended support, you will have to purchase.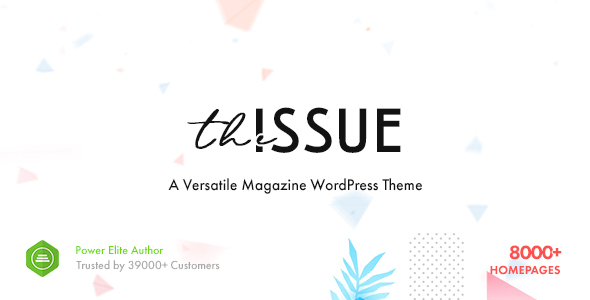 10. The Issue
Last but not least, The Issue is a WordPress theme that got a lot of praise for its beautiful magazine and news site designs. In the overall aesthetics of the available demos, the Issue looks very clean and smooth with a very minimalistic design approach.
Because this is one of the best news magazine WordPress themes, you can start your news portal or magazine quickly. It is not necessary to start an online magazine or news portal from scratch since there are many themes available to purchase.
The issue from FuelThemes is a well-documented beginner-friendly theme rich with features. It has many homepage demos, pre-built websites, and article details. You can change the layout and templates of your website from the Fuel Studio. It has thousands of templates available for you making web creation easier than ever.
Like all the other WordPress news magazine themes, you don't need to know to code. You can do everything with the visual page builder. With The Issue, you get 8000+ page layout variations, 10 headers, 10 custom widgets, many typographies options, etc.
Ad placement has also become very easy with The Issue. Besides, you can also conduct your SEO operation for the betterment of your website. In overall performance, this News Magazine theme is good for your project.