The Swedish director Ruben Östlund is known for forcing his audience out of their comfort zone. And he does so with his English language debut Triangle of Sadness again.
He made us confront our own prejudices in masculinity and exposed the art world's double standards in the Palme d'Or and Oscar winner "The Square".
His other Palme d'Or winner does not hold back on any of these, because "Triangle of Sadness" is a crass and pitch-black comedy about what it can look like when capitalism's class distinctions are blurred and the rich have to cower for the poor.
It's not pretty, but often hysterically funny, even if the laugh tends to get stuck in the throat, as one embarrassing situation after another is played out with devilish precision.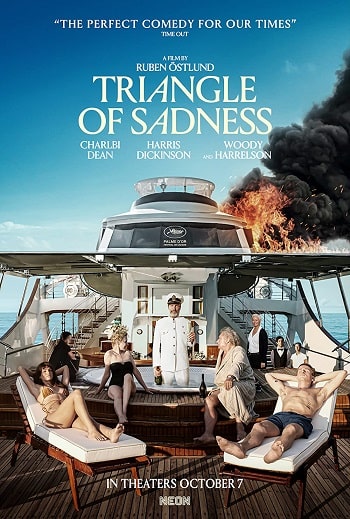 Turning The Dynamics Upside Down
The film is divided into several chapters, where we are first introduced to the model couple Carl (Harris Dickinson) and Yaya (Charlbi Dean – who unfortunately died suddenly and unexpectedly on 29 August 2022, aged just 32).
They operate in a superficial industry where the "Triangle of Sadness" is an expression used for the "worry wrinkles" that can appear between the eyebrows.
Their quarrel over a restaurant bill reveals different views on money, gender roles, and the balance of power, which are also recurring themes in the remaining chapters.
From Chapter 2 onwards, they invite guests on a cruise holiday on a luxury yacht, along with several wealthy people of various nationalities.
There is a clear upstairs-downstairs divide on board between passengers and crew, i.e. those with money and those without, but along the way something unexpected will happen that turns the dynamic upside down.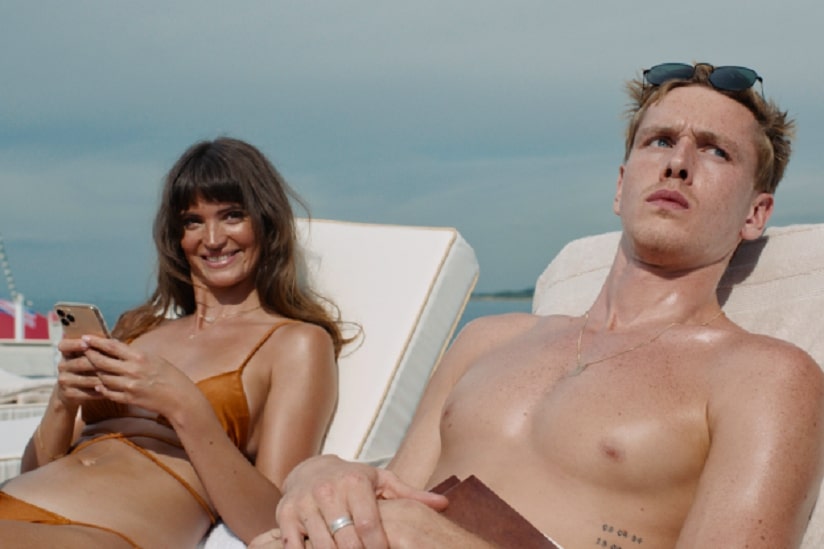 Cracking Good Satire – Perhaps This Year's Best
"Triangle of Sadness" is a cracking good satire about those who find themselves in the outermost borderlands of capitalism, where the rich have lost all contact with what can be called normality.
The character gallery is full of inedible characters, for whom you at the same time get a kind of twisted sympathy because they appear so poor and helpless, seemingly unable to navigate their way through life like real, normal people.
Ruben Östlund portrays this pig-like well through several burlesque episodes, especially when the power relationship between the characters changes character.
The story's wild development produces several very funny results, where a diverse gallery of characters gets to run through a darkly humorous "Lord of the Flies"- like process.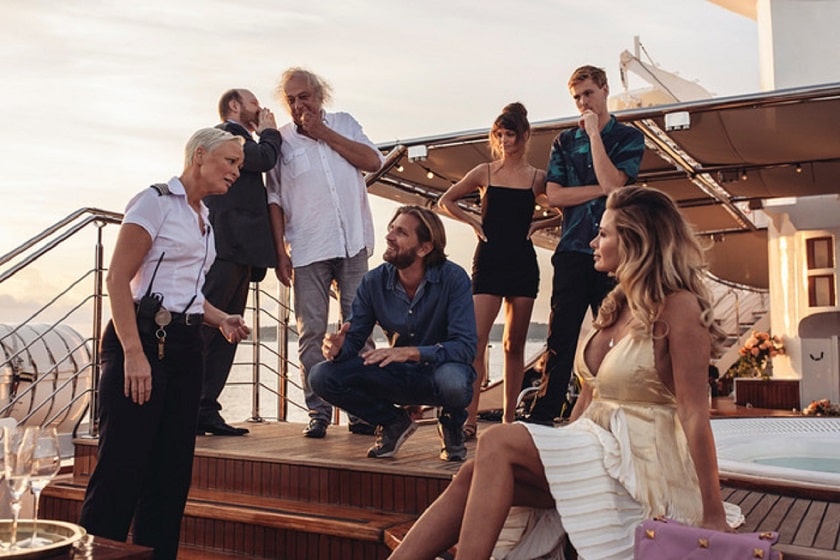 Hits The Zeitgeist
"Triangle of Sadness" is thus another brilliant film from Ruben Östlund. He knows how to hit the zeitgeist with a film that, among other things, turns a rich Russian and a British arms manufacturer into clever "punchlines".
He – and casting officer Pauline Hansson – have also made a brilliant choice of Woody Harrelson in a witty role as perhaps the least likely Karl Marx-sympathizing luxury yacht captain in film history.
Also Read: Notre-Dame on Fire: A Fiery Drama for The Big Screen
Östlund's genius also lies in how he tries to disrupt his own dialogue, as in scenes with a screeching wiper, a buzzing fly, whirring ventilation, a screaming baby, and lift doors that open and close repeatedly. All the time he tries to put us out, and succeeds in his intention at regular intervals.
The only objection is that the film could perhaps have been cut a little tighter and that the last chapter's redemption is a little predictable. "Triangle of Sadness" still leaves us with an interesting question hanging in the air, to which one can only believe and hope that there is an answer.