"The Survivor" is a dramatization of the life of the Polish boxer Harry Haft, who survived the Auschwitz concentration camp by boxing against his fellow prisoners.
This is both a war film with harrowing depictions of the concentration camp's atrocities and a biographical story about Haft – who after World War II became a boxer in the USA, where he fought Rocky Marciano, among other things.
The film becomes a bit quick and easy in the external biographical action that frames Haft's life in the USA after the war.
But director Barry Levinson hits with several well-placed scenes and combines several survival perspectives into a film with great thematic insight.
A Story of Survival Beautifully Done in Three Acts
"The Survivor" is told from three timelines and takes place during the war, at the end of the 1940s, and in the 1960s.
The main part takes place in the years after the war. Harry Haft (Ben Foster) has settled in New York. His boxing career is successful, but he is trying to get one last big fight. The motivation is to get in the newspapers so that his ex-girlfriend can see that he has survived the war – if she has survived.
Part of this quest for column space means that he has to tell his story to a journalist. In flashback, shot in sharp black and white, we get the story of how Haft survived Auschwitz, and of the German officer (Billy Magnussen) who recruited Haft for his macabre entertainment matches.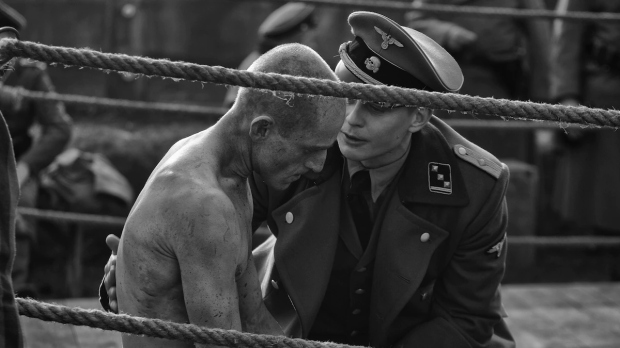 The pictures from the war are painful to look at. Barry Levinson focuses on the horror of friends having to fight each other to the death, emaciated and exhausted. And what such torture does to both the survivor and the relationships between the prisoners.
The boxing matches in Auschwitz are filmed in a cool light that captures the brutal and the outrageous in a sober and evocative motive. And these striking images provide a heavy melancholy tone for Haft's further career and history.
Hit The Touchpoints of The Thematic Threads
By switching between three different periods in Haft's life, the film becomes somewhat fragmented into the three suspense curves that Barry Levinson builds around the dangers of the concentration camp, his boxing career, and Haft's search for his great youthful love.
And even though the film is consistently well-produced, with music from Hans Zimmer and an excellent supporting role gallery, the biographical frame narrative is at times quite traditional and a bit stiff in both acting and progress.
It is the thematic treatment of survival that excites and sticks in "The Survivor".
Here the thematic threads from the moral dilemma, guilt, grief, sense of responsibility, and hope are woven together in a rich story where both the personal and the larger human perspectives get plenty of room in their many nuances.
Also read: Thor: Love and Thunder: An Unmistakably Taika Waititi Movie