A lot of Marvel fans have been a little over-excited thinking that the new "Doctor Strange in The Multiverse of Madness" is terribly important. And it is not quite unexpected. Because whenever there is an MCU movie we fly off the grid and give an extra thought curiously searching for the outer world experience. Though it is not an easy task to depict the world of the Multiverse, especially with different characters, the storyline could have been better.
The Summery of Doctor Strange in the Multiverse of Madness
What happens in the movie apparently? This Doctor Strange (2022) runs around several alternative universes. And interestingly Doctor Strange played by Benedict Cumberbatch is killed in one of the universes.
Moving through multiple universes is not something new, we have already watched "Spider-Man: No Way Home". And no doubt you have also noticed already. In Spider man Doctor Strange assisted Peter Parker to protect the Earth from Norman Osborn and others.
Here we meet the teenage girl America Chavez (Xochtil Gomez), another MCU super-hero with the power to jump between universes. But she has not yet learned to control her power. As a result, she falls into the reality of New York, where Doctor Strange must protect her from the dark forces that are chasing her.
So, initially Strange seeks assistance from Avengers member Wanda Maximoff (Elizabeth Olsen). But he does not know that the black book "Darkhold" has made her the dangerous "Scarlet Witch". The whole world knew while Doctor Strange doesn't. That's funny.
So, suddenly, she becomes the biggest threat, sending Doctor Strange and Chavez on a spectacular escape through the multiverse.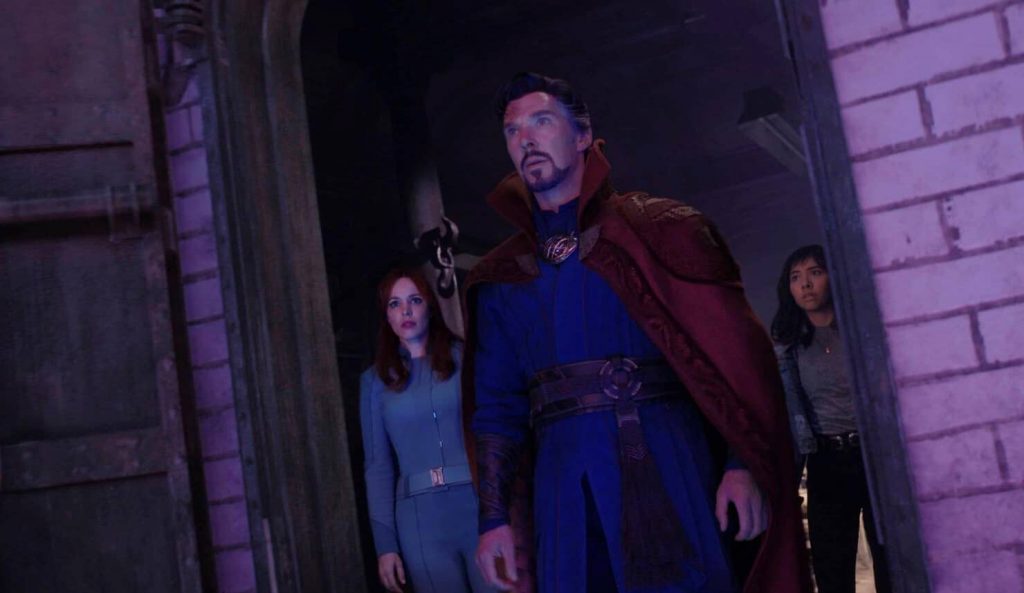 Relentlessly Jumping from One Action to Another
Without any doubt, the movie jumps restlessly from one effective action scene to the next. It feels to me that the story is not engaging more than average. For many fans, this is a natural continuation of the impending MCU story, with some surprises and some concluding storylines.
You have already seen a lot of actions expected multiverse world packed with surprises. But this movie's relentless plot will make you feel lost. So, we can simply say, madness it is. Like Spider-Man: No Way Home, Doctor Strange also takes you to the other dimension of the different universe. And all the characters live in another universe where the geography, and rule of the world are different.
The plot fails because most of the actions are taking place outside of the main plot. Characters die in one universe but they are alive in another. So, what is say, death is nothing more than a minor event. You die and come back from another reality. It sounds really crazy.
So, we can compare the new Doctor Strange movie somewhat to Spider-man: No Way Home, where Doctor Strange is a supporting character. As an audience, this MCU film confuses us with its ever-changing action sequences from one universe to another.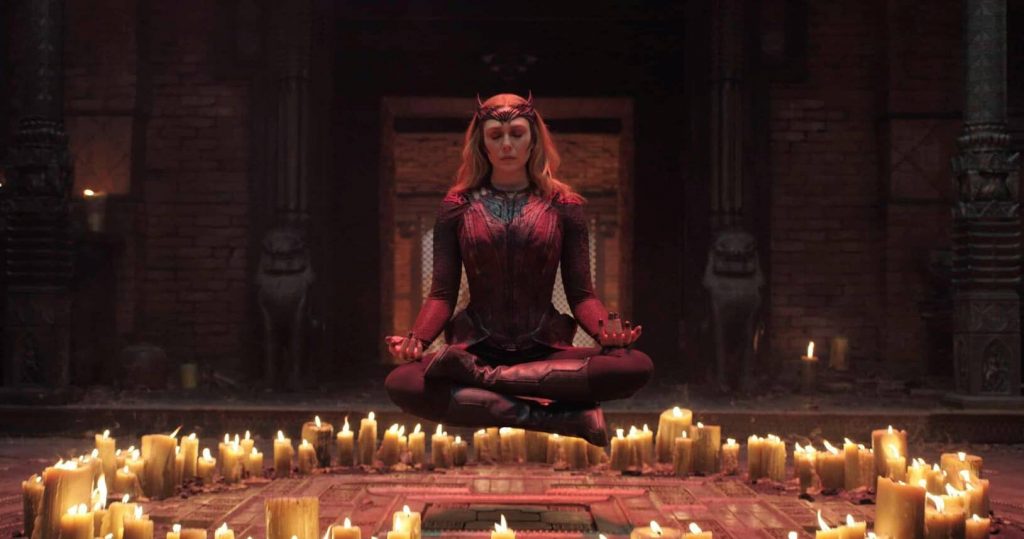 Characters Live Up to Their Weight
Benedict Cumberbatch gives the lead Doctor Strange a certain degree of maturity by being who he is. On the other hand, director Sam Raimi combines the horror humor from his "Evil Dead" released in the 1980s with the superhero experiences from his three "Spider-Man" films.
So, I would say that "Doctor Strange in the Multiverse of Madness" works well as this season's Marvel movie. But unlike some other Marvel movies, I think most of the action will be forgotten in a year or two.
Though the film represents all the new Marvel success, with imaginative superhero action and the already established characterization yet could have been more stable.
Also Read: Uncharted A Genre-Traditional Adventure Film
Except Strange, we have Wong (Benedict Wong), Mordo (Chiwetel Ejiofor), and Christine (Rachel McAdams), but they are not necessarily of the same significance as before. In addition, the film has some funny surprises itching curious minds that are not to be revealed. But we feel that it still creates hype among Marvel connoisseurs.
When it comes to the Scarlet Witch, the talented Elizabeth Olsen showed her best. She has rightly built on the pain that Wanda carries. Despite her evil actions, she has some understandable motive that is deeply human.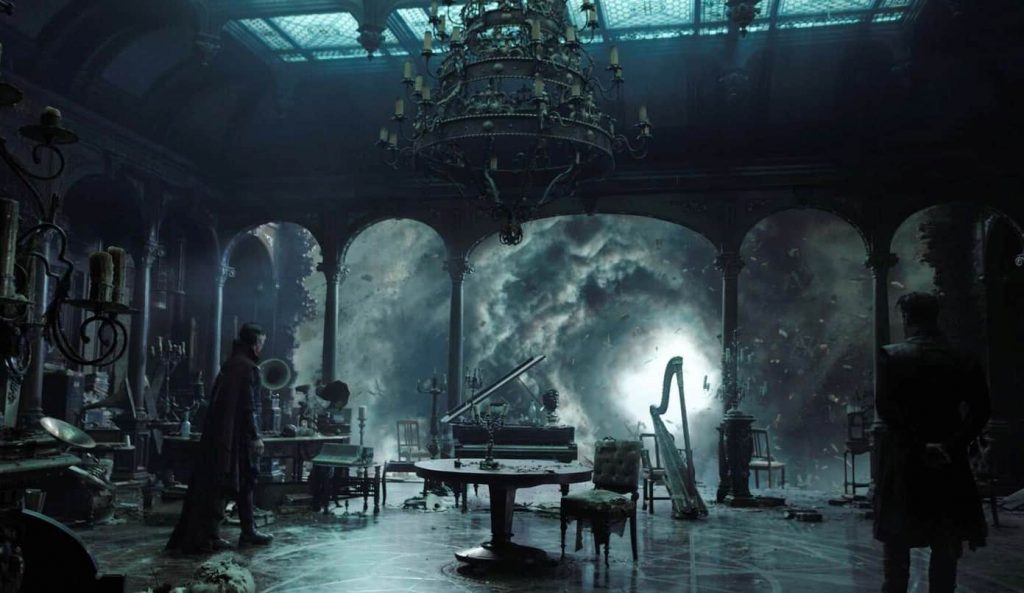 Doctor Strange in the Multiverse of Madness is as Entertaining as others
Despite the unstable plotting, Sam Raimi has made an entertaining superhero film. In particular, when he plays with the format and the concept of reality, especially for the old "Evil Dead" fans. And we can clearly see some clear points terribly funny. Besides, the nice combination of Evil Dead and Spider-Man: No Way Home adds a certain degree of uniqueness desperately needed for entertainment. In addition, Raimi has apparently achieved a new box office success.
It is fun to see that every Marvel film is connected to each other. And I can bet that you have watched a lot of Marvel movies and series where one takes some elements of others, especially when it comes to the Phase 4 films of MCU. And Doctor Strange in the Multiverse of Madness is not any different.
Doctor Strange in the Multiverse of Madness had a formidable budget and got both technical and artistic support. Though it does not engage all the audience, the new generation of MCU enjoys its fast-forward entertaining approach in just over two hours. But I still doubt it will live particularly long enough in pop culture as many other does.