The fact that Brad Pitt plays the lead role is in itself reason enough to see "Bullet Train". This action comedy hits the mark more with the violent aesthetic than the humor. But because of Pitt's star charisma, it entertains even when the jokes miss the mark.
Director David Leitch, led this film with caricatured characters in a cartoon-inspired universe.
It is obvious that "Bullet Train" borrows tools from Japanese manga and anime, just as Quentin Tarantino did in certain parts of the two "Kill Bill" films. However it does not have as memorable characters as Tarantino's.
This is nevertheless a joyous courtship of the audience that never takes itself too seriously. Though it is an approach that may not appeal to the many cineastes among us, but has the ability to amuse a less demanding audience through two quick and non-committal hours.
Story of Several assassins on a Bullet Train
The film is based on a book by the Japanese author Kōtarō Isaka. It takes place on an express train between Tokyo and Kyoto. An unlucky assassin nicknamed Ladybug (Brad Pitt) has been assigned to steal a briefcase. But the briefcase is in possession of Lemon and Tangerine stacked in the luggage section.
However, he discovers that there are several assassins hiding among the passengers. Among those, Lemon (Brian Tyree Henry), Tangerine (Aaron Taylor-Johnson), and The Hornet (Zazie Beetz), are apparent.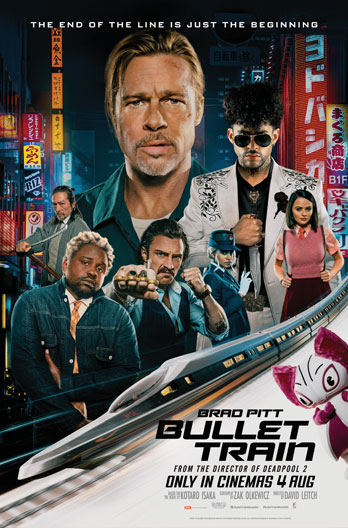 It will turn out that everyone has missions that seem to have a connection with each other. And it is urgent to get the mission done before they face an even greater danger at the terminus.
Hard-Hitting Sequences with High Drive
The film is about Tarantino-like characters in bloody melees on board a Japanese bullet train. Moreover, the train speeds along at over 300 km/h. So, the violence and the speed sounds like a winning combination. The action scenes, on the other hand is also the film's another notable quality.
With the Bullet Train, David Leitch and his team show an impressive ability to create hard-hitting sequences with high drive, great ingenuity, and gorgeous details.
Then one could wish that the screenwriter Zak Olkewich had given the dialogue an extra twist. However, he could bring the spirit of Deadpool or Tarantino so that the humor would have been sharper and rawer.
The small talk between the assassins is meant as a spice but becomes too bland. Brian Tyree Henry's Lemon character, for example, constantly quotes the old children's television series "Thomas the Locomotive". Though it seems twice the fun, but not on the 20th.
Also Read: "One Second" A Chinese Censored Love Letter To A Reel
One could also wish that the Bullet train itself is a bigger "personality" in the film, just like the train sets in Andrei Konchalovsky's "Runaway Train" and Tony Scott's "Unstoppable". But I at least nod in appreciation to the Bullet train's stop at a station that might be a loving nod to Hayao Miyazaki's "Chihiro and the Witches."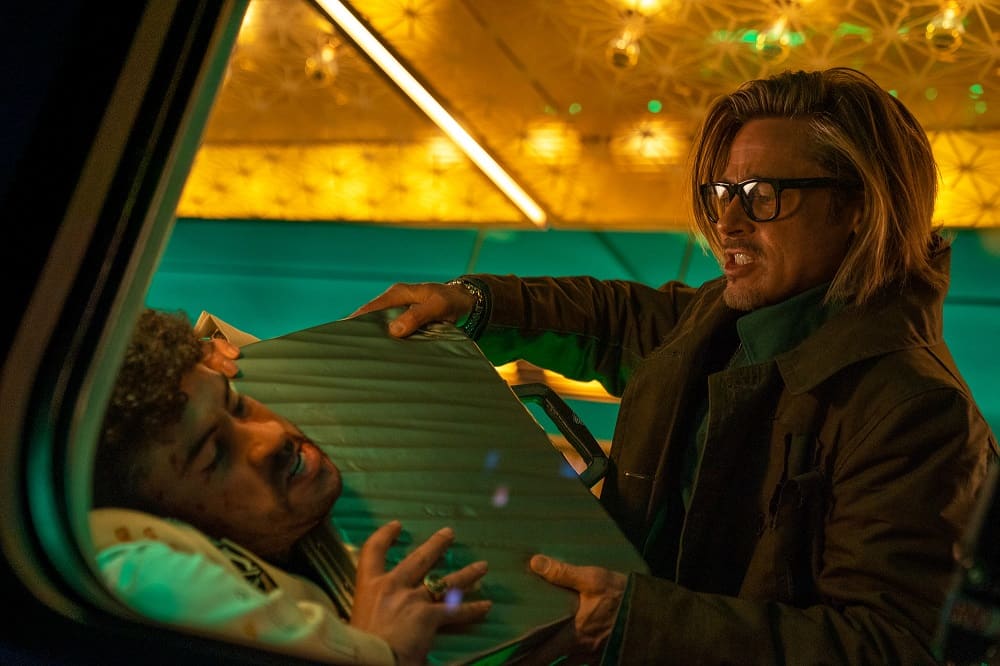 True To Genre Caricatures
The actors in "Bullet Train" obviously know what they are getting into, and have adjusted their role interpretations accordingly. Here it is not about uncovering the inner secrets of the soul, but superficial depictions of true-to-genre caricatures with simple motifs.
It also applies to Brad Pitt's main character, but he adds so much charm and wit to Ladybug that he quickly gets the audience on his side. The other actors complement their roles in a decent and effective way, including Joey King as Prince, Andrew Koji as Kimura, and Hiroyuki Sanada as The Elder.
The film also has some fun cameo roles that are not to be revealed. But I almost expected that it will take up more space after they are introduced, and then it's a bit disappointing when it doesn't happen.
It is still useless to evaluate a film like "Bullet Train" with an overly critical eye. It will never be considered a classic but is certainly an energetic addition to a popular genre that goes well with butter-drenched popcorn.